Late-afternoon Tuesday here in California's Central Valley — outside my air-conditioned dwelling it's 109 degrees with barely any wind. My local weather page reports tomorrow will be 'nearly the same' as today, or just another episode in a multi-day 'Excessive Heat Warning' for the region.
And accordingly, right now we're two degrees above the forecasted high for the day.
Sadly, that lede could have been for a shitload of places. Especially where there's not much in the above-mentioned air conditioning to be normally found — of which, the Pacific Northwest is also again today scorching in a similar situation with a blistering heat wave, where although it's rare for a triple-digit temperature to pop up, temps in the low 90s is a blow out scenario when there's no air conditioning — except maybe in stores and other public places. Not much in homes and apartments.
I've lived the vast majority of my California life — permanently relocated here from Alabama in 1982 — in a coastal environment, which is in heavy contrast to the interior. Air conditioning along the Pacific is near about non-existent. Reportedly, 10 people died last month in the Pacific Northwest due to a heavy-duty heat wave — an area without mass AC.
Yet it's the 'new normal' for our planet. In a new study released yesterday, days of heavy-excessive heat waves will become a regular occurrence in 20-or-so years, with triple-digit temps for weeks on end — Jaime González, director of the Houston Healthy Cities program for the Nature Conservancy in Texas, explains in just a few words: '"We're talking about taking summer, which is already hot, and expanding it for months … That's going to cause all sorts of disruptions to everyday life."'
Heat is our destiny:
Anomalous heat will initially peak Tue-Wed this week, fade slightly this weekend, & then likely pick up again in earnest next week. A prolonged period of well above average temps throughout West Coast region will probably coincide with uptick in fire activity. #CAwx #CAfire (2/2) pic.twitter.com/pEl9TOXMgx

— Daniel Swain (@Weather_West) August 15, 2022
Into this hot mess, heat-related scenarios for my state the last week or so, all directly/indirectly at the beginning exacerbated by climate change — "megadrought" with even less water; California supposedly waiting for the 'big one,' though, it's not an earthquake, but a megaflood from a "super storm;" and we must weather the weather no matter if wet or dry.
No problem — JPMorgan CEO Jamie Dimon noted last week: '"We should focus on climate. The problem with that is because of high oil and gas prices, the world is turning back on their coal plants. It is dirtier … Why can't we get it through our thick skulls, that if you want to solve climate [change], it is not against climate [change] for America to boost more oil and gas?"'
In the heat, once again here we are…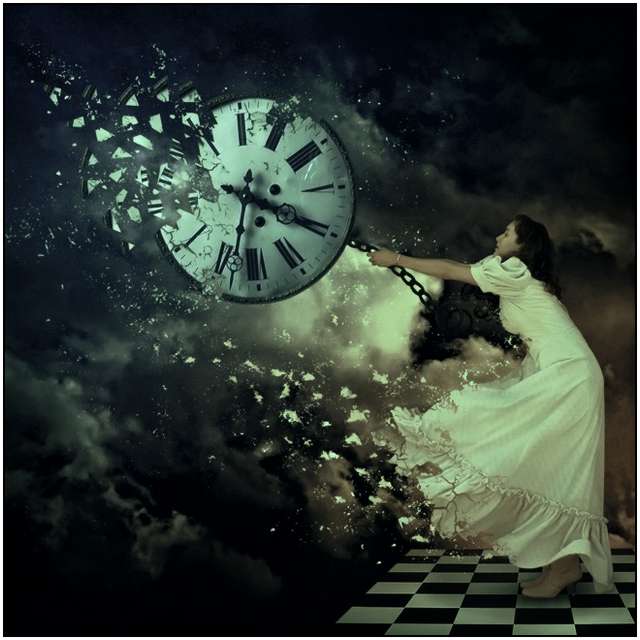 (Illustration out front: 'A Break in Reality,' by Xetobyte, found here.)