An occasional bright shine slices through white and thick, furry clouds this early-afternoon Wednesday in California's Central Valley, a distinct change from earlier today. When I took Leroy for his daily walk the sky was practically transparent, with only way-tiny cloud patches obscuring warm, nice-feeling sunshine.
However, the weather does make adjustments, and it didn't take long (less than an hour) for the environmental ambiance this morning to shift from pure, full sunshine to little episodes of shadow and shade as clouds started to arrive by the sky full — until right about now with more overcast than sunshine.
Out in the backyard just a few minutes ago doing a B&M (Wine) break and a sudden sunshine blast escaping the cloud cover was startlingly bright — sad, gloomy to quickly overwhelmed with warm light. Maybe a metaphor for life nowadays. Weather the weather, or what?
Beyond the sun and shade weather-wise, the light vs the quick-dark is in a repetition of a happy-then-sad motif, which could be the theme for not only here on the Left Coast the next few days, but a big chunk of the whole country.
Nonetheless, these are different times and the southern part of California is expected to experience something new — a blizzard. Via The New York Times a few minutes ago:
Snow in the Southern California mountains is not uncommon but when the forecast calls for a blizzard, it makes people wonder if it is some kind of mistake. But forecasters say a blizzard isn't unheard-of in the region. It just hasn't happened for a while.

The National Weather Service in Los Angeles issued a winter storm warning for the mountains of Los Angeles, Ventura and Santa Barbara Counties until early Friday. A rare blizzard warning, for the same areas, will take over from Friday through Saturday.
Just for us here in the Valley, mostly only rain with some possible thunderstorms thrown in for good measure:
A thunderstorm or two will be possible this later this afternoon. Small hail and cloud to ground lightning could occur in these storms. The green shaded areas below depict where these storms could form this afternoon. pic.twitter.com/j29BI19yqK

— NWS Hanford (@NWSHanford) February 22, 2023
Overall countrywide, the NWS has the forecast:
Here's a look at the Winter Storm Severity Index (WSSI) over the next 3 days, through midday Friday. Moderate, Major and Extreme winter weather impacts are expected from the West Coast to New England with travel not advised in the Upper Midwest due to blizzard conditions. pic.twitter.com/fcwxg5E7gQ

— National Weather Service (@NWS) February 21, 2023
Some details from the NWS Weather Prediction Center a couple of hours ago:
...Significant coast-to-coast winter storm will continue to produce
widespread heavy snow and blizzard conditions across portions of the West
and the Northern Plains…

…A swath of heavy snow and locally significant ice will stretch from the
Upper Midwest to the Northeast…

…Strong to locally severe thunderstorms, and heavy rainfall will impact
portions of the Midwest through tonight…

…Record-breaking warmth expected over the East going through Thursday as
extreme cold hits the Northern Plains and the Intermountain West…

A prolonged major winter storm will continue to bring widespread heavy
snow and blizzard conditions to portions of the West, the northern Plains,
and the upper Midwest through tonight and into Thursday as a series of low
pressure waves traverse an Arctic cold front draped from the Intermountain
West east across the central Plains and Midwest. In fact, heavy snowfall
rates of as much as 1 to 2 inches/hour are expected to combine with winds
locally as high as 40 to 50 mph to drive significant impacts that will
include major disruptions to travel, infrastructure, livestock and
recreation.

[…}

This extreme contrast in temperature will set the stage for strong to
severe thunderstorms and areas of heavy rainfall as the aforementioned
waves of low pressure advance across the Plains and through the Ohio
Valley. In fact, the Storm Prediction Center has depicted a Slight Risk of
severe weather through tonight for the Ozarks and the middle Mississippi
Valley. Locally strong, damaging winds and a couple of tornadoes will be
possible across these areas. As much as 1 to 3 inches of rain will be
possible across portions of the Midwest close to the front, and the
Weather Prediction Center has depicted a Slight Risk of excessive rainfall
from northeast Missouri through northern Illinois, northern Indiana and
far southwest Michigan. Some runoff problems and pockets of flash flooding
will be possible across these areas going through this evening and
overnight.
So far, so normal, but also, hang on tight.
And, too, another reminder of what's to come (and in some parts, already here):
Rains a coming, and yet once again here we are…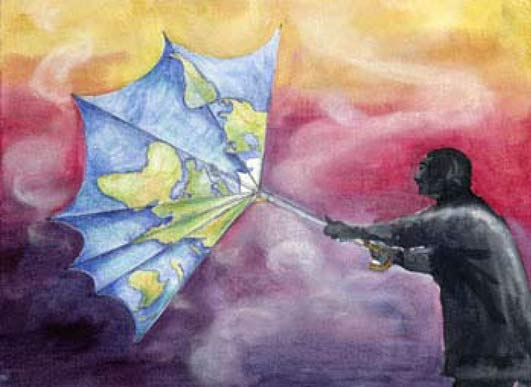 (Illustration out front from the UN's International Children's Painting Competition, and found here.)