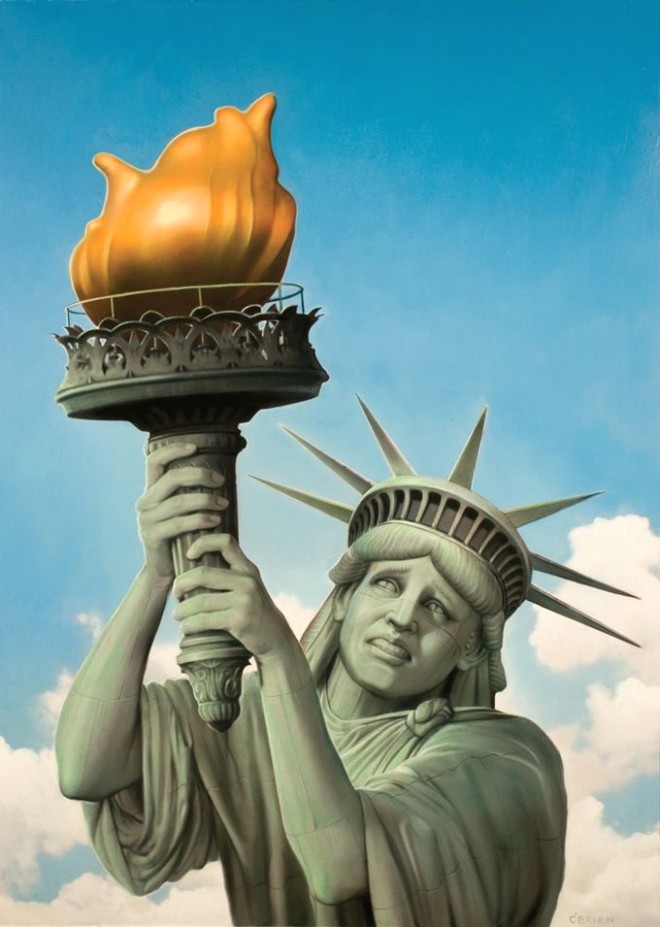 Drizzling rain this early Thursday on California's north coast as we'll be wet on-and-off the next couple of days — the NWS reports a threat of small hail tonight along the coast.
Nasty weather to mirror the frightful-but-ludicrous fuckfest in DC — this a glimpse into the horrendous mindset of our White House:
'"We were not informed by the Russians that their official photographer was dual-hatted and would be releasing the photographs on the state news agency," a Trump administration official told the Washington Post on the condition of anonymity.
CNN's Senior White House correspondent Jim Acosta reported that the administration did not anticipate Tass would publish the photos.
"They tricked us," he quoted one administration official speaking on the condition of anonymity.
"They lie."'
Irony lost, hugely…
(Illustration: Artwork by illustrator and portrait painter, Tim O'Brien, found here).
Speaking of which to the bullshit levels of terrifying mental problems — via the Washington Post this morning, from an interview between the T-Rump and the Economist magazine:
ECONOMIST: Beyond that, it's okay if the tax plan increases the deficit?
TRUMP: It is okay, because it won't increase it for long. You may have two years where you'll … you understand the expression "prime the pump"?
ECONOMIST: Yes.
TRUMP: We have to prime the pump.
ECONOMIST: It's very Keynesian.
TRUMP: We're the highest-taxed nation in the world. Have you heard that expression before, for this particular type of an event?
ECONOMIST: Priming the pump?
TRUMP: Yeah, have you heard it?
ECONOMIST: Yes.
TRUMP: Have you heard that expression used before? Because I haven't heard it. I mean, I just … I came up with it a couple of days ago and I thought it was good. It's what you have to do.
The Post then explains the 'expression' originated from the 19th century, and on top of that, listed times T-Rump had used the phrase himself before then — fucking-lying asshole.
Although in an interview this morning with Lester Holt of NBC News, the T-Rump again way-emphases fired FBI Director James Comey told him 'three times' that he was not under investigation — according to Wall Street Journal, also this morning: '"That is literally farcical," said one associate.'
All this is having an effect on Americans — the latest view:
A new poll finds which word comes to mind more often than others when people think of President Donald Trump.
That word: "Idiot."
Quinnipiac University on Wednesday released results of a national poll in which participants were asked a series of questions, including, "What is the first word that comes to mind when you think of Donald Trump?"
That same poll also reported that only 36-per cent of American voters approve of the T-Rump. near an all-time low, with 56-percent of voters 'actively disapprove' of his presidency, 61-per cent thought he was dishonest.
Way-alarming is the question…what's next?