Watching an unreal scene from DC via MSNBC — the T-Rump MAGA storm troopers have breached our Capitol and now a visual like a vista from some third-world country:
Former DC Police Chief Charles Ramsey: "What I'd want the president to do is shut the hell up and get out of the way. He's like a cancer."

"This is as close to a coup attempt as this country has ever seen." pic.twitter.com/DX4a6fvbpR

— The Recount (@therecount) January 6, 2021
And way-surreal:
They're in the chamber. One is up on the dais yelling "Trump won that election!" This is insane pic.twitter.com/p6CXhBDSFT

— Igor Bobic (@igorbobic) January 6, 2021
Even Republicans enough is enough (Guardian live):
Adam Kinzinger, a Republican congressman, described Donald Trump's tweet to his supporters storming the US Capitol as "cowardice."

Speaking to CNN, the Illinois congressman called on the president to acknowledge his defeat in the presidential race and allow the electoral college vote count to move forward.

Trump's former acting chief of staff, Mick Mulvaney, also said the president needed to instruct his supporters to "go home:"
The President's tweet is not enough. He can stop this now and needs to do exactly that. Tell these folks to go home.

— Mick Mulvaney (@MickMulvaney) January 6, 2021
Assholes still, but are shocked (Washington Post live):
House Minority Leader Kevin McCarthy (R-Calif.) condemned the storming of the Capitol and called on President Trump to make a statement in a bid to calm the mob.

"I think we need to make a statement, make sure that we can calm individuals down," McCarthy, the top House Republican, said in an interview on Fox News Channel.

McCarthy said he had called Trump and had a brief conversation with him.
Asked whether Trump may deliver another address to the nation at some point Wednesday, McCarthy said he wasn't certain.

"I don't know. I would think so. I think that would be appropriate," he said.

McCarthy also said the events unfolding Wednesday are unlike anything he has seen during his time on Capitol Hill.
"I have been in this Capitol for more than 10 years. I have never seen anything like this," he said.

Normally, he noted, Americans can peacefully observe the debate unfolding within the House from up in the galleries.
"That's not what's happening today. This is un-American what's going on, and it has to stop," McCarthy said.
Hasn't McCarthy known since forever the T-Rump was this, and the horror was building all along? These people do not need to hold office anymore, they've lost any right to any kind of public life ever again. They've pampered the T-Rump and all his evil, criminal ways the past four years and now that he's only fulfilling what he's blathered about is coming to fruition, they cry foul.
Fuck you!
This horrid story will play out throughut this afternoon — more cops/National Guard are needed. This kind of took everyone by surprise, though, it should have been under consideration since the deteriorating mental status of the T-Rump on his bluster and ravings.
He told the MAGA crowd this morning to do exactly what they ending up doing. The T-Rump is to blame.
Fuck it!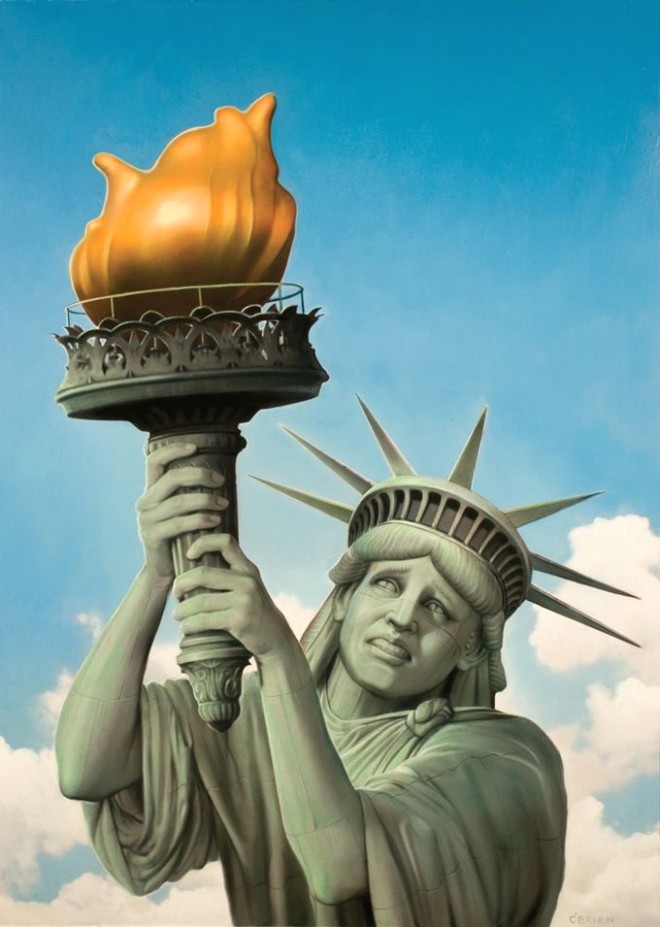 (Illustration by illustrator and portrait painter, Tim O'Brien, and can be found here).