Another Sunday afternoon here in California's Central Valley, sunshine hazy right now with some way-needed rain forecast for mid-week. In the midst of a pandemic, once again an upcoming drought year.
The numbers/stats for COVID, however, are not drought-like — according to John Hopkins University this afternoon, the US has 28,989,066 cases (most in the world), with 524,977 deaths (also most in the world), while in my state people continue to die, 54,217 dead already (we lead the nation), with 258 dead from yesterday through before-noon today.
Although the numbers are lower than a month ago, apparently the 'plateau' we leveled off at is still way-the-fuck up there. And with such ant-mask bullshit mucking the airwaves, the hope to get this virus under control quickly now with vaccines is becoming more pesssimistic by the day.
We're in a clusterfuck situation with a pandemeic made worse by Republicans, and it's all of the motherfuckers when they don't say anything about health, other than 'freedoms.' Texas and Mississippi drawing down on mask mandates, opening society back up with swarms of coronavirus in pockets all over the fucking place.
In fact, a CDC report released Friday said masks slow/stop the spread (ABC News): '"Mask mandates and restricting any on-premises dining at restaurants can help limit community transmission of COVID-19 and reduce case and death growth rates," researchers wrote. "These findings can inform public policies to reduce community spread of COVID-19."'
Screaming maybe in the wilderness:
Another infection spike? A fourth wave? Dr. Anthony Fauci reiterates his concern that COVID-19 cases have declined and plateaued around 60k or 70k cases — he says that's "unacceptable." pic.twitter.com/bzbcEh0AJ3

— Face The Nation (@FaceTheNation) March 7, 2021
Despite the science, and the plea for humanity's sake, there's shit in the air — Anthony Fauci said if we let down our guard too early — like right now — we could get fucked (via Mother Jones this afternoon:
On Sunday, Dr. Anthony Fauci, chief medical adviser to President Joe Biden, echoed a warning that rolling back public health restrictions on mask-wearing and mass gatherings too quickly could lead to a spike in COVID cases as the nation races to vaccinate millions of people each day and a more contagious and potentially dangerous COVID variant spreads throughout the United States.

As of Sunday, the United States reported, on average, 60,000 new COVID cases and 2,000 deaths per day.
Although the numbers have declined in recent weeks, the decline seems to be leveling off too early.
"Historically if you look at the different surges, plateauing at a level of 60,000 to 70,000 cases per day is not an acceptable level," Fauci said.
He pointed to a disturbing trend in Europe, where cases have increased 9-percent in the last week after a plateau.

Decisions this week from states such as Texas and Mississippi to end mask mandates and reopen businesses risk increasing the rate of spread.
A British variant of the virus, known as B.1.1.7, is reportedly doubling its share of new US cases every 10 days.
Researchers predicted that B.1.1.7 could become the predominant strain of the virus in March.
"We do want to come back carefully and slowly about pulling back on mitigation methods, but don't turn the switch on and off," Fauci said on Face the Nation on Sunday.
"It would be risky to have yet another surge."

The Centers for Disease Control and Prevention is expected to release guidelines for how vaccinated people are supposed to interact with others "within the next couple of days," Fauci noted.
Currently, the United States has so far administered nearly 88 million vaccines, at a rate of 2 million people per day.
"You have more and more protection of individuals but also communities. We need to hang in there a bit longer," Fauci said.
"It's not going to be like this indefinitely."
Yes, just try and be patient. Except assholes find that hard to do.
And despite the reality of factual information, we're still marked for asshole-shit, which mystifies the mind with only one explanation: Cruelty is the point. America is in a conundrum right now, caught between a nut-buster of a pandemic and the terrible, nasty mischief of Republicans. Apparently, from all I see everywhere I look, members of the GOP all across the country are trying ferociously hard to fuck up eveything, from voting to governing and even to our own health.
These people have been there forever, festering in their own shit, GOP people and MAGA-hatters both, and when the T-Rump came akong he gave them courage to be assholes in public like he is — T-Rump doesn't give a fat-rat's ass about anything/anybody except himself. He's even called for Republican groups to not use his name or fat-orange face to fundraise (except they maybe are not listening to him).
T–Rump-infested America sucks in a large extent nowadays, and shit like this makes me want to scream: 'Cheering parents watched as children tossed surgical masks into a fire outside the Idaho Capitol in Boise on Saturday as more than 100 people gathered to protest mask mandates as an affront to their civil liberties.'
Talk about some 'love your neighbor as yourself' shit — and nasty kick-back in Texas via The Washington Post last evening:
When the coronavirus pandemic hit and restaurant owners faced difficult decisions, the Richards family that owns Picos, a Mexican restaurant in Houston, quickly adapted to continue sharing their Latin cuisine — from selling to-go margarita kits to stationing a mariachi band at the curbside pickup.

This week, after Texas Gov. Greg Abbott (R) said Tuesday that he would rescind the statewide mask mandate while the vast majority of residents remain unvaccinated, the tough choice to enforce public health guidance fell to business owners, and Picos announced it would continue requiring masks.
But, after such a challenging year, the reaction to their decision was disheartening, co-owner Monica Richards said: Several people sent hateful messages through social media and called the restaurant, threatening to report staffers to Immigration and Customs Enforcement.

"It was just horrific," Richards said.
"People don't understand unless you're in our business what it felt like, how hard it was to go through everything we went through during covid. For people to be negative toward us for trying to remain safe, so that this doesn't continue to happen, just makes zero sense to us."
Added Anna Tauzin, spokeswoman the Texas Restaurant Association (which recommends eateries mandate employee masks, customers, too), on the jaw-dropping hypocrisy from Republicans/MAGA hatter-assholes: '"This is a decision business owners are making, and it's right for them," Tauzin said. "For a group that touts personal responsibility is something key to good stewardship of your business, it seems strange that they might criticize or throw insults at people who are trying to do just that. It's alarming."'
And co-owner Steven O'Sullivan of Cantina Barba, another Mexican restaurant in Houston, on the same shit coming from assholes: '"This has been ongoing through covid," O'Sullivan said. "We've had threats of calling ICE. I had one guy just stand there and berate one of my bartenders and tell her 'you're an absolute idiot, you don't know what you're doing. If you think these masks are going to save your life, you're stupid' blah, blah, blah. Nobody wants to deal with that stuff."'
Just meaness. And a full-disregard for any feelings of compassion.
America is wedged between a rock and a nasty, thorny hard place.
And an elementary spread:
One little piggly a day later:
I was going to use scenes from "The Stand," but too much hokem — the first part of the Stephen King novel is fascinating in description of the virus spread, but it then descends into the before-mentioned hokem.
Too Republican-like for me…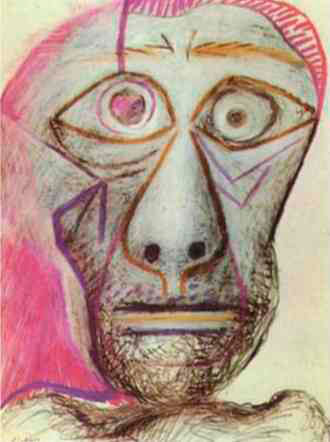 (Illustration: Pablo Picasso's 'Self Portrait Facing Death' (June 30, 1972), was originally found here)