Sad, angry shit this morning off the ugly vandalism of America yesterday in Georgia, which in itself is only representive of Republican endeavors nationwide — why the living-shit do we have to turn to The Onion for a reality check? (h/t tweet Daily Kos):
Ted Cruz Decries Voting Rights Bill As Shameless Power Grab By American People To Control Country https://t.co/yhtG7KoYjz pic.twitter.com/JA6SCAmNBa

— The Onion (@TheOnion) March 25, 2021
In a rational-based society this shit wouldn't exist, but yet a pure, bald-faced lie is pushed by GOPers everywhere to shift voting operations to hinder excess to the ballot box for millions of Americans, propeled by an entire party of worthless, lazy, scared and incompetent assholes.
Via the LA Times yesterday:
That familiar rhetoric was infused into the national dialogue by former President Trump, who had long said that the only way he could lose an election was through cheating; he spent much of 2020 attacking mail voting, claiming that the election would be "rigged." And after losing the election to now-President Biden, Trump continued to claim it was stolen, a falsehood that led hundreds of his followers to violently attack the Capitol as Congress was certifying results

In eight battleground states, including those in which Trump's allies filed more than 60 lawsuits, there was "no evidence of fraud, manipulation, or uncorrected error," according to a report by the nonprofit MITRE Corp.

But Trump's baseless assertions still resonate, with about 70-percent of Republicans believing the presidential election was invalid, polls in the months after found.
And Republican politicians at the federal and state level have amplified messaging about election fraud.

Many of more than 250 proposals moving through state legislatures are "fueled by voter fraud lies," said Wendy Weiser, vice president of the Democracy Program at the Brennan Center for Justice, a think tank at New York University Law School.

"It's the same lie that fueled the Capitol insurrection," she said
And in Georgia yesterday, the Republican-led state took the bullshit all the way out to the outhouse and beyond. However, the images from the event couldn't have been more vivid and horribly frightening with a backdrop of historical consequence, which would make even anyone with a walking-around sense of humanity retch (h/t tweet Tom Sullivan at Digby's):
2. Notice the antebellum-style portrait behind Kemp as he signs the suppression law? Thanks to Twitter crowdsourcing and particularly @TheSeaFarmer, I can report the measure to limit Black voting was signed under the image of a notorious slave plantation in Wilkes County, GA

— Will Bunch Sign Up For My Newsletter (@Will_Bunch) March 26, 2021
Click the twitter bird to read the whole thread — summary via The Daily Beast:
A photo of Georgia Gov. Brian Kemp signing the state's new restrictive voting bill into law on Thursday night quickly went viral, thanks to the gaggle of white Republican men standing around him, celebrating a bill that will mostly affect Black voters.
But Twitter sleuths have uncovered another vile twist: The men are standing below a painting of a notorious slave plantation in Wilkes County.
A guide from Georgia Council of the Arts confirms the painting is titled Brickhouse Road (Callaway PLNT).
It depicts the Callaway Plantation, once a 3,000-acre plantation that owned up to 100 slaves.
Their master was so cruel he built a quasi-jail on the property for unruly slaves, and set dogs onto those who tried to escape, according to an oral history from Mariah Callaway, a woman who was born into slavery on the plantation in 1852.
Georgian voter rights activist Stacey Abrams has dubbed the new voter suppression bill "Jim Crow 2.0."
Not only vile, but represents a level-depth of tone-deafness that defies even low-bar decency. Or else they just don't give a fat-rat's ass. Pick either one.
And to make a shitty thing shittier (h/t tweet LG&M):
"Why are you arresting her?" This Facebook Live video from @TWareStevens shows the moment authorities detained state Rep. Park Cannon as @GovKemp was behind those doors signing elections restrictions into law. #gapol pic.twitter.com/U1xMJ6tZrY

— Greg Bluestein (@bluestein) March 25, 2021
White men signing an order to disenfranchise mostly black people from a Constitutional right arrest a black woman for no other reason than being asshole-shitheels — per The Atlanta Journal-Constitution this morning:
Georgia state troopers arrested state Rep. Park Cannon on Thursday as she knocked on Gov. Brian Kemp's door, interrupting his livestreamed announcement that he had signed an elections bill into law.

The officers forcibly removed Cannon, a Democrat from Atlanta, dragging her through the Capitol and pushing her into a police car.
She was charged with obstruction of law enforcement and disrupting General Assembly sessions, according to the Georgia State Patrol and released on bond late Thursday.

Cannon was with several other protesters when she knocked on Kemp's office door, saying the public should be allowed to witness the announcement of the bill signing.
The sweeping legislation requires ID for absentee ballots, limits drop boxes and changes early voting hours.

Tamara Stevens, an activist who was with Cannon, said she wasn't being disrespectful or causing a disturbance.

"She knew he was signing a bill that would affect all Georgians — why would he hide behind closed doors? This isn't a monarchy," Stevens said.
"You have a women of color fighting for the rights of Georgians and they arrested her for knocking on the door because she wanted to witness our governor sign the bill."
Yes, indeed.
Meanwhile, back to that rainy, sad night — 'the Babbling Brook' had an idea:
"How many times I wondered
It still comes out the same
No matter how you look at it or think of it
It's life and you just got to play the game…"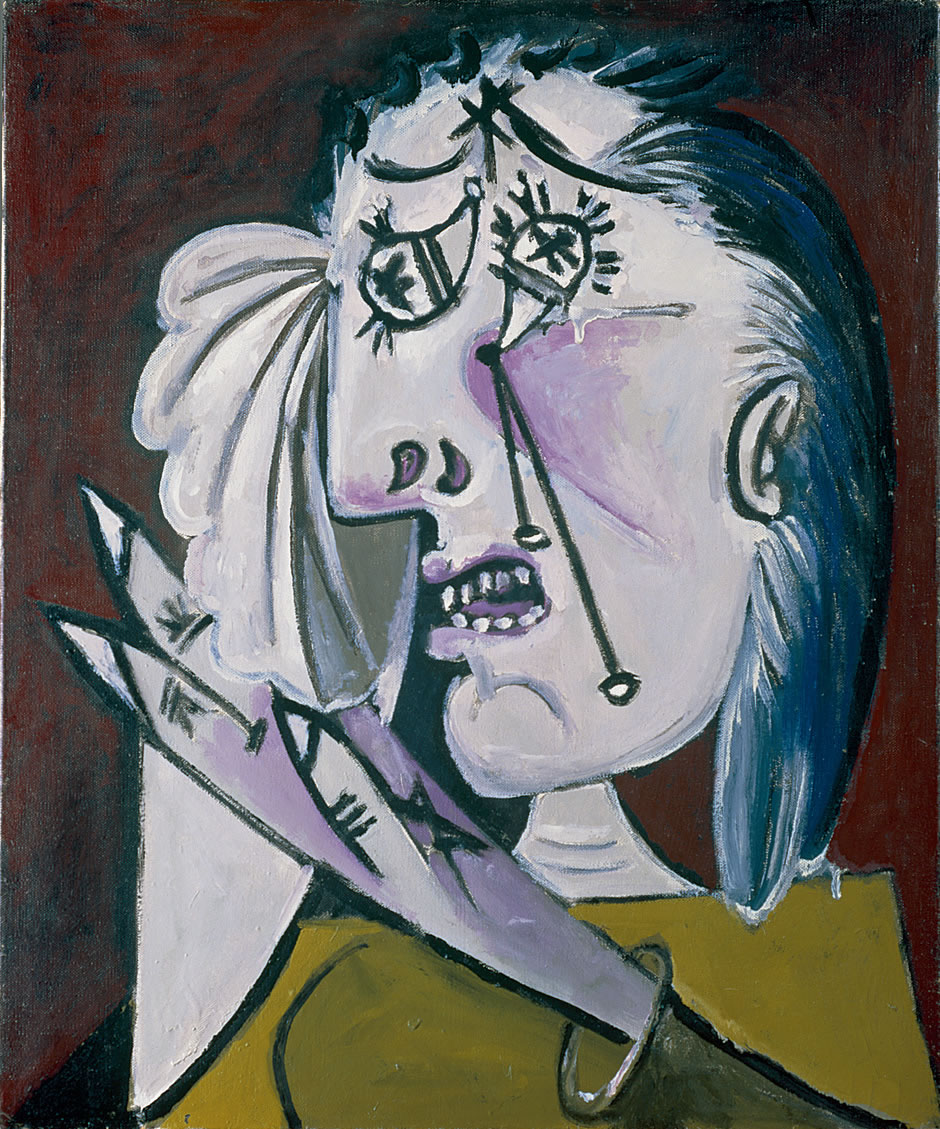 (Illustration: Pablo Picasso's 'The Weeping Woman [La Femme qui pleure],' found here)