Reality seen with your own eyes, except for the T-Rump and every fucking Republican sucking air right now — on Fox News Thursday night, T-Rump described in a seemingly fever dream the Jan. 6 US Capitol building insurrection/riot:
"It was zero threat, right from the start, it was zero threat. Look, they went in, they shouldn't have done it.
Some of them went in, and they are hugging and kissing the police and the guards, you know, they had great relationships."
As in an off-catheter sore, actuality is not always actual:
Oh no we made Desi watch Fox News again https://t.co/k75ZYji6XN

— The Daily Show (@TheDailyShow) March 27, 2021
And in keeping with the horrid Sleepy Joe scandals uncovered by hard-nosed, super-competent journalists, Andy Borowitz at The New Yorker last week leaked a biggie:
WASHINGTON (The Borowitz Report) — Calling it a "scandal bigger than Watergate," the Fox News host Tucker Carlson accused President Biden of "thoroughly faking mental sharpness" for more than an hour during his press conference on Thursday.

"Doing everything he could to give the appearance of mental acuity, he answered questions in detail, stayed on point, and uttered suspiciously complete sentences," Carlson alleged.
"I've seen some shameless stunts in my time, but this one takes the cake."
Carlson said that Biden's "desperate charade" extended to "accomplishing concrete things to make himself seem competent."

"When he said that he would double the number of vaccinations in his first hundred days, my jaw dropped," he said. "President Trump would never have tried to pull something like that."
Indeed — how about, maybe, Tricky Joe?
And further fantastical lunacy from Texas shithead Ted Cruz investigating Joe's "border crisis" with an  A-Team excuraion down a small part of the Rio Grande:
You're in a Border Patrol boat armed with machine guns.

The only threat you face is unarmed children and families who are seeking asylum (as well as the occasional heckler).

If you're looking for a crisis to cosplay Senator for, I'm happy to point you in the right direction. https://t.co/mDyWs6rQOM

— Beto O'Rourke (@BetoORourke) March 26, 2021
A reality check via the Guardian this afternoon:
Sporting a dark green fishing shirt and matching baseball cap with the Texas flag, Cruz spoke at a press conference where he sought to paint a dramatic picture of his experience: "On the other side of the river we have been listening to and seeing cartel members — human traffickers — right on the other side of the river waving flashlights, yelling and taunting Americans, taunting the border patrol."

Despite his claims that the border situation is a direct result of the Biden administration's immigration policies, residents in the Rio Grande Valley have said no such crisis exists.
In fact, the number of border crossings under the Biden administration largely mirror those under the former Trump administration.
Cruz was accompanied by 18 other Republican senators including John Cornyn, Susan Collins, and Linsey Graham.
The asshole was way-criticized on Twitter for being such a no-nothing, ignorant piece of shit — the Guardian piece has numerous examples, like this one:
Ted Cruz and Susan Collins claim they were "heckled" by drug cartels at the Mexican border. Both agreed it brought back painful memories of their proms

— Paul Rudnick (@PaulRudnickNY) March 26, 2021
And this:
is this the part where the velociraptor comes out and eats him https://t.co/aNpvh1VuxE

— Nate Monroe (@NateMonroeTU) March 26, 2021
If these buffoonish shitheels weren't racist, lying, cruel-ass crazy, anti-democratic fucks their entire scam would be funny, and we'd all laugh.
However, they're poisonous snakes in short grass and a danger to society.
Out in space somewhere, ugly dark-sided views:
"Breathe, breathe in the air…"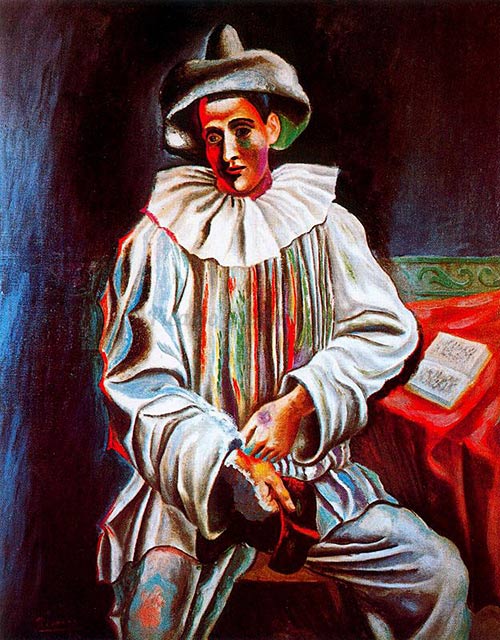 (Illustration: Pablo Picasso's 'Seated Pierrot,' found here)