Another lopsided shit-event at the US Capitol this morning (AM here on the West Coast) when apparently some random guy tried to ram Capitol police with his car, then jumped out with a knife. Two cops were injured, one fatally, and the suspect was shot dead — just WTF:
National Guard has now been deployed around US Capitol. Officers are fully equipped with riot shields ?? https://t.co/lf1s7pUozI

— Kieran Bradley (@KieranKBradley) April 2, 2021
As the situation is developing, some deatils via CBS News:
Two officers were rammed by a car and injured at the barricade at the Constitution Avenue access point to the Capitol, U.S. Capitol Police said Friday, shortly after they sent an alert to staffers warning of an "external security threat."
Two sources confirm to CBS News that the suspect has died.

The incident comes nearly three months after rioters overran the building in a deadly attack on January 6.

U.S. Capitol Police said in a tweet that officers were "responding to the North Barricade vehicle access point along Independence Avenue for reports someone rammed a vehicle into two USCP officers," then corrected that to say the incident was at the Constitution Avenue access point.
…
The alert to staffers said that no entry or exit is currently permitted, but movement throughout the building is allowed.

"Due to an external security threat located All U.S. Capitol Campus Buildings, no entry or exit is permitted at this time. You may move throughout the building(s) but stay away from exterior windows and doors. If you are outside, seek cover," the message to staffers in the building said.

Congress is in recess, and so most lawmakers are in their home states and not in Washington. However, other congressional staff, as well as reporters and police officers, are present.
Another story which will change as time goes on, and what officials can figure out why that guy peformed the nit-twitted deed. Capitol Police have scheduled a news conference shortly, so more should be known then.
And here it goes:
HAPPENING NOW: Capitol Police give updates on the car that rammed into a Capitol barricade, injuring two officers. Watch live: https://t.co/Upe8dIHzqr pic.twitter.com/q4WThfaY42

— CBS News (@CBSNews) April 2, 2021
Noted via Guardian's live blog:
Yogananda Pittman, the acting chief of US Capitol Police, is now holding a briefing on the car attack that occurred near the Capitol this afternoon.

Pittman announced that sadly, one of the officers involved in the attack has succumbed to his injuries and died. Pittman did not identify him because the USCP is still trying to locate his next of kin.

Pittman also confirmed that the suspect in the attack has died.
Bad shit here, and more to come I suppose.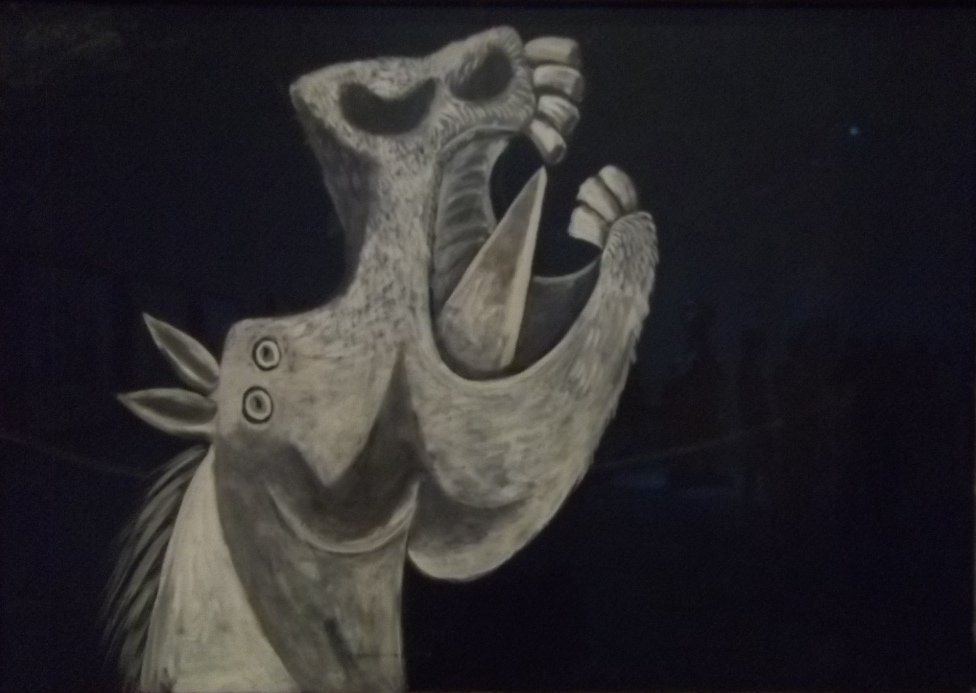 (Illustration: Pablo Picasso's 'Agonizing Horse,' found here),