Here it is Sunday way-again — we're now in the fifth month of 2021 and the days have churned past quicker than those cinematic calendar pages rapidly flipping, illustrating the way-fast passage of time. Result of that film scene would be at the end of the sequence some weird shit usually happens. December 2020 seems way-the-f*ck back yonder.
And, too, another 'Serenade' to either end the weekend, or start a new almanac week, the last day of freedom before the start of what-used-to-be-called a 'work week,' which carries a way-different meaning in (I use 'way' as a modifer on a way-lot of shit) the nowadays of a runaway, crazed pandemic/lockdown/masked society and the onslaught of Zoom-like labor practices in so much the fashion, and a near-about requirement — if there's a desire to keep 'working.'
Anyway, the news cycle sputters to a near-standstill on the weekend (even with blogs) as most shit happening on these couple of days are for show — typically crime stories, disasters and such top the headlines, of political stories it's of a politican doing stupid shit, or a follow-up on some stupid shit done by politicans from the past week — and I discovered a 'Serenade' gave me at least interesting, entertaining subject-matter shit. (Last Sunday's here;  and the first two, here and here, if you so wish).
I don't surf the whole InterWebs as a regular routine (I Google shit constantly, of course), but only have near-about two dozen sites I check several times a day, blogs and news sources like CNN, The Washington Post, New York Times, etc, and Google people and news events as they appear, but it's those blogs that are the wonder. Many hat-tips to these sweet spots.
One of my favorites is Mock Paper Scissors for not only the politics, but the heart-felt funny shit, too, and there's a couple examples in today's 'Serenade' — this first one this morning, here:
Saving this pic.twitter.com/YHIVcvcUG0

— Acyn (@Acyn) May 1, 2021
Seemingly hard to find a news source that spelled 'bullshit' correctly, instead going went with 'bull****' or something like it, despite Acosta saying it live on the air — one was RealClearPolitics from last night:
CNN's Jim Acosta takes aim at FOX News for misreporting stories on Joe Biden and Kamala Harris on the Saturday edition of "Newsroom."

"What's really sad is that even prominent Republicans are still repeating this even after the story was debunked," Acosta lamented. The top House Republican, Kevin McCarthy repeated the lie on FOX News after Biden's speech to Congress."

"That tale from the border didn't just border on B.S., this was USDA Grade-A bullshit. And the [New York Post] reporter who wrote the story resigned, claiming she was forced to make it up. But the damage was done, pumped out over the airwaves at the bullshit factory also known as FOX News," he said.

"Lies, big lies can have terrible consequences. Just four months ago we all witnessed the fallout about the Big Lie about the election — and it should've served as a lesson on how lies can kill," the CNN correspondent said.
Journalism nowadays is mostly fucked, though, there some good reporting going on, majority of the MSM has the shits about routine and the truth. Anyway, kudus to Acosts, anyway.
The other MPS entrant today is one of the funniest from all last week — you'll be super-surprised by your way-sudden, gut-originated laugh-guffaw (found here from last Monday):
Can't stop laughing! ??

Sound on pic.twitter.com/vp1DB3CZTH

— Buitengebieden (@buitengebieden_) April 26, 2021
Anyhow, this next animal tomfoolery comes from another of my long-time special uplifting sites, Miss Cellania, and despite the naive-idiocy of the goats, the lady apparently filming the incident is the true funny to this funny as her uncontrolled, unstoppable laugher is way-a-wonder — found on Tuesday here:
And in recognition of COVID-19 and our off-lingo, feeling sometimes freaky-funny about it comes via the great Balloon Juice and its terrifying-but-must-read daily virus updates — seen on Friday here:
Vaccinated? ?
14 days since last dose? ?
Outdoors? ?
No crowds around? ?

Yay — go mask-free.https://t.co/IMl3Fl5QOQ pic.twitter.com/fRIPOgwOpD

— Laurie Garrett (@Laurie_Garrett) April 28, 2021
Next on the 'Serenade agenda, a bit of creepy with the humor being dark, and a tale coming from the Jan.6 insurrection/riot while surfing the Twitters:
"For protection, Mr. Westerman said he commandeered a Civil War sword from an office display, barricaded himself in Mr. McCarthy's private bathroom and waited out the siege while crouched on the toilet."https://t.co/CMUdh9yaSD

— Maddow Blog (@MaddowBlog) April 27, 2021
And then later found background via CrooksandLiars last Wednesday:
Rachel Maddow took righteous aim at a sympathetic New York Times profile that buried the news about McCarthy's abandonment of his Republican colleague until nearly the end of its 39-paragraph article.
The same day of the article, McCarthy appeared on Fox News Sunday and tried to rewrite the history of the January 6th insurrection by pretending Trump had helped quell the violence.

"I don't understand how this isn't the headline," Maddow said, referring to the incident with Westerman.
Then she read from the article:
After the House chamber was evacuated on Jan. 6, Mr. McCarthy retreated to his Capitol office with a colleague, Representative Bruce Westerman, Republican of Arkansas. When it became evident the rioters were breaking in, Mr. McCarthy's security detail insisted he leave. But Mr. Westerman was left behind in Mr. McCarthy's inner work area, he said in a recent interview.
For protection, Mr. Westerman said he commandeered a Civil War sword from an office display, barricaded himself in Mr. McCarthy's private bathroom and waited out the siege while crouched on the toilet.
Friends describe the postelection period as traumatic for Mr. McCarthy …
"Wait, [traumatic] for Mr. McCarthy? For Kevin?" Maddow asked incredulously.
"He was rushed out because the rioters were breaking in."

Maddow mockingly imagined how McCarthy had saved himself while deserting his colleague to a violent mob.

MADDOW: It was like, "Oh, no, Bruce, we came here to my office to hide, but the rioters they're inside now. They're coming for us. Bye, Bruce. I'll see you later. I'm out of here. There's a toilet in there. Maybe good luck crouching on top of the toilet. They won't see your feet if they look under the door?"

Maddow wondered about the discussion in McCarthy's armored SUV as he was being whisked off to safety. "Do you think at one moment they were like, "I hope Bruce is okay. Yeah, we did just leave him," she added.

"That's the leader taking care of his members," Maddow said sarcastically.
She likened it to the old joke about how fast you have to run to avoid getting eaten by a bear: "Turns out you don't need to run that fast, just faster than your friend. Sorry, Bruce, good luck with the mob. Did you lock the toilet door?"
Shitty how Republicans are trying to whtewash the whole Capitol storm-event, and are being incredible lying, hypocritical assholes about it, too.
In the next bit shows how history can come back around and bite you on your ass — blast from the past carves-up "Citizen Kane" as top film in like forever (found on the Twitters):
Paddington 2 is a masterpiece ? pic.twitter.com/PbuJVQcBUY

— Braddington (@bradwhipple) April 27, 2021
Story and details from The Washington Post last Wednesday:
The reviews for "Citizen Kane" were universally glowing: The 1941 classic was "a triumph," "a power play of startling brilliance" and "one of the most arresting pictures ever produced," critics raved in write-ups compiled by the review aggregator Rotten Tomatoes.

Enter Mae Tinee of the Chicago Tribune: "You've heard a lot about this picture and I see by the ads that some experts think it 'the greatest movie ever made,'" began the pseudonymous critic. "I don't."

The 80-year-old review, recently unearthed by Rotten Tomatoes and added to the "Citizen Kane" compilation, single-handedly ruined the celebrated film's perfect score on the site.
In a development met with glee on Twitter, that meant "Paddington 2" — a live-action animated comedy about a marmalade-loving bear — suddenly carried a higher rating.
…
Rotten Tomatoes did not immediately respond to The Washington Post's request for comment.
But according to the Hollywood Reporter, the scathing review that downgraded "Citizen Kane" was discovered as part of the review site's "Archival Project."
The effort digs up years-old critiques and adds them to old-time flicks.
…
Uploaded as a scanned clipping from the May 7, 1941, edition of what was then known as the Chicago Daily Tribune, the review was headlined "'Citizen Kane' Fails to Impress Critic as Greatest Ever Filmed."
The piece that would knock down the cinematic legend was attributed only to "Mae Tinee." (Matinee — get it?)
…
He or she offered praise for some of the performances in "Citizen Kane," which would be nominated for nine Academy Awards.
But otherwise, the mystery critic was largely unimpressed.

"It's interesting," the review said.
"It's different. In fact, it's bizarre enough to become a museum piece. But its sacrifice of simplicity to eccentricity robs it of distinction and general entertainment value."

Elsewhere in the column, Tinee blasted the movie's lauded photography as "shadowy and spooky," adding, "I only know that it gives one the creeps and that I kept wishing they'd let a little sunshine in."
And for some sunshine, a mental-physical dream for all of us right about now and seen last Tuesday at much-beloved Cheers&Jeers:
Me when the pandemic is over… pic.twitter.com/BHus3lb7uk

— Rex Chapman?? (@RexChapman) April 25, 2021
What can you really say…?
Finally, one of the best responses to Tucker the Fucker (h/t again Cheers&Jeers last Wednesday):
Tucker Carlson is the Jeopardy GOAT pic.twitter.com/wwZyaBNqN0

— The Daily Show (@TheDailyShow) April 20, 2021
Bonus bit to end this 'Serenade,' Gracie Allen and Eleanor Powel sing and dance it all away:
And cut…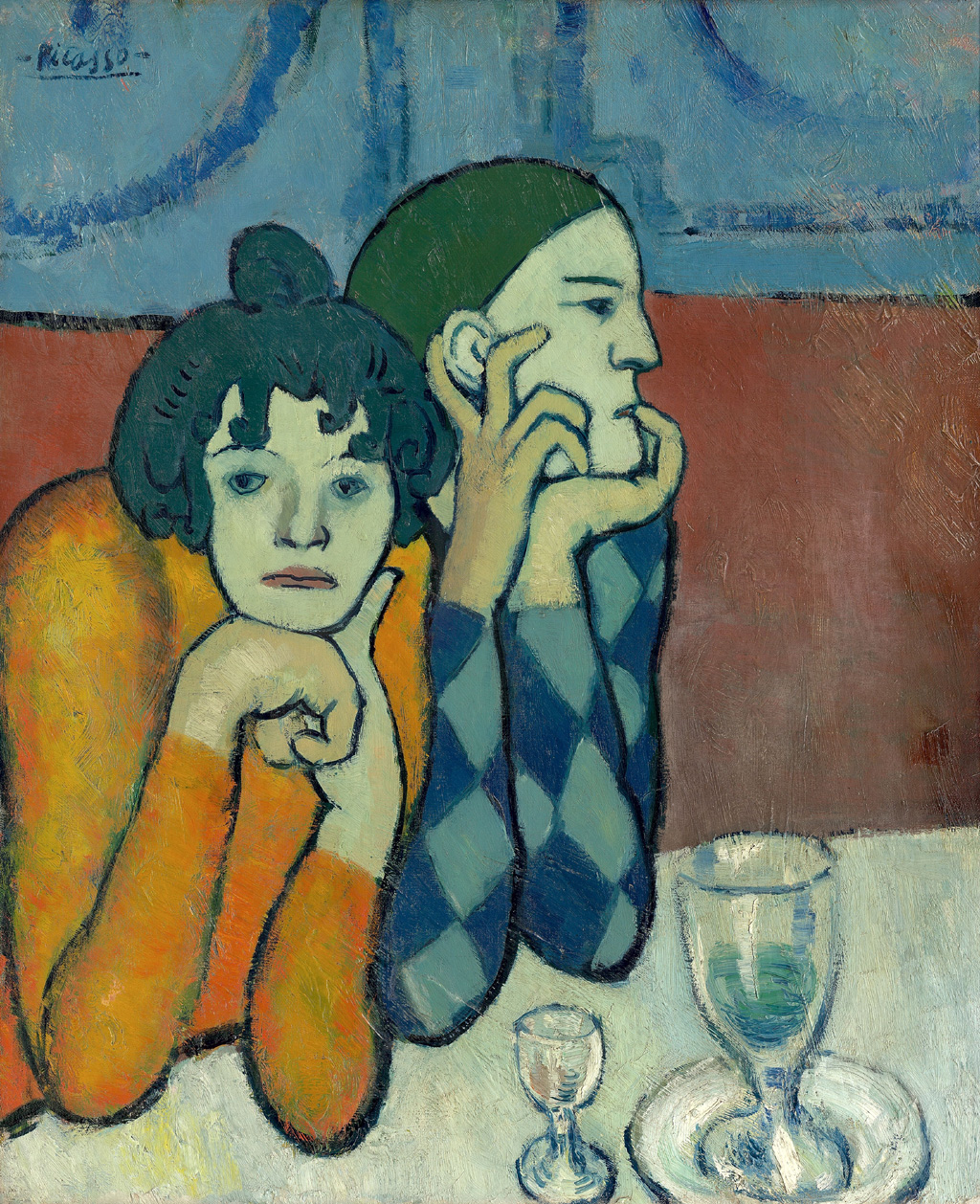 (Illustration: Pablo Picasso's 'Les Deux Saltimbanques: l'Arlequin et Sa Compagne,' found here)