Weather lede again this mid-day Friday here in California's Central Valley — we're at 94-degrees right now with a forecast buzz-high of 104, which despite what the prediction-people say, feels like we've already cleared that bar.
All indications for a way-hot afternoon.
And heat is a good metaphor for some breaking-big news back in DC — the T-Rump might have just shit in his mess kit, and hopefully, his ass will soon be in boiling-hot water:
Breaking NYT: Trump pressed top DOJ officials late last year to declare that the election was corrupt even though they had found no instances of widespread fraud, so that he and his allies in Congress could use the assertion to try to overturn the results.https://t.co/lGpfcysWwR

— Kyle Griffin (@kylegriffin1) July 30, 2021
One can only hope this is the literal smoking gun/cannon that will shut-up/put-away any bullshit T-Rump has left in him — when I first spied the story, it appeared it came from a scoop by The New York Times, but as it turned out, the shit for the story is officially in the hands of the House Oversight Committee, which released the info this morning.
Via the Guardian's live blog not too long ago with a nutshell summary:
Here's a quote for the ages: to justify his false claims of widespread fraud in the presidential election, Donald Trump told senior justice department officials, "You guys may not be following the internet the way I do."
…
Donald Trump pressed senior officials at the justice department to declare the 2020 presidential election was corrupt, according to notes obtained by the House oversight committee.

The panel has released the notes of former deputy attorney general Richard Donoghue, who documented a 27 December call with Trump and acting attorney general Jeffrey Rosen.

In the notes, Donoghue quotes Trump as telling him and Rosen, "Just say that the election was corrupt + leave the rest to me" and congressional Republicans.
According to Donoghue's notes, Trump specifically named Republican congressman Jim Jordan as a "fighter" who would help promote this false narrative.
The notes demonstrate the dangerous lengths that Trump went in his efforts to overturn the results of a free and fair election.
"We have an obligation to tell people that this was an illegal, corrupt election," Trump said, according to the notes.

Just to state the obvious: Joe Biden fairly won the presidential election, and Trump has produced no evidence to validate his false claims of widespread voter fraud.
And from CNN:
The notes are the latest evidence of Trump's efforts to pressure the Justice Department to support his false claims of election fraud as he tried to overturn his November loss to Joe Biden.
Those efforts are now the subject of a new House select committee that's investigating the January 6 attack on the Capitol carried out by pro-Trump supporters to try to stop the certification of Biden's election win, in addition to the House Oversight Committee's investigation into Trump's baseless election fraud claims.

"These handwritten notes show that President Trump directly instructed our nation's top law enforcement agency to take steps to overturn a free and fair election in the final days of his presidency," House Oversight Chairwoman Carolyn Maloney said in a statement.
Also, another angle from The Washington Post, which added this:
Trump and his lawyers could have sought to block the release of Donoghue's notes to Congress. There were days of discussion among Trump advisers about whether to do so, but the former president did not believe the notes showed anything problematic, even though some of his advisers feared the disclosures would be damaging.

"If it gets more attention on the election, he welcomes it," one adviser said.

At least some of the former Justice Department officials with knowledge of the phone conversations had privately hoped Trump would seek to block the sharing of the notes, to prevent those former officials from having to testify on Capitol Hill about the exchanges, said people familiar with their thinking. Those people spoke on the condition of anonymity to describe internal discussions.

But Trump did not attempt to stop the release of the notes.
Does the T-Rump see the old adage, any news is good news, in this shit? Our way-main saving grace in dealing with the T-Rump is him being such a fucking retard without any common sense whatsoever. And being such an enormous narcissistic asshole with an enormous laundry-list of mental problems, he's fairly predictable — the release of those notes carried no shock value or surprise, other than he's way-more corrupt in a mafia/crimelord sense than we figured, which is bad already. On close inspection, either through notes or documents, the T-Rump is constantly revealed to be a way-worse human being in all respects.
And the main feature came from the NYT — story behind a paywall, so here's some snips:
The demands were an extraordinary instance of a president interfering with an agency that is typically more independent from the White House to advance his personal agenda.
They are also the latest example of Mr. Trump's wide-ranging campaign during his final weeks in office to delegitimize the election results.

The exchange unfolded during a phone call on Dec. 27 in which Mr. Trump pressed the acting attorney general at the time, Jeffrey A. Rosen, and his deputy, Richard P. Donoghue, on voter fraud claims that the department had disproved.
Mr. Donoghue warned that the department had no power to change the outcome of the election.
Mr. Trump replied that he did not expect that, according to notes Mr. Donoghue took memorializing the conversation.

"Just say that the election was corrupt + leave the rest to me" and to congressional allies, Mr. Donoghue wrote in summarizing Mr. Trump's response.

Mr. Trump did not name the lawmakers, but at other points during the call, he mentioned Representative Jim Jordan of Ohio, whom he described as a "fighter"; Representative Scott Perry of Pennsylvania, who at the time promoted the idea that the election was stolen from Mr. Trump; and Senator Ron Johnson of Wisconsin, whom Mr. Trump praised for "getting to bottom of things."

Mr. Jordan and Mr. Johnson denied any role in Mr. Trump's efforts to pressure the Justice Department.
…
Mr. Trump's conversation with Mr. Rosen and Mr. Donoghue reflected his single-minded focus on overturning the election results.
At one point, Mr. Trump claimed voter fraud in Georgia, Michigan, Nevada and Arizona, which he called "corrupted elections."
Mr. Donoghue pushed back.

"Much of the info you're getting is false," Mr. Donoghue said, adding that the department had conducted "dozens of investigations, hundreds of interviews" and had not found evidence to support his claims.
"We look at allegations but they don't pan out," the officials told Mr. Trump, according to the notes.
…
Mr. Trump, undeterred, brushed off the department's findings.
"Ok fine — but what about the others?" Mr. Donoghue wrote in his notes describing the president's remarks. Mr. Trump asked Mr. Donoghue to travel to Fulton County to verify signatures on ballots.

The people "saying that the election isn't corrupt are corrupt," Mr. Trump told the officials, adding that they needed to act. "Not much time left."
…
The officials also told Mr. Trump that the Justice Department had no evidence to support a lawsuit regarding the election results.
"We are not in a position based on the evidence," they said. "We can only act on the actual evidence developed."

Mr. Trump castigated the officials, saying that "thousands of people called" their local U.S. attorney's offices to complain about the election and that "nobody trusts the F.B.I."
He said that "people are angry — blaming D.O.J. for inaction."

"You guys may not be following the internet the way I do," Mr. Trump said, according to the document.
And foolish, crazy-corrupt shit continued:
Two days after the phone call with Mr. Trump, Mr. Donoghue took notes of a meeting between Justice Department officials: Mr. Trump's chief of staff, Mark Meadows; the White House counsel, Pat Cipollone; and the White House deputy counsel Patrick Philbin met to discuss a conspiracy theory known as Italygate, which asserts without evidence that people in Italy used military technology to remotely tamper with voting machines in the United States.
What the fuck!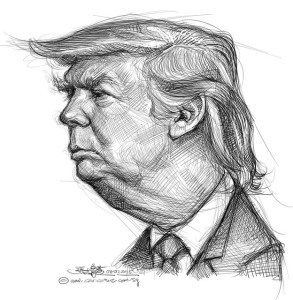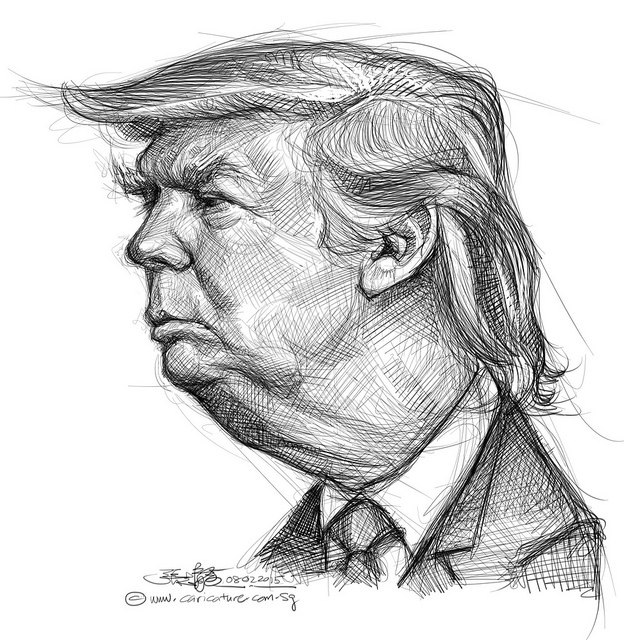 This is my favorite of the T-Rump mugs, though, 'favorite' does not mean in any form or fashion, as in, 'my favorite movie,' or 'my favorite song.'
It's more of an anti-appreciation/like.
And aptly titled, 'Basic Shapes,' by caricaturist/illustrator Chong Jit Leong (and found here), and displays the elemental form of a purloined sociopath — a bloated profile of flatulent bile and arrogant ignorance.