Contradiction and lack of any kind of self-awareness is a mainstay of being an idiot Republican nowadays, even if death is on the line:
Wooooooooowwwwwww https://t.co/Q1VOvkj0jq

— Ovie (@OvieO) August 21, 2021
If DeathSantis is not aware, maybe he should be instructed — sarcasm a must from Andy Borowitz at The New Yorker yesterday:
TALLAHASSEE (The Borowitz Report) — A group of Florida's kindergartners has offered to explain the science underpinning the use of masks to the state's governor, Ron DeSantis.

Calling DeSantis's objection to mask mandates "clearly an example of ignorance on his part," one of the kindergartners, Jayson Dorrinson, said that his fellow five-year-olds were willing to talk to the Governor at his earliest convenience.
"The benefit of wearing masks is so clear, it's obvious to us that no one has explained this issue properly to Mr. DeSantis," the kindergartner said.
"We're happy to play that role."

Dorrinson said that he was "not concerned" that being told the facts about masks might enrage DeSantis, who has been on a short fuse in recent weeks.
"We sincerely hope that he doesn't get mad," the five-year-old said.
"But, if he does, we'll just give him a timeout."
However, the governor might sic his press secretary on the kids, especially young Mr. Dorrinson, and "put you on blast."
Kindergartners, what can you do?
The best way is through the pocketbook — remove income from those who are aiding and abetting:
I bought this jacket 35 years ago at the #Patagonia store on Newbury Street in Boston. Today I'm going to their Soho store to buy a new one. Way to walk the walk, #Patagonia . https://t.co/59lyF6IfR4

— Mary L Trump (@MaryLTrump) August 21, 2021
A good crimp in the string is being unpopular and it appears the right thing is the right thing — background via The Washington Post this afternoon:
Patagonia will no longer sell its merchandise at a popular Wyoming ski resort after one of the owners hosted a fundraiser featuring Rep. Marjorie Taylor Greene and other Republicans supportive of former president Donald Trump.

Patagonia confirmed this week that it was pulling out of three stores operated by Jackson Hole Mountain Resort, its largest single customer in the area.
The outdoor gear and clothing company acknowledged that the move came after Jay Kemmerer, a co-owner of the facility, co-hosted an Aug. 5 fundraiser for the House Freedom Caucus, a bloc of conservative Congress members who have allied themselves closely with Trump.
…
"Those that know us in Jackson Hole are aware that we make business decisions and build relationships in alignment with our values and advocacy efforts," Patagonia spokeswoman Corley Kenna said in a statement to The Washington Post.
"We join with the local community that is using its voice in protest. We will continue to use our business to advocate for policies to protect our planet, support thriving communities and a strong democracy."
…
When residents got word of the GOP fundraiser, protesters gathered near the resort and held signs that read, "Hey JHMR, your Green(e) washing is showing" and "JHMR passes fund treason?"
Among the protesters was Marisa Sullivan, 35, who told the News and Guide she has stopped buying passes to the resort because of "the things that they support."
"If you're going to give people that kind of money, I don't want it to be going to things like this," she said.
"This is ridiculous to me."
Always stay un-ridiculous.
Unless you go against a Sicilian when death is indeed on the line:
And here we are, again…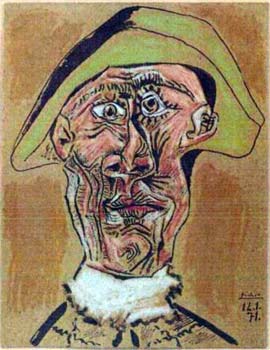 (Illustration out front: Pablo Picasso's 'Harlequin Head,' found here),