As the backwash off T-Rump's coup attempts pushing the Big Lie as he left office in January, along with knowingly lying about fraud, and other asshole endeavors, now there's T-Rump trying to blow chaos into the turbulent wind — suing people.
In this particular case, somebody who knows what a piece of shit he really is — Mary L Trump:
Former President Donald Trump filed a lawsuit against his niece Mary Trump, as well as several New York Times journalists, for the disclosure of his tax information that was published in several articles. https://t.co/5aWvgaN9AL

— CNN (@CNN) September 22, 2021
News accounts on the case, first from the New York Times, updated this morning:
Mr. Trump's lawsuit, filed in State Supreme Court in Dutchess County, N.Y., accuses the newspaper, its reporters and Ms. Trump of being motivated "by a personal vendetta and their desire to gain fame, notoriety, acclaim and a financial windfall and were further intended to advance their political agenda."

The suit comes as the former president continues to argue falsely that the 2020 election was stolen from him, and as his family company, the Trump Organization, and its longtime chief financial officer, Allen H. Weisselberg, have been accused by Manhattan prosecutors of avoiding taxes on employee perks that should have been reported as income. They have pleaded not guilty.

During his 2016 presidential campaign, Mr. Trump promised to make his tax returns public, as presidential candidates, including President Biden, have done for at least 40 years. But Mr. Trump then refused to release them, citing an ongoing audit. The secrecy surrounding his taxes led to criticism and questions that dogged him throughout his presidency.
…
In 2019, three Times reporters — David Barstow, Susanne Craig and Russ Buettner — were awarded a Pulitzer Prize for explanatory reporting for that article and others about Mr. Trump's taxes.
In announcing the award, the Pulitzer judges called the work "an exhaustive 18-month investigation" that "revealed a business empire riddled with tax dodges."
Next, more background via The Daily Beast, also updated this morning with Mary Trump's view of her uncle:
"I think he is a fucking loser, and he is going to throw anything against the wall he can," said Mary Trump of her uncle's new suit.
"It's desperation. The walls are closing in and he is throwing anything against the wall that will stick. As is always the case with Donald, he'll try and change the subject."

In something of the same spirit in which the former president often credited himself with boosting ratings at the news networks he considered his enemies, the suit notes that "the 2018 article received a record-breaking amount of attention, garnering more views than any previous article in the Times' history," as "the stock price of the Times rose 7.4-percent during the week of the publication of the 2018 article."

A spokesperson for the paper told The Daily Beast on Tuesday night that "The Times' coverage of Donald Trump's taxes helped inform citizens through meticulous reporting on a subject of overriding public interest. This lawsuit is an attempt to silence independent news organizations and we plan to vigorously defend against it."

Craig said in a tweet: "I knocked on Mary Trump's door. She opened it. I think they call that journalism."
…
Mary Trump's attorney Theodore J. Boutrous Jr. added in a statement to The Daily Beast: "This is the latest in a long line of frivolous lawsuits by Donald Trump that target truthful speech and important journalism on issues of public concern. It is doomed to failure like the rest of his baseless efforts to chill freedom of speech and of the press."

Trump himself is the target of a lawsuit linked to the estate dispute.
Shortly after Mary Trump's book was published, she sued the then-president; his sister, retired federal appeals court Judge Maryanne Trump Barry; and the executor of the estates of his late brother Robert, accusing them of stealing millions of dollars from her after the 1981 death of her father, Frederick Trump Jr.

"For Donald J. Trump, his sister Maryanne, and their late brother Robert, fraud was not just the family business — it was a way of life," her lawsuit says.
"All told, they fleeced her of tens of millions of dollars or more."
Bonus Mary Trump — Don Jr is the dumbest T-Rump kid:
Highlights per Raw Story, also this morning (Freddy Trump is Mary's dad):
Fred Trump's eldest and namesake, Freddy Trump, was supposed to take over the business and build it bigger and better.
But he was so disenchanted with what he had to deal with that he left and decided to do what he loved, flying.
That was what ultimately turned Donald into the new Trump heir.

Like his father, Donald also skipped over his namesake and elevated Ivanka to be the more important part of the business.
This was, in part, because Don Jr. is the least intelligent of the Trump children, Mary Trump explained.

"Just in terms of the situation into which he was born, he shares that with my dad," she explained.
"You know, the oldest son of a 'powerful person' — well, I think Donald is the weakest person on the planet but he's been propped up so much. So, clearly, though he certainly did not deserve it, he had a lot of influence, had a lot of money, which was my grandfather's money, so I think Donnie was born with the same expectation that my father was born with, which was, you're the oldest son. You carry the name … and you must follow in the footsteps and surpass what your father has accomplished, and you have to do it exactly according to his preferences."

She explained that for her father, Freddy Jr., it was really difficult for him to live up to the expectations that his father had for him.

"Donnie is weak in a different way," she continued.
"He had no intention of striking out on his own. He had no intention of doing anything but sucking up and toeing the line, and the problem is — one of the problems is — and who knows how this happens — but kind of the same problem that happened to him happened to my dad. My grandfather, for whatever reason, didn't like my father and saw something in his sibling Donald, and the only thing that's weird is that Donald did the same thing but with Ivanka."

She explained that their grandfather would never have considered any of his daughters as a successor for his business.

"But Donald had this thing for Ivanka really early on and Donnie was left in the dust," she said, "and yet, he still tries, doesn't he? I think he's like many people in my family. He has no core. He has no ideology."

She explained that Donnie will out-misogynist anyone, out-racist anyone and shoot as many animals as possible just to get "whatever passes for affection in my family."
So he does a lot of what his father does, she said, loving people because they love him.
The reason, she said, is because neither of them really know or understand what love is.

"He'll behave to get whatever love keeps coming in," Dr. Trump continued.
"For Donnie it's more of a way to get his father's attention, which he never will. And Donnie is a deeply unintelligent person. I've been asked this — who's the stupidest one and it's him."
…
Mary Trump went on to reveal that her uncle was always kissing on Ivanka and she was always sitting on his lap while he doted over her.
Nasty and creepy as shit.
Once again, here we are…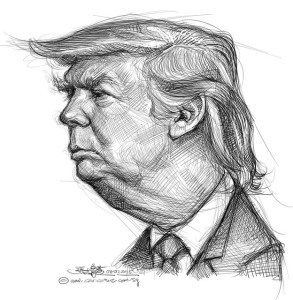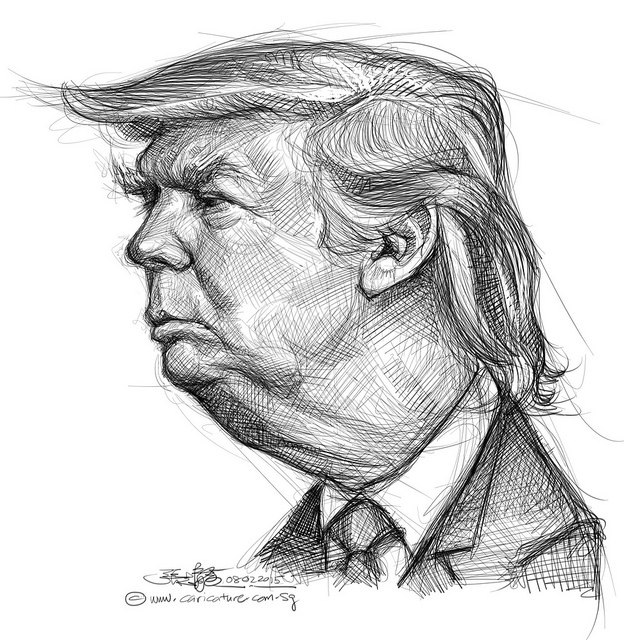 This is my favorite of the T-Rump mugs, though, 'favorite' does not mean in any form or fashion, as in, 'my favorite movie,' or 'my favorite song.'
It's more of an anti-appreciation/like.
And aptly titled, 'Basic Shapes,' by caricaturist/illustrator Chong Jit Leong (and found here), and displays the elemental form of a purloined sociopath — a bloated profile of flatulent bile and arrogant ignorance.