Muted-yellow sunshine this late-afternoon Sunday here in California's Central Valley — there's a shine in the air, but a bit on the mellow side, like maybe influenced by some forest fire smoke. Although fires burning in Sequoia and Kings Canyon National Parks about three hours southeast of my location are now reportedly 55-percent contained, there's still a lot of smoke.
Wind currents make the day.
News surfing today came up short for any thrill to the importance meter as the weekend still has to play out with most-likely the same refrain — Joe Manchin is an asshole. Get's old, Joe!
So just for a post's sake, another 'Shine' episode with the musical main attraction via Collective Soul, aptly titled, "Shine," and from 1993 — a great decade for rock:
In the word 'shine,' a particular context explained by my most-favorite poet, Emily Dickinson: '"I know nothing in the world that has as much power as a word. Sometimes I write one, and I look at it, until it begins to shine."'
And prove the 'shine,' some poems from Miss Emily. First up, one seemingly created to mock our current nowadays of lunacy — "Much Madness is divinest Sense:"
Much Madness is divinest Sense –
To a discerning Eye –
Much Sense – the starkest Madness –
'Tis the Majority
In this, as all, prevail –
Assent – and you are sane –
Demur – you're straightway dangerous –
And handled with a Chain –
Yeah, 'straightway dangerous' to one and all.
Next, verses carved long ago for right now –"I felt a Funeral, in my Brain:"
I felt a Funeral, in my Brain,
And Mourners to and fro
Kept treading – treading – till it seemed
That Sense was breaking through –
Short and way pointed — she's going nuts!
And words to shine on optimism — ""Hope" is the thing with feathers -"
"Hope" is the thing with feathers –
That perches in the soul –
And sings the tune without the words –
And never stops – at all –

And sweetest – in the Gale – is heard –
And sore must be the storm –
That could abash the little Bird
That kept so many warm –

I've heard it in the chillest land –
And on the strangest Sea –
Yet – never – in Extremity,
It asked a crumb – of me.
Miss Emily was a mystery, but you can tell from her words she had a life, probably nowhere the recluse. I appreciate her work because she wrote because of a desire to write and not to be a poet/writer for the world.
An enigma of a character — and to pose that final 'shine,' Engima with "Return to Innocence," great music, right-on visuals:
And once again, here we are…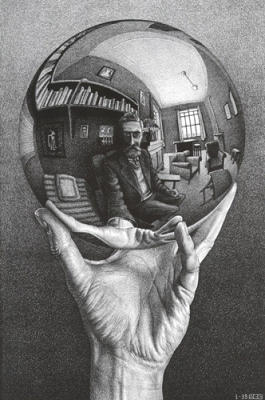 (Illustration out front: M.C Escher's 'Three Spheres II,' found here).