Colin Powell died earlier today — as I'm sure you now know  — he was 84 and lived a high-flying military life. Despite all the achievements, he will be remembered most/best for lying at the UN to allow the inhumane, illegal invasion of Iraq.
Reportedly, Powell died from the effects of the COVID virus.
Via a New York Times obit this morning:
The cause was complications of Covid-19, his family said in a statement, adding that he had been vaccinated and was being treated at Walter Reed National Military Medical Center, in Bethesda, Md., when he died there.

A spokeswoman said his immune system had been compromised by multiple myeloma, for which he had been undergoing treatment. He had been due to receive a booster shot for his vaccine last week, she said, but had to postpone it when he fell ill.
He had also been treated for early stages of Parkinson's disease, she said.
The general was also high on his own self: 'In an interview with The New York Times in 2007, he analyzed himself in the third person: "Powell is a problem-solver. He was taught as a soldier to solve problems. So he has views, but he's not an ideologue. He has passion, but he's not a fanatic. He's first and foremost a problem-solver."'
Wait, what? And his death by 'China virus' has already become a noted point for anti-vaccine assholes to scream about the ineffectiveness of vaccines, since Powell had been fully vaxxed. Keep in mind Powell's age and was suffering from multiple myeloma, a cancer of plasma cells, which suppresses the body's immune response. Plus Parkinson's.
Liars don't care:
This Fox "straight news" anchor is fearmongering about vaccines without mentioning that Powell was 84 years old and had a type of blood cancer that hurts the body's ability to fight infections pic.twitter.com/ei0l0IxX3U

— John Whitehouse+ (@existentialfish) October 18, 2021
And the right-wing nutcase, hypocritical assholes hit hard — from The Daily Beast:
In a country where roughly 1,500 people die of COVID-19 every day — the vast majority of them unvaccinated — alarm bells rang about how Powell's death would factor into the pandemic.

"I really worry that his death is going to fuel anti-vaccine misinformation and conspiracy theories… that vaccines are not effective," Lawrence Gostin, a Georgetown University global-health expert, told The Daily Beast. "If his death led to other preventable deaths, it would be a great tragedy."

Gostin argued that like any other vaccine for any disease, the three authorized coronavirus vaccinations do not offer—and have never claimed to provide—"iron-clad protections against COVID." But every piece of evidence points to their being "overwhelmingly effective, especially against hospitalizations and deaths."

"Colin Powell is the exception to the rule about COVID-19 vaccines," Gostin said.
Yet not among chaos enhancers — from Vanity Fair:
"The reports are he died from complications of COVID—the family has made a point in their post on Facebook this morning that Colin Powell was fully vaccinated," said Fox News host Will Cain, who questioned the "limitations" of vaccination during Monday's edition of Fox & Friends.
"As Americans out there wonder what lies ahead for them, and they search and they need truth moving forward, we're seeing data from across the world…that fully vaccinated people are being hospitalized, that fully vaccinated people are dying from COVID."
Cain went on to characterize Powell's death as "a very high-profile example" proving that Americans need "more truth from our government and our health leaders as well" regarding vaccines.
"We talk about [Powell's death] on a day when state after state, and institution after institution, are pushing mandates for vaccination," he added.
Shit! Yet reality works — Albert Ko, an infectious-disease physician at the Yale Schools of Public Health and Medicine explains: '"Bottom line, he had an unfortunate, specific type of malignancy," said Ko, who was not part of Powell's medical team. "He was at high risk not only for covid but a lot of different infections."'
A lot of Powell news all day, from naturally the COVID angle, but also his military career. Health and the Army were subjects for Bob Woodward for the book, "Peril," released not too long ago — CNN supposedly got hold of an audio recording of Woodward's phone interview with Powell last summer:
Colin Powell opened up to journalist Bob Woodward about his health struggles in what may have been his last interview before his death. https://t.co/yail7zvv3P

— CNN (@CNN) October 18, 2021
Nutshell per CNN this afternoon:
"Don't say no and don't feel sorry for me, for god's sakes. I'm (almost) 85 years old," Powell said after telling Woodward about battling multiple myeloma for nearly two years.
"I haven't lost a day of life fighting these two diseases. I'm in good shape."
…
Powell continued: "I've taken lots of exams and I get there on my own. I drive up in my Corvette, get out of the Corvette and go into the hospital. I also go to a clinic to get the blood tests taken. I don't advertise it, I don't make an announcement about it, but most of my friends know it."
And Powell did display that ego:
Powell's trailblazing career spanned numerous presidential administrations. He was chairman of the Joint Chiefs during the George H.W. Bush administration and the US-led victory in the first Gulf War. But as secretary of state in the George W. Bush administration, he played a key role pushing faulty intelligence before the United Nations to advocate for the 2003 Iraq War, something he'd later call a "blot" on his record.

In the July interview, Woodward discussed Powell's views on war and his moniker as "a reluctant warrior."
"Whenever that is asked of me, I say, true. I am a reluctant warrior. I don't like wars. I don't want to be a warrior," Powell said. "But remember the other thing that is well-known about me. And that is we go to a war, and I will do everything I can to beat the crap out of somebody, and win."
"That's known as the Powell doctrine by the way," he added.
Powell carried a lot of baggage — Eric Loomis at Lawyers,Guns&Money this afternoon has a must-read obit on the general with a good layout of Powell's military career. Along with the UN-Iraqi-war lie, I had no idea Powell was involved in down-playing the My Lai massacre during Viet Nam, his first war crime debacle.
Loomis, writer of LGM's fun-read-histories of deceased notables with the 'Eric Visits An American Grave' series, also notes Powell's rise within a military/political scenario — senior military assistant to Caspar Weinberger, later became Reagan's National Security Advisor, and then chairman of the Joint Chiefs of Staff just in time for the first Gulf War.
Noted snip:
Of course part of the significance of Powell is that he was the first Black person to be in any of these positions. That is important. It's also worth noting though that part of his work in rising this high was being useful to the command in underplaying racial tensions in the military.
While Powell was in South Korea, there was a race riot on a base. This was not so uncommon in the late 60s. Powell's job was to prosecute the Black soldiers in this and end Black militancy in the military. I'm not saying that the U.S. military can really operate with any kind of racial militancy in its ranks, though it seems to be a lot more comfortable with the white extremism in it today that it was of Black radicalism a half-century ago.
But of course they made the Black guy take charge of it and of course he was happy to do so, advancing his career in the process.
America can really be two-faced, especially with the rich and politically famous. GW Bush, for instance, or Dick Chaney for another.
And the T-Rump.
And, once again, here we are…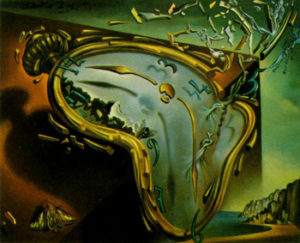 (Illustration out front: Salvador Dali's 'Soft Watch at the Moment of First Explosion,' found here).