A Sunday morning nutjobs precipice: The obvious national criminal activity from the T-Rump and his half-wit cronies doesn't even seem to hamper the scam as he remains free as a bird to plunge onto a dumb-ass grifting-lying tour with quarter-wit asshole Bill O'Reilly and upon their initial blubber-fest last night created a miserable bust in Flordia.
And along with that nice-smelling shit, the flagship nutjob TV network is losing its last bucket of near-normal/moral sense.
Meanwhile, the Don and Bill routine roll-out went south:
This is kind of fun pic.twitter.com/xPvnhovkd6

— Molly Jong-Fast (@MollyJongFast) December 12, 2021
Recap via The Daily Beast this afternoon:
Despite a Saturday evening statement promising "big crowds," the first date of ex-president Donald Trump and Bill O'Reilly's joint speaking tour seemingly failed to draw any such thing.

"Many seats remained empty in the cavernous arena," The Sun Sentinel reported.
"The top-level was closed, and ticket buyers were 'upgraded' to the lower bowl." Even with the upgrades for some attendees, there were still a substantial amount of vacant floor-level seats.

While it remains unclear exactly how many MAGA loyalists turned out for night one of The History Tour, the Sun-Sentinel noted that "thousands" of attendees rolled up to the festivities sporting "red baseball caps" and their "favorite Donald Trump T-shirts."
The kickoff event, headlined by Trump and disgraced Fox News host O'Reilly, took place at the FLA Live Arena, home of the Florida Panthers NHL team, where tickets went for at least $138 after fees.

Shortly after tickets became available for the five speaking engagements, Politico reported in June that the events were not selling as fast as expected, especially in comparison to other events scheduled at the same arenas.
At the time, O'Reilly responded by threatening the Politico reporter: "You put one word in there that's not true, I'll sue your ass off and you can quote me on that. You're just a hatchet man and that's what you are," he said.

And earlier this week, Newsweek reported that "thousands" of tickets were still unsold for the tour, which will take the pair next to Orlando, then Houston, and then a closing date in Dallas.
Wing-nutters aren't that popular except with the gritty, hardcore-nasty base — though, there's more than a shitload still invested into the T-Rump and all his horror (most-likely numbering in the millions). He and O'Reilly will turn some heavy coin on their 'tour,' but that's their way, the grift never ends..
In a contextual event, the real-big news this morning comes on the T-Rump-Fox News front:
Wow. There goes the last interviewer at Fox with real credibility. https://t.co/82kal6bJX5

— Aaron Rupar (@atrupar) December 12, 2021
Basics from The New York Times, also this afternoon:
He will become an anchor for CNN+, the new streaming service from CNN that is expected to debut next year.
His exit from Fox News came as a surprise to the television news industry and will deprive the network of a prominent figure who has been the face of its influential Sunday program, "Fox News Sunday," and the first anchor at the network to receive an Emmy Award nomination for his work.

"It is the last time, and I say this with real sadness, we will meet like this," Mr. Wallace told viewers at the end of his Sunday broadcast.
"I want to try something new, to go beyond politics to all the things I'm interested in; I'm ready for a new adventure," Mr. Wallace said.
"And I hope you'll check it out. And so for the last time, dear friends, that's it for today. Have a great week. And I hope you'll keep watching Fox News Sunday."

Mr. Wallace covered the Reagan White House as an NBC News correspondent (and briefly moderated "Meet the Press") before Roger Ailes, the co-founder of Fox News, hired him away from ABC News in 2003 to anchor the Murdoch network's leading political news program.
…
CNN said Mr. Wallace's new program would appear on weekdays and "feature interviews with newsmakers across politics, business, sports and culture."
In a statement distributed by CNN, Mr. Wallace said: "I look forward to the new freedom and flexibility streaming affords in interviewing major figures across the news landscape — and finding new ways to tell stories."
Addendum from Axios earlier today: 'Why it matters: Known for his impartiality and tough interviews, Wallace was the bedrock of the network's hard news division, commanding respect from political leaders on both sides of the aisle, even at a time when cable news has become much more polarizing.'
We'll see how this all plays out; Wallace, and Don and Bill's idiot show — shit in hand is way-worse than shit in the bush.
And once again, here we are…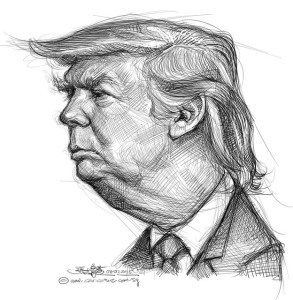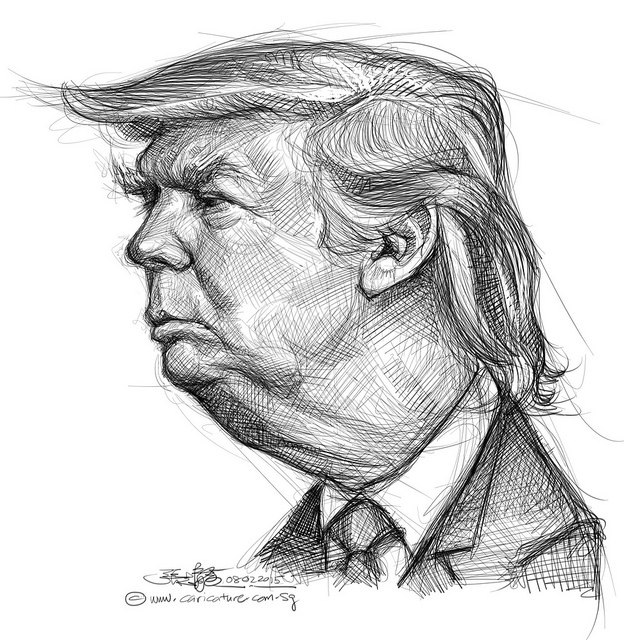 Image out front is my favorite of the T-Rump mugs, though, 'favorite' does not mean in any form or fashion, as in, 'my favorite movie,' or 'my favorite song.' It's more of an anti-appreciation/like.
And aptly titled, 'Basic Shapes,' by caricaturist/illustrator Chong Jit Leong (and found here), it's an image that displays the elemental form of a purloined sociopath — a bloated profile of flatulent bile and arrogant ignorance.