Infested with too much political bullshit this Saturday early evening here in California's Central Valley — a situation increasingly more frequent than not as we spin through bullshit tornadoes of red-hatted nit-twits and massive is the bullshit meter.
And to ease the creation of a post about some thing or another, I'm going with the other.
During the mid-1990s I worked as a barista/manager of the late-great The Black Pearl Coffee House in Pismo Beach, California, and it was an incredible time in so many ways and on so many levels. A time of change, and great music, which during my time at 'The Pearl' I developed an enormous love and appreciation for the German musical group, Enigma, and it continues on into these bullshit days. They set an emotional, near-romantic sound to life, with a hint of a curious riddle.
Make it a musical mystery, a few whispers from Engima — first, "Return to Innocence," which can not be done, at least in this lifetime:
There's an ambiance, however, of innocence with "Gravity of Love," which seems shallow at first glance yet flows deeper as time continues:
Intertwined with the bullshit is a romantic notion of life, yet it's a cross between reality and the cutting edge of a sharp blade, "I love You… I'll kill you,' the end result (one of my most-favorite Enigma songs, despite the title):
Words for a contradictory right now:
Look into the mirror of your soul
Love and hate are one in all
Sacrifice turns to revenge and believe me
You'll see the face who'll say:

I love you … I'll kill you …
But I'll love you forever
Meanwhile, history swells across the ages and stops at today — "The Eyes of Truth,"  maybe explains why the rush:
Plus the finish, which has to come with "The Social Song," a tempo for the future:
Final words via Miss Emily Dickinson and her brief foray into bullshit — "Tell All The Truth But Tell It Slant"
Tell all the truth but tell it slant —
Success in Circuit lies
Too bright for our infirm Delight
The Truth's superb surprise
As Lightning to the Children eased
With explanation kind
The Truth must dazzle gradually
Or every man be blind —
Lastly, but also way-least: Here we are, yet once again…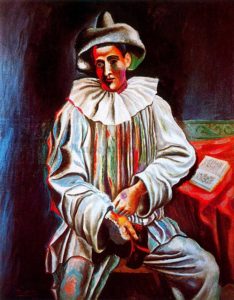 (Illustration out front: Pablo Picasso's 'Seated Pierrot,' found here).