Clear and windy this late-afternoon Sunday here in California's Central Valley — winter's officially over! Earlier this morning (8:33 AM PDT) there sprang the March equinox — also called the vernal equinox — and the first day of spring.
In turn, this day only means the burn season is quickly coming upon us.
Meanwhile, Ukraine has become a cruel, ironic war zone, especially for Vlad Putin's army — per the NY Post:
A top Russian military official who was born in Kyiv but renounced Ukraine has been killed on the front lines, according to posts on Russian social media.
Andrey Paliy, 51, a Black Sea fleet commander, was shot dead by Ukrainian forces near the embattled city of Mariupol, making him the first Russian naval boss and sixth high-up military leader to die since the Kremlin invasion of Ukraine started last month.
Further meanwhile, apparently from many sources on military matters, all indications are that indeed Putin's 'special op' into Ukraine has crashed and burned — but not out yet. One reason so many Russian generals and admirals are being killed is communications incompetence, and Ukrainians can easily track their dumbass from place to place. Plus the war is going so shitty someone in the higher-rank circles has to be close at hand to keep what little shit is going, going.
As I've written before (per an old military origin) Putin shit in his mess kit invading Ukraine.
The following taste of a small Twitter thread from Michael Kofman, Research Program Director in the Russia Studies Program at CNA, specializing in Russian armed forces, military thought, capabilities, and strategy, spools out the current status of the most-insane, inhumane show on earth in many years:
Thoughts on the current state of the war and where things might be heading. About 2 weeks ago I suggested that Russian forces have ~3 weeks before combat effectiveness becomes increasingly exhausted. I think that's generally been right, but we're not quite there yet. Thread. 1/ pic.twitter.com/DxPyxZFowy

— Michael Kofman (@KofmanMichael) March 20, 2022
And to continue the concept:
In general I've tried to be cautious in rendering predictions because I think we don't know if this point in the conflict is near the beginning, the middle, or the end of the war. Few things are as contingent and indeterminate. End.

— Michael Kofman (@KofmanMichael) March 20, 2022
Click on the thread for way more. In other words — expect a more-purest pulverizing of Ukraine by Putin's army in the near future. The end result can be anywhere on a scale of shit-to-shore and bad to even worse scenarios.
All of the plotlines are reflecting what the fuck is up with this:
Yet here we are once again…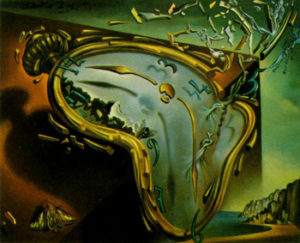 (Illustration out front: Salvador Dali's 'Soft Watch at the Moment of First Explosion,' found here).