Noontime Friday here in California's Central Valley. The weather's ambiance is already warm touting, thus we're looking at low-80s later this afternoon — heat the news.
So be it — going beyond Ukraine, Putin and asshole, nasty Republicans, climate change also continues its torrid beat toward ending humanity if shit doesn't change action-wise with our collapsing environment. Our latest (major) red-flag warning came today from the South Pole, an event coupled with another example of shit-worse-than-first figured with global heating:
Ice shelf collapses in previously stable East Antarctica Size of New York City. First ever ice shelf collapse in East Antarctica. https://t.co/ZSYbHplhel

— @borenbears (@borenbears) March 25, 2022
A way-ominous and foreboding event — another nail in the coffin, and an apparent display of the future.
Via the Associated Press this morning:
An ice shelf the size of New York City has collapsed in East Antarctica, an area long thought to be stable and not hit much by climate change, concerned scientists said Friday.

The collapse, captured by satellite images, marked the first time in human history that the frigid region had an ice shelf collapse. It happened at the beginning of a freakish warm spell last week when temperatures soared more than 70 degrees (40 Celsius) warmer than normal in some spots of East Antarctica.
Satellite photos show the area had been shrinking rapidly the last couple of years, and now scientists say they wonder if they have been overestimating East Antarctica's stability and resistance to global warming that has been melting ice rapidly on the smaller western side and the vulnerable peninsula.

The ice shelf, about 460 square miles wide (1200 square kilometers) holding in the Conger and Glenzer glaciers from the warmer water, collapsed between March 14 and 16, said ice scientist Catherine Walker of the Woods Hole Oceanographic Institute.
She said scientists have never seen this happen in this part of the continent and that makes it worrisome.
…
"We probably are seeing the result of a lot of long time increased ocean warming there," Walker said. "it's just been melting and melting."
And then last week's warming "probably is something like, you know, the last straw on the camel's back."
Words not sounding good!
Or not looking good, either:
My 60s #Tiktok take on Conger Ice Shelf, East Antarctica collapse. No immediate concern, but a surprise. This will get worse if we keep emitting GH gases. ?????

(*Sci folks, sorry for generalizing & I have to end on some forward-looking note otherwise the response is doom.) pic.twitter.com/yYqFL2YT65

— Peter Neff (@icy_pete) March 25, 2022
Neff is a glaciologist and assistant research professor at the University of Minnesota — further on this shit with Neff and others via the Guardian, also from this morning:
"We still treat East Antarctica like this massive, high, dry, cold and immovable ice cube," he said.
"Current understanding largely suggests you can't get the same rapid rates of ice loss [as in West Antarctica] due to the geometry of the ice and bedrock there.
"This collapse, especially if tied to the extreme heat brought by the mid-March atmospheric river event, will drive additional research into these processes in the region."
Satellite data from the Copernicus Sentinel-1 mission showed that movement of the ice shelf began between 5 and 7 March, Neff said.

Helen Amanda Fricker, a professor of glaciology at the Scripps Polar Center, said that three calving events — when ice chunks break off from the edge of a glacier — had occurred in East Antarctica in March.
In addition to the Conger ice shelf collapse, there were smaller calving events of the Totten glacier and Glenzer ice shelf.
"Much of East Antarctica is restrained by buttressing ice shelves, so we need to keep an eye on all the ice shelves there," Fricker said in a tweet.

Prof Andrew Mackintosh, head of the school of earth, atmosphere and environment at Monash University, said the Conger ice shelf had significant amounts of melting from the ocean beneath, which could have preconditioned it for collapse.
"Ice shelves lose mass as part of their natural behaviour –– but the large-scale collapse of an ice shelf is a very unusual event," Mackintosh said.
"This seems to be a collapse rather than normal behaviour.
"The collapse itself, however, may have been driven by surface melting as a result of the extremely warm temperatures recently recorded in this region. More evidence is needed to link this collapse to the recent warming."
Conclusion per Prof Matt King, head of the Australian Centre for Excellence in Antarctic Science: '"We will see more ice shelves break up in the future with climate warming … We will see massive ice shelves – way bigger than this one – break up. And those will hold back a lot of ice – enough to seriously drive up global sea levels … The speed of the breakup of [the Conger] ice shelf reminds us that things can change quickly," King said. "Our carbon emissions will have an impact in Antarctica, and Antarctica will come back to bite the rest of the world's coastlines and it may happen faster than we think."'
No shit, educated and knowledgable Sherlock!
Just waiting for that latest nail consumed with Extreme Noise Terror:
Yet despite polar bears being found only in the Arctic, not the South Pole where this post's subject is located — we apologize, though, once again here we are…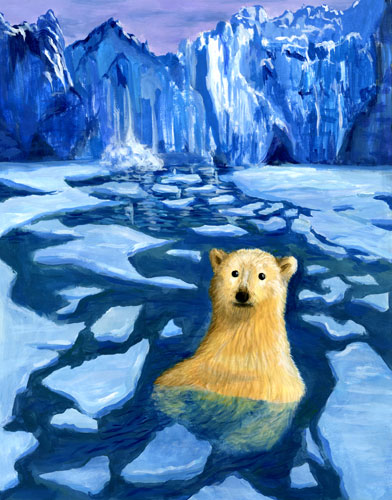 (Illustration out front found here).