Warm late-afternoon Thursday here in California's Central Valley as time continues unabated no matter the shitstorm. In just about every news crevice there's a large wedge-like object keeping life in small tatters.
Beyond the national horror of Republicans acting like cruel, tasteless buffoons — Ketanji Brown Jackson is a treasure — the war in Ukraine still continues to explode in many directions, and although certain parts of Ukraine is really getting horribly devastated, the Russkies are still, too, getting their asses whipped, and whipped badly.
Update from the UK's ministry of defense claiming Ukraine is striking "high value targets" — via the Guardian's live blog less than half-an-hour ago:
"Ukrainian forces have launched strikes against high value targets in Russian-occupied areas of Ukraine, including a landing ship and ammunition storage depots at Berdyansk.
"It is likely that the Ukrainians will continue to target logistical assets in Russian-held areas. This will force the Russian military to prioritise the defence of their supply chain and deprive them of much needed resupply for forces.
This will reduce Russia's ability to conduct offensive operations, and further damage already dwindling morale."
Vlad Putin made an incredible, terrifying mistake, did he not? Isolated and losing, Putin's endgame is still unknown, even from expert scrutiny:
New Interview: I talked to Andrei Soldatov, an expert on the Russian security services, about who Putin might be blaming for Russia's poor performance in Ukraine, the expanding power of the Russian army, and Putin's shrinking inner circle. https://t.co/x9mhnagzLz

— Isaac Chotiner (@IChotiner) March 23, 2022
Another must-read — Isaac Chotiner's interview with Andrei Soldatov, an investigative journalist and Russian-state intelligence expert, at The New Yorker last Tuesday. The entire Q&A is really worth the time (though, maybe a bit scary with atomic weapons and so forth), but this little nutshell on Putin's mindset regarding his dictator-induced isolation from reality has a historic quality — apparently, Putin is tightening his brain wad:
Yeah. That's true, and there is a reason for that. Ten years ago, Putin listened to at least several dozen different kinds of people. It might have been a very strange collection of characters: at one point, it was a film director with crazy ideas about the Russian imperial past. And, at another point, it was a journalist who was a big fan of Pinochet. There were some priests.
So it was a multitude of people, but now it looks like, starting in 2016, 2017, this circle has been getting smaller and smaller. And what I'm getting from my sources is that, these days, Putin listens to only three or four people. There is Minister of Defense Sergey Shoigu, whom he trusts, and that is why Shoigu has played the main role in this invasion.
There is Nikolai Patrushev, his head of the Security Council, and one of his oldest friends, who's still close to him and was his successor as the director of the F.S.B.
And probably one or two other friends from St. Petersburg, but that's about it.
…
I'm not an expert on psychology. But I see, and everybody can see, that he's still very quick at responding to people.
Or, judging by his public performances, it looks like he is very quick at reacting to what people say.
So it means that mentally or intellectually he's still fine, but he might have developed some ideas from people's adulation of him. Basically, when you are surrounded by people who just listen to you, you come to believe that you are the smartest guy in the room, and know better — and I think that was the biggest challenge for security and intelligence agencies reporting to him about what is going on in Ukraine, because everybody knows that Putin has his own strong opinions about Ukraine.
He's writing articles about the history of Ukraine, and he's talking incessantly about Ukraine. How can you challenge him?
…
It's not very clear how you can do that, especially due to this atmosphere of fear over the past seven years or so because of what I would say is selective repression against the élite. And it's a big thing now in Russia. It's not only that Putin tried to poison Navalny and expelled political opposition from the country. It's also about governors and ministers in jail.
You have so many people now in jail, even people from the F.S.B. So if you think, from the point of view of a military general, is it really safe to say something to Putin that he would not like?
I think it's a big challenge for them.
And a bit frightening as I mentioned. Soldatov seems to know his shit  And it reads like a jacked-up outline to a gothic-ugly Russian novel with some crafty characters, who are also cruel. Tolstoy on scary mescaline.
Or transpose to riding the batshit-crazy bulb all the way down:
Yet still, here we are once again…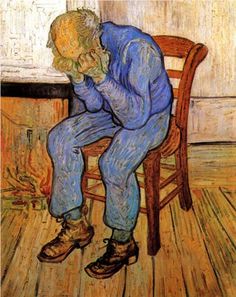 (Illustration out front: Vincent van Gogh's 'Old Man in Sorrow (On the Threshold of Eternity)' found here).