Doomscrolling through news events this late Wednesday afternoon here in California's Central Valley, I flashed across this T-rump news story of the worse kind — the reality behind last month's New York DA dustup over prosecuting the asshole, allowing the weasel to most-likely skirt the law once again.
Prosecute to aid democracy and justice — Duh!
Story from The NewYork Times late this afternoon:
The prosecutor, Mark F. Pomerantz, submitted his resignation last month after the Manhattan district attorney, Alvin Bragg, abruptly stopped pursuing an indictment of Mr. Trump.
Mr. Pomerantz, 70, a prominent former federal prosecutor and white-collar defense lawyer who came out of retirement to work on the Trump investigation, resigned on the same day as Carey R. Dunne, another senior prosecutor leading the inquiry.

Mr. Pomerantz's Feb. 23 letter, obtained by The New York Times, offers a personal account of his decision to resign and for the first time states explicitly his belief that the office could have convicted the former president. Mr. Bragg's decision was "contrary to the public interest," he wrote.

"The team that has been investigating Mr. Trump harbors no doubt about whether he committed crimes — he did," Mr. Pomerantz wrote.

Mr. Pomerantz and Mr. Dunne planned to charge Mr. Trump with falsifying business records, specifically his annual financial statements — a felony in New York State.

Mr. Bragg's decision not to pursue charges then — and the resignations that followed — threw the fate of the long-running investigation into serious doubt. If the prosecutors had secured an indictment of Mr. Trump, it would have been the highest-profile case ever brought by the Manhattan district attorney's office and would have made Mr. Trump the first American president to face criminal charges.
…
While Mr. Dunne and Mr. Pomerantz were confident that the office could demonstrate that the former president had intended to inflate the value of his golf clubs, hotels and office buildings, Mr. Bragg was not.
He balked at pursuing an indictment against Mr. Trump, a decision that shut down Mr. Pomerantz's and Mr. Dunne's presentation of evidence to a grand jury and prompted their resignations.

Mr. Bragg has said that his office continues to conduct the investigation. For that reason, Mr. Bragg, a former federal prosecutor and deputy New York State attorney general who became district attorney in January, is barred from commenting on its specifics.
Mr. Bragg's predecessor, Cyrus R. Vance Jr., had decided in his final days in office to move toward an indictment, leaving Mr. Trump just weeks away from likely criminal charges.
Mr. Bragg's decision seems, for now at least, to have removed one of the greatest legal threats Mr. Trump has ever faced.

The resignation letter cast a harsh light on that decision from the perspective of Mr. Pomerantz, who wrote that he believed there was enough evidence to prove Mr. Trump's guilt "beyond a reasonable doubt."
"No case is perfect," Mr. Pomerantz wrote.
"Whatever the risks of bringing the case may be, I am convinced that a failure to prosecute will pose much greater risks in terms of public confidence in the fair administration of justice."
And well worth the shot, considering it is about the criminal of criminals, the T-Rump: 'Addressing an apparent belief in Mr. Bragg's office that they might lose at trial, Mr. Pomerantz wrote, "Respect for the rule of law, and the need to reinforce the bedrock proposition that 'no man is above the law,' require that this prosecution be brought even if a conviction is not certain."'
Seemingly part of a plan — the orange turd skates. He's done that his entire life, from a little piece-of-shit kid to an asshole adult, somehow getting away with all kinds of shit in many different areas, and looks like he will do the same in New York. There's still Georgia, and at least 19 other legal actions, 'about half of which allege improper conduct during his presidency'.
He's still under siege:
— beshannonphotos ?? (@beshannonphotos) March 23, 2022
In this case, wait-and-see sucks. And so does this with T-Rump pal, Vlad Putin:
Breaking: @SecBlinken announces that USG has determined that "members of Russia's forces have committed war crimes in Ukraine."

— Missy Ryan (@missy_ryan) March 23, 2022
And we wonder if Putin will also skate the obvious, though, doing war crime is a topper — story via PBS, also this afternoon:
The Biden administration on Wednesday made a formal determination that Russian troops have committed war crimes in Ukraine and said it would work with others to prosecute offenders, Secretary of State Antony Blinken said.

"Today, I can announce that, based on information currently available, the U.S. government assesses that members of Russia's forces have committed war crimes in Ukraine," Blinken said in a statement released as he was traveling to Brussels with President Joe Biden for an emergency summit of NATO leaders.
The assessment was based on a "careful review" of public and intelligence sources since Russia launched its invasion of Ukraine last month, he said.
…
"We've seen numerous credible reports of indiscriminate attacks and attacks deliberately targeting civilians, as well as other atrocities. Russia's forces have destroyed apartment buildings, schools, hospitals, critical infrastructure, civilian vehicles, shopping centers, and ambulances, leaving thousands of innocent civilians killed or wounded," Blinken said.
Of course, with everything else, Putin shit not only on Ukraine, but Russia as well, and most likely eventually the world. How will the world cry horribly foul with Putin with a major discharge of what T-Rump has termed "the n-word."
Vlad and the T-Rump are a matched set.
Another evening and once again here we are…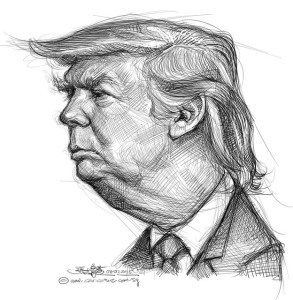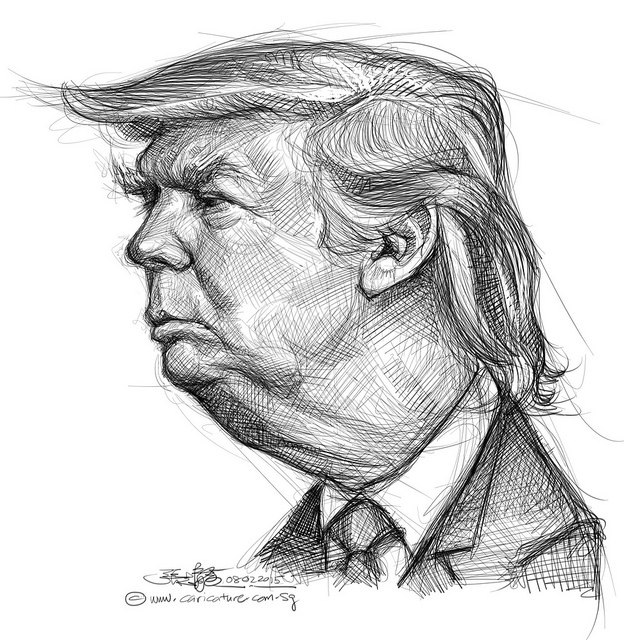 Image out front is my favorite of the T-Rump mugs, though, 'favorite' does not mean in any form or fashion, as in, 'my favorite movie,' or 'my favorite song.' It's more of an anti-appreciation/like.
And aptly titled, 'Basic Shapes,' by caricaturist/illustrator Chong Jit Leong (and found here), it's an image that displays the elemental form of a purloined sociopath — a bloated profile of flatulent bile and arrogant ignorance.