Cloudy with rain showers on the horizon this late-afternoon Sunday here in California's Central Valley. Weekends have always blown by in time, though, nowadays there's not much space between Friday evening and Sunday night/Monday morning.
Too much shit spatter from all directions seemingly all at once
One aspect of that shit is Republicans — in this case, Florida lying shitface Rick Scott, who released a horrifying "11-point plan to rescue America" in February. Even MoscowMitch thought the idiot-nasty, cruel plan sucked. Today, Scott lied straight-faced on the TV:
It's audacious to publicize an agenda to weaken SS and Medicare and increase taxes on half of Americans and then blame the opposing party for the harm your plan will do ordinary people.

Our analysis of the tax provisions: https://t.co/AzJp6Hv1rO https://t.co/QDiTH1mDHf

— ITEP (@iteptweets) March 27, 2022
Interview highpoint — via the Daily Beast this afternoon:
"Two of the big points are 'all Americans should pay some income tax to have skin in the game, even if a small amount. Currently over half of Americans pay no income tax,'" the Fox News moderator stated.
"It also says, 'All federal legislation sunsets in five years. If a law is worth keeping, Congress can pass it again.' So that would raise taxes on half of Americans and potentially sunset programs like Medicare, Medicaid, and Social Security. Why would you propose something like that in an election year?"

Despite Roberts reading directly from his plan, the conservative lawmaker immediately objected and insisted that the anchor was echoing "Democrat talking points," prompting Roberts to push back.

"No, no, it's in the plan! It's in the plan!" Roberts dramatically exclaimed.

"But here's the thing about reality for a second," a clearly flustered Scott begged, only to find the Fox host continue to grill him.

"But, Senator, hang on," Roberts declared. "It's not a Democratic talking point! It's in the plan!"
Beyond whatever 'thing' it is about reality, Republicans are really, really bad.
And supposedly the big man in GQP town is attracting fewer people last night when he went up to Georgia:
Tiny crowd for a tiny man https://t.co/VpboAsTWOr

— MeidasTouch.com (@MeidasTouch) March 27, 2022
Nutshell whine from T-Rump in the face of a tiny save-David Purdue rally — per The Hill:
Despite the backing of Donald Trump, it isn't going well for Perdue as polls show him trailing in the race.
Trump attempted to right the ship by appearing at a rally in Georgia on Saturday. The report was not well attended though. On Sunday, the former President felt the need to refute reports that barely anyone showed up.

On Saturday night, Atlanta Journal-Constitution scribe Greg Bluestein tweeted, "I've covered more than two dozen Trump rallies around the nation. This is the smallest crowd I've seen at a rally of his in Georgia since he won the 2016 election — significantly smaller than the crowd in Perry in September."

Trump must have caught wind of the reports. He released a statement on Sunday that read, "We had a massive crowd last night in Georgia, but as usual, the Fake News Media absolutely refuses to show it. People are estimating 25,000 to 35,000 people."
The missive continued, "Massive crowd last night in Georgia even despite the cold weather, the enthusiasm was unbelievable."
Bullshit. Another confirmation from Georgia Public Broadcasting: 'Normally, Trump's Georgia rallies have been crowded, raucous affairs, but Saturday's event saw a smaller crowd with a steady stream of people leaving throughout his speech. For much of the day, the crowd was virtually silent during speeches railing against Biden, Democrats, Republican enemies of Trump and the "fake news."'
In the scope of America's political shitstorm right now, I don't what to make of this — here's hoping T-Rump has lost a chu of his base support. We only can wish.
Meanwhile, the T-Rump also last night kept feeling good about Vlad Putin — although he tried to get mad at Putin, he just can't help himself (BusinessInsider): '"The smartest one gets to the top. That didn't work so well recently in our country," Trump said during the rally. "But they ask me, 'Is Putin smart?' Yes, Putin was smart. And I actually thought he was going to be negotiating. I said, 'That's a hell of a way to negotiate, put 200,000 soldiers on the border.'"'
The horror is will those people ever shake off T-Rump — like this:
Way-most-likely not, so here we are once again…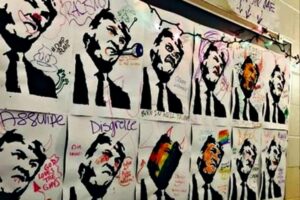 (Illustration out front is of a New York state high-school student exhibit: 'The piece was displayed during student-driven art show at Shenendehowa High School. It consisted of at least 12 identical black-and-white pictures of Donald Trump. There was also a sign above the pictures that read, "Draw on Me." Using markers from the art classroom, some students opted to scribble critical messages and profanities on the pictures' — and found here).