Maybe some good news out of Ukraine this Tuesday morning — peace talks progressing and Vlad Putin's incompetent, crazed army might lighten up to encourage a possible 'off-ramp' to the horror show:
Russia has said it will "drastically" reduce its military operations in the Kyiv and Chernihiv region so that peace talks can progress. According to the @AP, the Ukrainian army said it had observed withdrawals around Kyiv and Chernihiv.

Mapping with @SimTack & @detresfa_ pic.twitter.com/esxnw5yDZm

— C O U P S U R E (@COUPSURE) March 29, 2022
Details via CNN late this morning:
Russia said it would "drastically reduce" its military assault on the Ukrainian cities of Kyiv and Chernihiv after talks took place between representatives of the two nations on Tuesday that appeared to show signs of progress towards an off ramp to the conflict.

The Russian defense ministry has decided to "radically, at times, reduce military activity" in the direction of Kyiv and Chernihiv, deputy defense minister Alexander Fomin said, state media RIA reported.
The ministry's Telegram channel also said that Moscow would "drastically reduce military activity" in the cities.
The announcement comes after Ukrainian and Western intelligence assessments suggested in recent days that Russia's advance on Kyiv was stalling.

Talks between Russian and Ukrainian delegations in Istanbul, Turkey on Tuesday covered an array of important issues, including the future of the eastern Donbas region, the fate of Crimea, a broad alliance of security guarantors and a potential meeting between Russian President Vladimir Putin and Ukrainian President Volodymyr Zelensky.
Optimistic or just some Russian farting in the wind?
However, some officials are a bit on the stand-offish side with Putin's cruel bullshit — via the Guardian's live blog earlier this morning:
Western officials said they were "very wary" about Russian diplomatic promises made during the peace talks in Istanbul and fear that Vladimir Putin could be seeking to take advantage of the situation.
One official said: "Certainly, in terms of the negotiations, nothing that we have seen so far has demonstrated to us that Putin and his colleagues are particularly serious … it's more of a tactical exercise in playing for time."

Negotiations between the Russian and Ukrainian delegations had not yet reached the point where it was possible to talk about a ceasefire, although there is a feeling that at the very least the war is entering a new phase.
One official said: "Clearly, we are at a moment when some of the tactics and strategies are changing. Exactly what that prefigures at the moment, I don't think we feel particularly confident about."
But there were not yet discussions that amounted to "in any shape or form a cessation of hostilities," they added.

A five-way phone call between Joe Biden, the US president, plus the UK's Boris Johnson, Germany's Olaf Scholz, France's Emmanuel Macron and Italy's Mario Draghi agreed to ramp up pressure on Russia, added the official, who had knowledge of the call.
Significantly, the five said they wanted to "increase our support for Ukraine," implying more weapons would be sent to help Kyiv, and to "continue to tighten the economic vice around Russia."
There was "not a cigarette paper between them", the official added.

Statements from Russia's deputy defence minister that Moscow was pulling out forces in northern Ukraine also had to be judged sceptically at this stage.
An official added: "I think you will have to wait and see over the next few days whether that's a seismic shift."

Nevertheless, despite the uncertainty, it is believed the talks in Istanbul remain the only hope for ending the brutal fighting.
"It is nevertheless the best way forward in due course. And we would hope that at some stage it would become real and lead to a ceasefire.
Another wait-and-see episode with much scary worry.
Good news or not, here we are once again…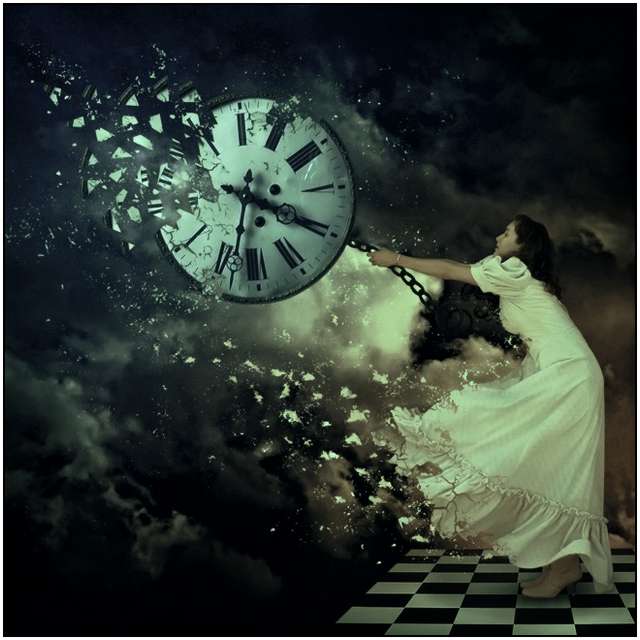 (Illustration out front: 'A Break in Reality,' by Xetobyte, found here)