America is not immune to political/illegal shenanigans — and the criminal enterprise that was the T-Rump era in the Oval Office looks to have been the most corrupt, good-grief awful governmental operation in our history.
And apparently, he became increasingly way-more villainous and ignorant toward the end.
Here it is late in the afternoon, and I'm sure you've already read/heard about the missing seven hours on T-Rump's White House phone logs for Jan. 6  — a scenario making even flashbacks to the Watergate tapes — and the crack of illegal time conspiring with cronies:
The former president used burner phones is a sentence I hoped to never write https://t.co/qpn0OcZtCv

— Molly Jong-Fast (@MollyJongFast) March 29, 2022
Dope-dealing/coup communicating per throw-away phones. Backstory already from The Washington Post this morning:
The 11 pages of records, which consist of the president's official daily diary and the White House switchboard call logs, were turned over by the National Archives earlier this year to the House select committee investigating the Jan. 6 attack.

The records show that Trump was active on the phone for part of the day, documenting conversations that he had with at least eight people in the morning and 11 people that evening.
The seven-hour gap also stands in stark contrast to the extensive public reporting about phone conversations he had with allies during the attack, such as a call Trump made to Sen. Mike Lee (R-Utah) — seeking to talk to Sen. Tommy Tuberville (R-Ala.) — and a phone conversation he had with House Minority Leader Kevin McCarthy (R-Calif.).
The House panel is now investigating whether Trump communicated that day through back channels, phones of aides or personal disposable phones, known as "burner phones," according to two people with knowledge of the probe, who, like others interviewed for this report, spoke on the condition of anonymity to discuss sensitive information.
The committee is also scrutinizing whether it received the full logs from that day.
…
A Trump spokeswoman said that Trump had nothing to do with the records and had assumed any and all of his phone calls were recorded and preserved.

In a statement Monday night, Trump said, "I have no idea what a burner phone is, to the best of my knowledge I have never even heard the term."

One former Trump White House official disputed that. In an interview Tuesday afternoon, former national security adviser John Bolton said that he recalls Trump using the term "burner phones" in several discussions and that Trump was aware of its meaning.
Bolton said he and Trump have spoken about how people have used burner phones to avoid having their calls scrutinized.
What a pile of shit. The big problem though is holding T-Rump's burner phones to the fire — and his legal feet, too. A hurdle that appears right now as insurmountable — convict the lawlessness. AG Garland and the DOJ need to, shit, get off their collective, scary asses and at least prosecute the asshole!
Just last week a strong call to legal arms from Mark Pomerantz, a former prosecutor in the NYDA's office: '"The team that has been investigating Mr. Trump harbors no doubt about whether he committed crimes — he did … I believe that your decision not to prosecute Donald Trump now, and on the existing record, is misguided and completely contrary to the public interest."'
And Merrick, heed this guy, Adam Schiff, from yesterday:
Holding strong once again here we are…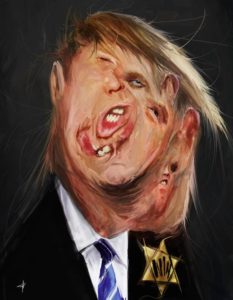 (Illustration out front: 'President Trump,' by Jonathan Bass, found here).