News cycling through time creates a sense of funny (not necessarily ha-ha funny, though) and draws from a seemingly way-deep well of assorted, vile subject matter, from the absolute horror of T-Rump to the overall horror of Republicans, there's no end of them nowadays.
Lying about everything is the Republican way — elections are stolen, cocaine is snorted per "key bumps."
Scrolling the InbterWebs this afternoon is like a frantic, frightful trip down one strange-ass circular drain. In our insane scenario here, though, the sewer line is a cesspool-canker sore of bad shit.
For instance, just one glance:
Trump erased seven hours of phone logs on Jan. 6, but Joe Biden almost choked on spicy pizza — the worst scandal in presidential history. pic.twitter.com/hLhk0pQnB0

— The Daily Show (@TheDailyShow) March 31, 2022
Nasty, ignorant, and vile with juvenile sarcasm tossed into the stink:
They have 1 joke. https://t.co/EOLrrPnalg

— Parker Molloy (@ParkerMolloy) March 31, 2022
Nutshell via Mediaite this afternoon:
Rep. Bob Goode (R-VA) mocked Judge Ketanji Brown Jackson on the House floor Thursday after remarks she made in a Senate Judiciary Committee hearing last week.
…
Good took to the floor to voice his opposition to the Affordable Insulin Now Act. If enacted, the legislation would cap certain insulin products at $35 or 25% of an insurance plan's negotiated price.

"Thank you, Person Speaker," said Good, addressing the chair.
"I say Person Speaker because I'm not a biologist, and out of respect to our Supreme Court nominee I don't feel qualified to say Madam Speaker."

Good went on to state he opposes the insulin bill because, for Democrats, it is a "gateway to their dream of fully socialized medicine."

The freshman congressman has been a controversial figure since taking office. Like most House Republicans, voted not to certify Joe Biden's 2020 election victory.
He was also one of 21 Republicans to vote against awarding Congressional Gold Medals to police officers who responded to the deadly Jan. 6, 2021 Capitol insurrection.
In January of this year, he refused to attend the State of the Union address, citing a Covid-19 testing requirement.
Asshole prick.
Meanwhile, the T-Rump is still the torchbearer for being an unethical, piece of longtime shit:
Isn't this what happens to everyone who works for him? https://t.co/YHOK4Re7I8

— Molly Jong-Fast (@MollyJongFast) March 31, 2022
Another deep dive into the pits, but how could a person be around the T-Rump and remain unsickened by the horrid stink off his shit — the photographer, Shealah Craighead, remains unmoving even afterward (from the NYT): '"I stay apolitical as possible, as I am a neutral historical documentarian," she said. "By staying neutral I am able to remain a keen observer."'
Go read the whole piece as another example of what a horrible, horrible piece of shit the T-Rump
Yet here we are once again…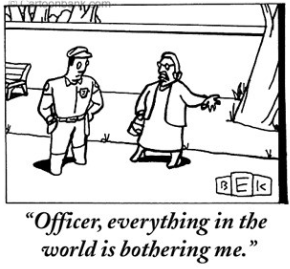 (Illustration out front: New Yorker cartoon by Bruce Eric Kaplan, found here).