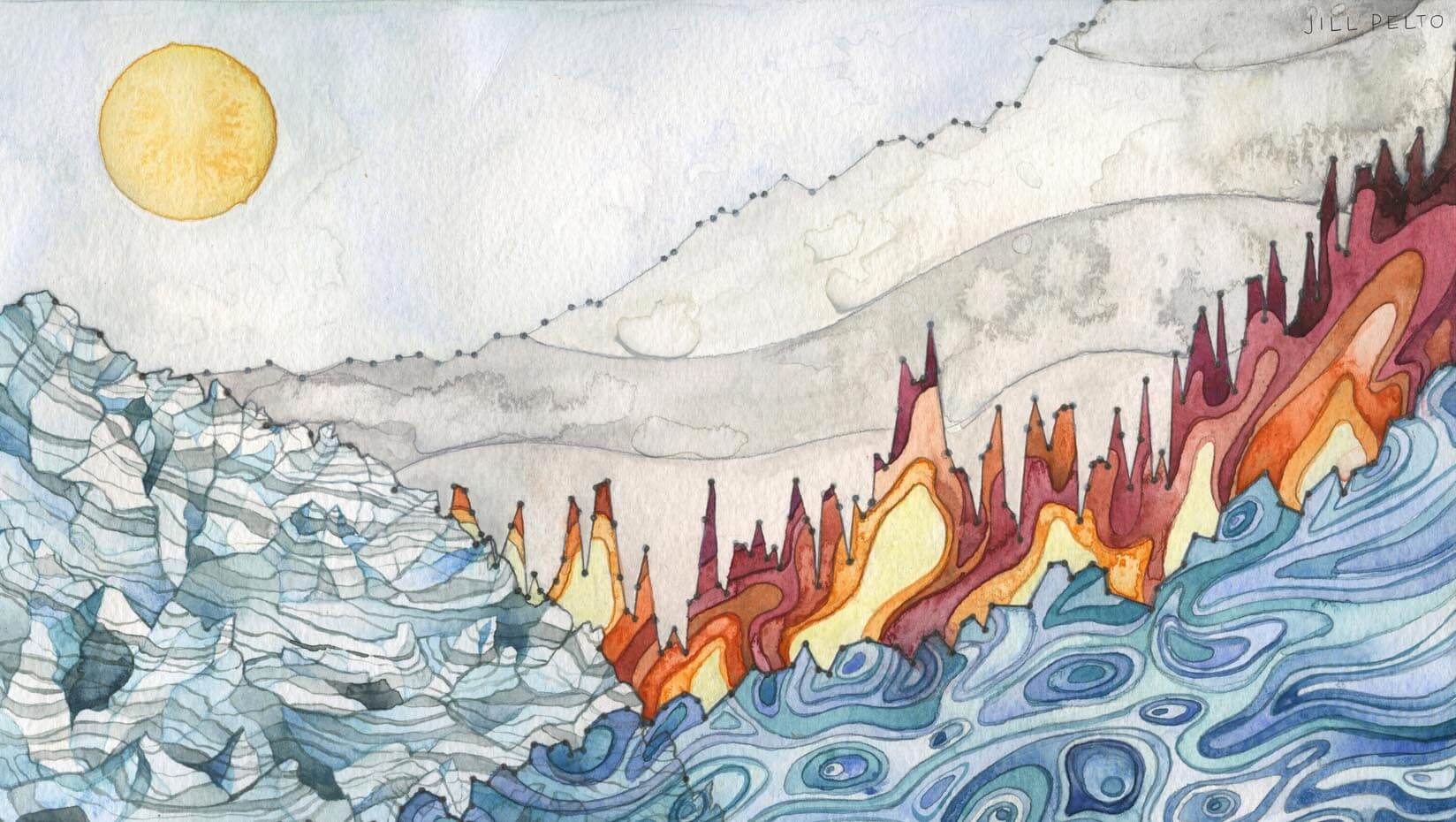 (Illustration: "Landscape of Change," by Jill Pelto, and found here).
As the world responds to the war-crime horrors of Vlad Putin's monstrous invasion of Ukraine, the UN's Intergovernmental Panel on Climate Change (IPCC) today released a final chapter in its ongoing, 30-year-plus study of our deteriorating environment, which maybe denotes our circumstances might even already be too late:
Yet the picture could already be even worse than the IPCC has presented. The IPCC data took in research papers published from 2014 up to last year, but since then the world has experienced even more extreme weather. The IPCC reports are regarded as cautious and conservative by many scientists, and the summary for policymakers that sets out the key messages of each working group are subject to inputs from governments that some regard as watering down.
Also in the context of today's report — UN Secretary-General Antonio Guterres was abrupt: '"It is a file of shame, cataloguing the empty pledges that put us firmly on track toward an unlivable world … We are already perilously close to tipping points that could lead to cascading and irreversible climate impacts."'
Plus the actual reality: 'Jim Skea, a professor at Imperial College London and co-chair of the working group behind the report, said: "It's now or never, if we want to limit global warming to 1.5C. Without immediate and deep emissions reductions across all sectors, it will be impossible."'
Red-flag warning again:
The UN's 10,000-page red alert on #climatechange https://t.co/N43onQ5NKJ

— Phys.org (@physorg_com) April 4, 2022
Brutal background of the IPCC report via Phys.org this morning:
Accelerating global warming is driving a rising tide of impacts that could cause profound human misery and ecological disaster, and there is only one way to avoid catastrophe: drastically reduce greenhouse gas emissions.

Spread across 10,000 pages, these are the main takeaways from a trio of UN reports on climate change published in August 2021, February 2022 and on Monday.
The three tomes — each with its own roster of hundreds of authors—focus on physical science, impacts and the need to adapt, and finally how to slash carbon pollution.
This will be the sixth such trilogy since the Intergovernmental Panel on Climate Change (IPCC) delivered its first report in 1990 and positioned itself as the final word on the science behind global warming.
Worse up close — nuts-and-bolts of the findings per the Guardian, also this morning:
Thirty months: that is the very short time the world now has for global greenhouse gas emissions to finally start to fall.
If not, we will miss the chance to avoid the worst impacts of the climate crisis.

The conclusion of the world's scientists, collated by the Intergovernmental Panel on Climate Change and approved by all the world's governments, says this reversal requires "immediate and deep" cuts in emissions everywhere.

The language of the third part of the IPCC's report is less dramatic than the first two, which placed "unequivocal" blame on us for putting a "livable future" in grave peril.
Rather than plainly stating the scale of the climate emergency, the new assessment spells out what needs to be done. Its text was therefore haggled over furiously by those states with much to lose.

But the conclusion is no less stark: a century of rising emissions must end before 2025 to keep global heating under 1.5C, beyond which severe impacts will increase further, hurting billions of people.
…
The implication for the biggest culprit, fossil fuels, is clear: it's over. The IPCC states that existing and currently planned fossil fuel projects are already more than the climate can handle. More projects will lock in even greater emissions and our journey to climate hell.
The IPCC warns fossil fuel investors they are on track to lose trillions of dollars if governments act as they must.
The big jump is renewable energy:
That is the good news in the new IPCC report. "We know what we need to do and we can do a lot of it already," said Stephen Cornelius of WWF.
"But every moment, every policy, every investment, every decision matters to avoid further climate chaos."

The IPCC spells out the huge cost reductions over the last decade in solar and wind power and says that some countries already have electricity grids predominantly powered by renewables.
It also strongly highlights the big potential impact from energy-efficient homes, walking and cycling, greener diets and less food waste.
All these are popular with people, the IPCC notes.

"Having the right policies, infrastructure and technology in place to enable changes to our lifestyles and behaviour can result in a 40-70-percent reduction in greenhouse gas emissions by 2050 — significant untapped potential," said Prof Priyadarshi Shukla, another IPCC co-chair.
"The evidence also shows that these lifestyle changes can improve our health and wellbeing."
…
"There is no silver bullet for solving climate change but there is a smoking gun, and that's fossil fuels," said Nikki Reisch at the Center for International Environmental Law.
"The focus must be on [cutting emissions], not purported techno-fixes, which are unproven at scale, pose significant risks to people and nature, and may simply not work to reduce emissions."
…
"This report is a resounding call to action for governments," said Madeleine Diouf Sarr, chair of the LDC group and the government of Senegal's climate chief.
"Ending the deadly addiction to fossil fuels and harnessing the full potential of cheap and abundant renewable energies is critical. We know the scale of the problem. We know the solution. This report provides a roadmap of how to get there. Let's get on with it without delay."
Yet the actual doing it is sadly near zero. Climate change is humanity's way-way-biggest problem, and as these continuing reports — not only from the UN, but from all scientific research — indicate we might have gone too long without a draw-down, and because, too, humans are assholes. A plan to curb emissions requires a worldwide unity that probably the world cannot construct without some extraordinary, big-time effort. As been mentioned before as parallel to and motivation equal to WWII's mobilization — hard to imagine the world getting anywhere near together on anything.
A good sign, though, is the outcry about the grisly, horrid action of Putin's army in Ukraine.
We can hope.
Opposite of global warming, but yet climate scary (good CGI):
In the heatwaves, here we are once again…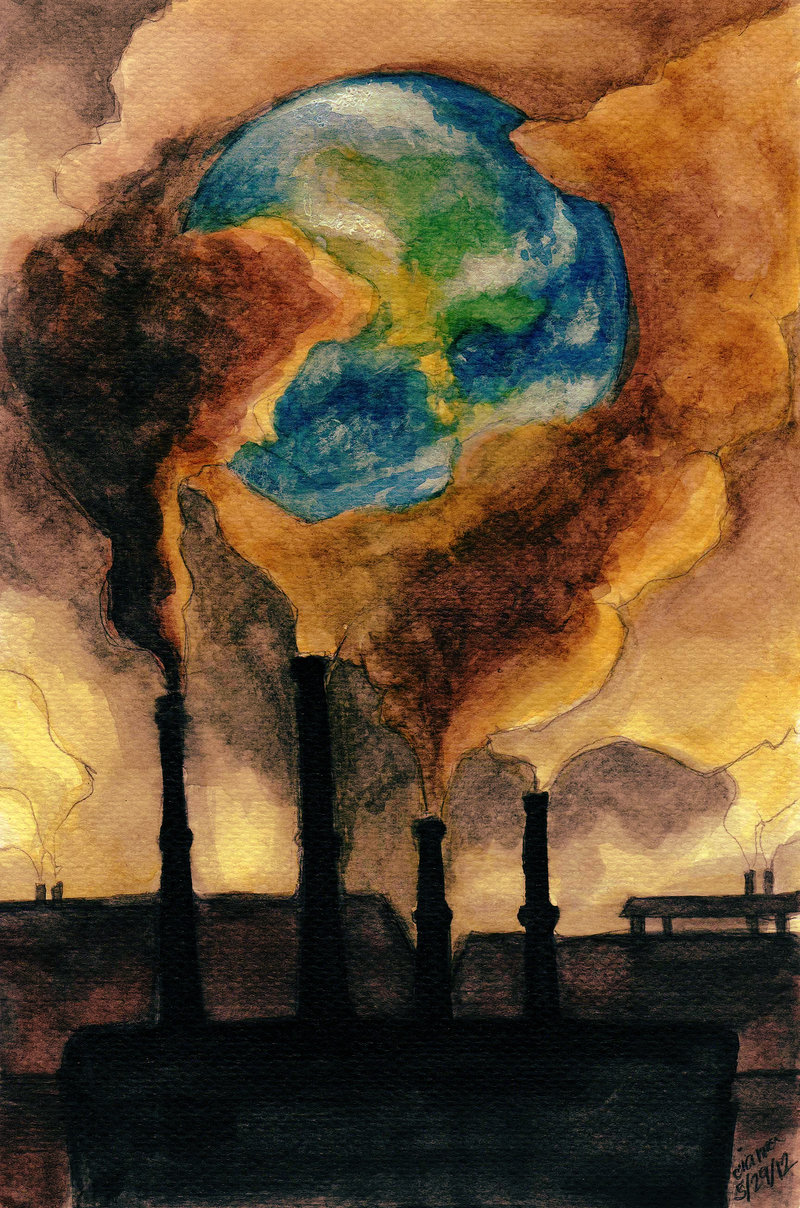 (Illustration out front found here).