Sunny and way-nice this late-afternoon Monday here in California's Central Valley, and we had better enjoy it while we can, the temperatures are expected to climb this week with the low-90s boiling us by the end of the week.
Summertime quickly comes.
In the flurry of horrible overseas news, one good spot of sunshine for democracy from DC today — Ketanji Brown Jackson has apparently got the votes and will be the next member of SCOTUS as three Republicans (only three) will vote for her. After voting her out of a deadlocked Senate Judiciary Committee (53-47), KBJ will face confirmation in that same dipshit full Senate later this week.
Despite asshole Republicans — less three, Lisa Murkowski, Mitt Romney, and Susan Collins — running en Masse, KBJ should take the spot:
This is only happens because of all the hard work millions of people put into winning the White House and Senate under the most difficult of circumstances https://t.co/IOgpMjxOPM

— Dan Pfeiffer (@danpfeiffer) April 4, 2022
Currently, due to Republicans being un-democratic assholes, the selection of KBJ made an en Masse wall the only route for the political party that has no official agenda — except for Rick Scott's pack of horror twixels — and if they take back the Senate and House this November the country will most-like croak.
Of course for instance, the Republican side of the tracks — Lindsey Graham being truthful as an asshole: '"If we get back the Senate and we are in charge of this body and there is judicial openings, we will talk to our colleagues on the other side … But if we are in charge, she would not have been before this committee. You would have had somebody more moderate than this."'
Yeah, it would a case of nothing ever done except through MAGA hatters and GQPers. We're not looking good for the midterms and most-likely Republicans will take over the government again. And we'll be full-fucked, especially if the T-Rump runs (and wins) in 2024 — a lot of the political fortune-telling on this shit I've read seems to convey Democrats are in for a shellacking.
Especially in the actual voting apparatus — haven't heard of this before, but it doesn't look good:
We rightly spend a lot of time taking about what Trump allies did before Jan. 6. But what are those same people doing right now? Here's one answer — convincing GOP rank-and-file to back hand counted elections experts say would throw democracy into chaos. https://t.co/qofWQ4H6qY

— Rosalind Helderman (@PostRoz) April 4, 2022
Story from The Washington Post this morning:
Some of the key architects and amplifiers of the false claim that voting machines were rigged to steal the 2020 election from Donald Trump traveled to the Nevada desert last month with a new pitch.

Speaking at a commissioners meeting in deeply conservative, mostly rural Nye County, they argued the county should ditch all its voting machines.

"The electronic voting machines are so vulnerable and so uncertifiable, I don't see how we can trust them," Jim Marchant, a Trump-supporting Nevada secretary of state candidate, told Nye County commissioners.

Instead, they insisted, the county should adopt an old-fashioned and largely obsolete method: tallying the results by hand.

Also presenting to the commission were retired Army Col. Phil Waldron and businessman Russell J. Ramsland Jr., who had worked with Trump's legal team to raise doubts about the machines in 2020. Now they're part of a network of Trump allies traveling the country to press for hand-counted paper ballots.
The message is connecting: In recent weeks, officials have discussed the idea in public meetings in Colorado, Louisiana, Kansas and New Hampshire, and bills to require hand-counting have been proposed in at least six states.
…
Top backers of Trump's election fraud claims, meanwhile, are investing heavily in the effort to promote hand-counting — and using the pitch to raise money from energized supporters.

Experts say hand-counting ballots is so impractical that, if adopted, election results would be thrown into unimaginable chaos, inviting mass human error and delaying results == and potentially giving bad actors more time to slow or even block certification.
Time and again, post-election audits have confirmed that machine counts are extremely accurate, and experts have said that there is no proof machines were hacked in 2020.

"It's a recipe for some chaos," said Pam Smith, president of Verified Voting, a nonprofit that promotes secure election practices such as post-election audits.
"And I do think that's potentially very damaging to public trust in the process."
A horrifying predicament is that this shit gets rolling across the country. Most of those in the story say it would really fuck-up the election. Chaos, along with cruelty, is the whole point, right?
If it happens, Pinball was right on:
Voted or not, once again here we are…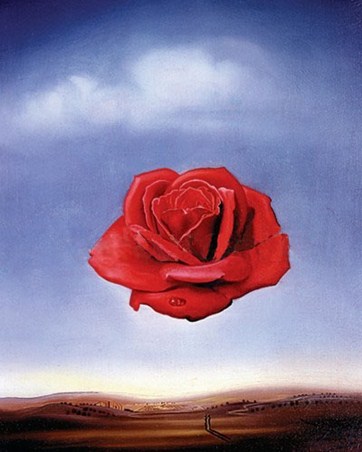 (Illustration out front: Salvador Dalí's 1958 painting, "Meditative Rose," and found here)