A little blustery and cool this late-afternoon Friday here in California's Central Valley; any delay of the heat is always welcome — another weekend is quickly at hand.
One noted, though sad, event today: Jen Psaki spent her time at the Joe Biden White House press-briefing podium as press secretary and she will be sorely missed. Psaki is way-cool and returned the press events back to the normal range after four ugly, nasty years of the nitwits, assholes and imbecilic press people from the T-Rump's horror years.
Tom Jones at Poynter:
Psaki will go down as one of the best to ever hold the title of White House press secretary. Even when Chris Wallace was at Fox News, a frequent critic of the current administration, he called Psaki one of the best ever.

Psaki has restored honor, dignity and class to the White House briefing room after four years of Donald Trump press secretaries, who seemed more interested in picking fights and criticizing the media than effectively communicating that administration's policies and agenda.
Psaki kicked ass (h/t tweet Balloon Juice):
?? "Jen Psaki leaves the White House after holding 224 briefings — more than all of Trump's press secretaries combined"https://t.co/xKibeWUmT8

— Politics Insider (@PoliticsInsider) May 13, 2022
Details/highlights via BusinessInsider this morning:
"We were following an administration that did not do daily press briefings," Psaki said during an event hosted by the Christian Science Monitor on Thursday.
"It should be that this is a forum for people to ask difficult questions Monday through Friday."

Martha Joynt Kumar, director of the White House Transition Project, has kept meticulous records of the press briefings. Psaki has held 224 briefings as of Friday compared to the 205 formal briefings held by Trump's press secretaries, according to Kumar's tally.

Trump had four press secretaries during his single term: Sean Spicer, Sarah Huckabee Sanders, Stephanie Grisham, and Kayleigh McEnany. Grisham held the title for eight months but didn't conduct a single on-record press briefing in the role.
By some other measures, Trump was more open than other presidents to taking questions from reporters himself. In a report marking Biden's first year in office, the Committee to Protect Journalists largely praised his approach to the press, but also noted that many journalists wanted more access to the president directly.

According to Kumar's count, Biden had done just 22 interviews with the media by the end of 2021 — a fraction of Trump (92) and President Barack Obama's (150) respective outreach during their first year in office.
Psaki, however, is the real deal
Her goal in the public-facing job was to "re-establish the briefing room as a place where there is information shared" and set a "tone of respect," she said at the Christian Science Monitor event on Thursday.
Psaki added that the Biden White House prioritized regular press briefings to ensure that the American people and the rest of the world understood that "we value the role of the press, we value the role of debate" and of "democracy."

A seasoned communications official, Psaki also reflected on her experience as the president's top spokesperson in an era of heightened media distrust among Americans.
"No one should do this job if they don't enjoy the back-and-forth of the press because it would be a very terrible existence," she said.
"I do enjoy it, and I learn something every day."

Psaki grew emotional on Friday during her final press briefing, expressing her appreciation toward the president and first lady Jill Biden for entrusting her with the role.
"As I look back, I hope I followed the example of integrity and grace that they have set for all of us," Psaki said on Friday, "and I'm incredibly grateful to them."

The 34th White House press secretary also thanked her colleagues, and the reporters in the briefing room for "the work everyday you do to make this country stronger."

Psaki has not yet announced her next job, but has reportedly secured a gig at MSNBC. Karine Jean-Pierre, Biden's deputy press secretary, will replace her. Jean-Pierre will make history as the first Black and openly gay person to serve as White House press secretary.
I haven't seen Jean-Pierre enough to get a grip on her abilities, but she seems authentic. Although as noted above the Committee to Protect Journalists 'largely praised' the T-Rump for his 'approach' to the press, any commendation is way-tempered with the reality of the huge, enormous amount of lies coming out of his fat face with every other word.
Jen at work:
Psaki forever or not, here we are once again…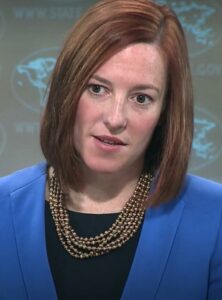 (Illustration out front found here).
,