Beyond the environmental heat and drought, my spot here in California's Central Valley also fired its way onto the list of mass shootings nationwide this Memorial Day weekend (per BuzzFeed News this afternoon): 'In just a 72-hour span over Memorial Day weekend, there were more than 300 shooting incidents across the US, according to data tabulated by the Gun Violence Archive. More than 130 people were killed, including a 16-year-old girl and 21-year-old woman shot dead around 1 a.m. on Monday at a holiday party in Philadelphia's Port Richmond neighborhood.'
Some crazy-ass shit going down. We've in serious trouble, and odd on Memorial Day as one writer put it, don't remember where or who, but going forward we should not only remember US military who died in the line of duty, but also the school kids, grocery shoppers, hair salon customers, and on down the line — we need some help here, and this I saw earlier today and it the most-potent example of bringing this cruel class of assholes to face their shit (h/t tweet Tom Sullivan at Digby's place):
We spoke directly to Wayne LaPierre at the NRA Convention and thanked him for all his thoughts and prayers. pic.twitter.com/EfdDrgD4Af

— The Good Liars (@TheGoodLiars) May 29, 2022
Context to the text via HuffPost last night:
National Rifle Association CEO Wayne LaPierre was trolled right to his face at the gun group's convention in Houston as some of his biggest supporters looked on.

Not everyone caught what was happening in the stunt by The Good Liars, known as progressive pranksters Jason Selvig and Davram Stiefler.

Selvig got a speaking slot at the NRA members meeting on Saturday, where members can speak for and against various issues facing the lobbying group. At first, Selvig appeared to launch into a defense of LaPierre, whose leadership has been plagued by spending scandals.

It soon got very uncomfortable for LaPierre, as Selvig rattled off a lengthy list of mass shootings, then mockingly praised him for offering "thoughts and prayers" for each.

Not everyone caught the sarcasm. When Selvig finished speaking, many in the room applauded …
The look on LaPierre's face is way-worth the price of admission, and on all their shit faces.
If not gun control how about 'bullet control' — Chris Rock with an answer:
Yet down the gun barrel, once again here we are…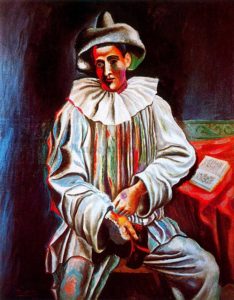 (Illustration out front: Pablo Picasso's 'Seated Pierrot,' found here).