Breezy and comfortable outside this early-evening Monday here in California's Central Valley — the wind is a way-big factor in keeping heat down to manageable levels, though, tomorrow we're supposedly starting another episode of higher temperatures until at least the weekend.
Just it's been hotter than normal earlier than normal, nothing heavy.
Also nothing heavy in today's hearing on the insurrection/riot/coup — just a more detailed and up-to-date showcase of how the T-Rump and his bootlicker morons not only caused a major, deadly anti-democratic event at our nation's Capitol on Jan. 6 last year but was a known lie and grift made worse by violence.
Although T-Rump knew he'd lost the 2020 election, he lied about voter fraud and grifted to fundraise off the lie. And family benefited, as always:
Am reminded of this moment before the January 6 armed insurrection

— Molly Jong-Fast (@MollyJongFast) June 13, 2022
Horror is in the obvious of not giving a fat-rat's-ass — via Deadline this afternoon:
Kimberly Guilfoyle, Donald Trump Jr.'s fiancee and a former adviser to his father's reelection bid, got paid $60,000 for a two-minute speech at the Stop the Steal rally that preceded the attack on the Capitol, according to one of the members of the January 6th Commitee.

In an interview with CNN, Rep. Zoe Lofgren (D-CA) said that Guilfoyle "was paid" for the introduction she gave at the rally, amounting to "$60,000 for two and a half minutes."

"I'm not saying it is crime, but it's a grift," Lofgren told Jake Tapper.

Tapper was elaborating on a part of Monday's January 6th Committee hearing in which Lofgren introduced evidence that the Trump campaign collected $250 million from supporters in the aftermath of the election, ostensibly to pursue election fraud claims in the courts.
In fact, though, much of the money went to the Save America PAC, including $5 million that went to Event Strategies Inc., which helped stage the January 6 rally at the Ellipse, according to the committee.
Other money went to Trump chief of staff Mark Meadows charitable foundation and to the America First Policy Institute, as well as to the Trump Hotel Collection.

Guilfoyle, a former Fox News commentator and ex-wife of California Governor Gavin Newsom, met with the committee in April. Her attorney did not immediately return a request for comment.

Lofgren's statement was in response to a question of whether members of the Trump family personally benefited from the post-election fundraising blitz. As was shown in the hearing, donors were blanketed with emails asking them to contribute to an "election defense fund."

"People were conned by the former president," Lofgren said on CNN.
"They were conned into believing that the election had been stolen and that they should go to the Capitol once the president asked them to. I think the average donation from those .. false email requests was something like $17. These weren't rich people. They were conned by the president. The big lie was also a big ripoff."

Lofgren would not say whether personally benefiting from such donations would be a crime. "We are a legislative committee. That is for somebody else to decide."
The money was not used for "what he said to his donors — 'this is to defend the election,'" Lofgren said. "It was for an entirely different purpose. I think that was deceptive and not right."
And it has to be criminal, too, right? Already maybe with an answer:
Actually, @RepZoeLofgren, somebody has decided: Congress criminalized wire fraud long ago. 18 USC 1343. DOJ will need to decide whether Trump's conduct in violation of sec 1343 was excusable because, well, because he was above the law. But weren't we told NO-ONE is above the law? https://t.co/Mo4JpUwiJu

— Laurence Tribe (@tribelaw) June 13, 2022
However, like most T-Rumpian shit, hard to box the asshole (BusinessInsider late this afternoon): '"You need to prove to the jury that somebody authorized solicitations that said the money was going to be spent on election contests knowing that was false," said Adav Noti, vice president and legal director at the Campaign Legal Center who previously served as the Federal Election Commission's associate general counsel for policy. "You need to find the individuals, it wouldn't be enough for criminal purposes to say, 'here's what happened.'"'
Convicting the T-Rump is whack-a-mole bullshit — but they need to keep trying.
Heartless grifters the T-Rump gang, but what's new, right, as once again here we are…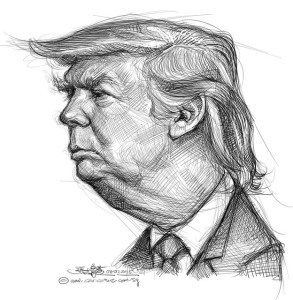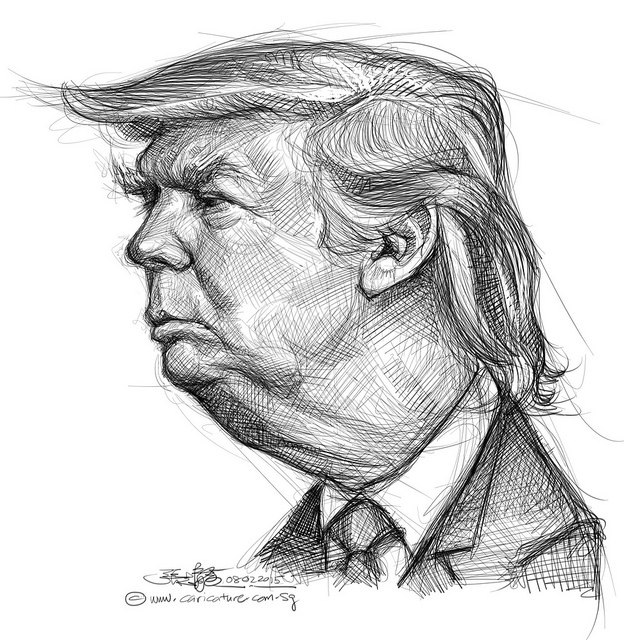 Image out front is my favorite of the T-Rump mugs, though, 'favorite' does not mean in any form or fashion, as in, 'my favorite movie,' or 'my favorite song.' It's more of an anti-appreciation/like.
And aptly titled, 'Basic Shapes,' by caricaturist/illustrator Chong Jit Leong (and found here), it's an image that displays the elemental form of a purloined sociopath — a bloated profile of flatulent bile and arrogant ignorance.