Once again this Monday morning, the House Select Committee investigating the Jan. 6 insurrection/riot/coup at the US Capitol exposed the lying horror of the T-Rump and his ass-kissing minions in full, truthful sunshine — the Orange Turd was told and knew there was no widespread voter scam, yet continued the lie in order to not only bullshit through the election but himself to fraudulently raise money off it.
An obvious asshole on the grift.
In essence: 'According to Amanda Wick, senior investigative counsel, the committee estimated that between Nov. 3 and Jan. 6, the Trump campaign sent scores of fundraising emails — as many as 25 per day — that claimed a "left-wing mob" was undermining the election and pushed small-dollar donors to "fight back" by contributing to the so-called "Election Defense Fund." The video featured testimony from Hanna Allred, a former Trump campaign staffer who told investigators, "I don't believe there is actually a fund called the Election Defense Fund."'
Millions and millions of dollars were hoodwinked out of idiot MAGA hatters, who themselves don't care T-Rump grifted them — MSNBC Daily columnist Richard Painter noted this morning: '"The real kicker is that many will not admit they were defrauded. They will continue to believe in Trump, just as he will continue to tell them that he won the 2020 election. And, if they just send more money, he promises he will come back in 2024 and win another."'
A review of the hearing per one of the best:
If you missed any of today's January 6 hearing or just want to catch up, my comprehensive thread of video highlights begins here ? https://t.co/DxEUCgN1Rf

— Aaron Rupar (@atrupar) June 13, 2022
A wrap of the election-loss/voter fraud bullshit via The Washington Post a few minutes ago:
Last week, it was an open question as to just how often Trump was actually told that what he was saying was false. Monday's hearing indicated the answer: plenty of times.

Former attorney general William P. Barr featured prominently. We already knew Barr had testified that he told Trump that allegations of widespread voter fraud were "bullshit."
And on Monday, they played video of Barr saying that he had debunked specific allegations to Trump.
…
Former deputy attorney general Richard Donoghue also ran through a litany of allegations in significant detail, saying he informed Trump that there was nothing to them. He specifically cited a popular theory — elevated by Trump — about a "suitcase" of votes in Georgia which wasn't actually a suitcase. He said he told Trump that "was not true."

"I tried to, again, put this in perspective and to try to put it in very clear terms to the president," Donoghue said. "And I said something to the effect of, 'Sir, we've done dozens of investigations, hundreds of interviews. The major allegations are not supported by the evidence developed. We've looked in Georgia, Pennsylvania, Michigan, Nevada. We're doing our job. Much of the info you're getting is false.' "
…
The committee also played clips of Trump campaign manager Bill Stepien and campaign aide Jason Miller saying they advised against Trump declaring victory that night — as Trump ultimately did — because votes were still coming in and the outcome was indeed in doubt.
And it played video of Barr confirming that he knew in advance that Democrats would gain substantial ground as mail votes were counted, especially in urban areas. (Trump would later baselessly claim that such gains were suspicious.)
On and on — epic shit is the testimony of Wild Bill Barr:
Right. And so he should have felt compelled to protect the country and led the 25th Amendment effort. But he did not. The Attorney General laughed. And the resigned to separate himself. https://t.co/Cj51aOGAjq

— Sherrilyn Ifill (@Sifill_LDF) June 13, 2022
Another nutshell on Barr's testimony per The New York Times:
Former attorney general William P. Barr delivered some of the starkest assessments of President Trump's obsession with voter fraud in the weeks following the election, saying in a recorded deposition that he believed the former president had become "detached from reality" as he pushed the Justice Department to investigate increasingly far-fetched fraud claims.

"He's become detached from reality if he really believes this stuff," Mr. Barr testified in a video shown Monday during a hearing by the Jan. 6 committee.
Fraud claims about Dominion Voting machines and other conspiracy theories that Mr. Trump embraced were "complete nonsense" and "crazy stuff," he said.
Memory of the streetwise assessment of calling it "bullshit," too. Even Ivanka believed Wild Bill over her monster of a daddy.
And a major side-note of Barr's successor in pursuit of accountability, which is the now torturous road of Merrick Garland's DOJ to charge the T-Rump:
A person familiar with the matter told NBC News there have been conversations inside the Justice Department about the far-reaching implications of pursuing a case against Trump, should it come to that. https://t.co/i81x0mm2Sy

— Kyle Griffin (@kylegriffin1) June 13, 2022
Nutshell details via NBC News early this morning:
Liz Cheney's powerful remarks at Thursday night's Jan. 6 congressional hearing on the insurrection at the U.S. Capitol — which sounded a lot like a lawyer's opening statement at a criminal trial — have renewed a debate in legal circles about whether the Justice Department could, and should, prosecute Donald Trump.

With a growing body of evidence that Cheney and others say points to criminal acts involving Trump's efforts to overturn the 2020 election results, Attorney General Merrick Garland may ultimately be faced with an excruciatingly difficult decision about whether prosecuting a former president is in the national interest.

A person familiar with the matter told NBC News there have been conversations inside the Justice Department about the far-reaching implications of pursuing a case against Trump, should it come to that.
So far, no public evidence has surfaced that the former president has become a criminal target.

"We will follow the facts wherever they lead," Garland said in his speech at Harvard University's commencement ceremony last month.
His deputy, Lisa Monaco, has confirmed that prosecutors were looking into the legal ramifications for those who took part in schemes to push slates of fake Electoral College members declaring Trump the winner of states Joe Biden won.

Filing criminal charges against Trump in connection with his efforts to overturn the election "will very likely spark civil unrest, and maybe even civil war," said Barbara McQuade, an NBC legal analyst and a former U.S. attorney.
But, she said, "I think not charging is even worse, because not charging means you failed to hold someone criminally accountable who tried to subvert our democracy."
Either way, "It's a momentous and unprecedented decision — not as easy as some folks might imagine it to be," said Chuck Rosenberg, an NBC News legal analyst who is a former federal prosecutor and former head of the Drug Enforcement Administration.

The contours of a possible criminal case against Trump have been clear to legal experts for some time. A federal judge said in a ruling in a civil case in March that Trump "more likely than not" committed federal crimes in seeking to obstruct the congressional count of the Electoral College ballots on Jan. 6, 2021, citing two statutes: obstruction of an official proceeding, and conspiracy to defraud the United States.
…
"There are a lot of actions that are being laid out that could qualify as conspiracy to obstruct the certification of the election," said Randall Eliason, a former federal prosecutor and currently a lecturer at George Washington University Law School.
"This was a multifaceted conspiracy that actually went on for a couple of months."

The riot at the Capitol, Eliason said, "ended up being sort of a useful tool in that conspiracy. Whether or not that was even part of the initial plan, it certainly became something that furthered the conspiracy."

As in most white collar crime cases, experts said the biggest challenge for prosecutors would be proving that Trump had criminal intent — that he knew he had lost the election but pursued his fraud claims anyway.
See above at the hearing today — T-Rump knew and didn't give a shit. Garland needs to get off his ass!
Next hearing is scheduled for Wednesday, and another the following day — both set for 10 AM Eastern (way-too-early out on the Left Coast).
Despite the reality being presented, here we are once again…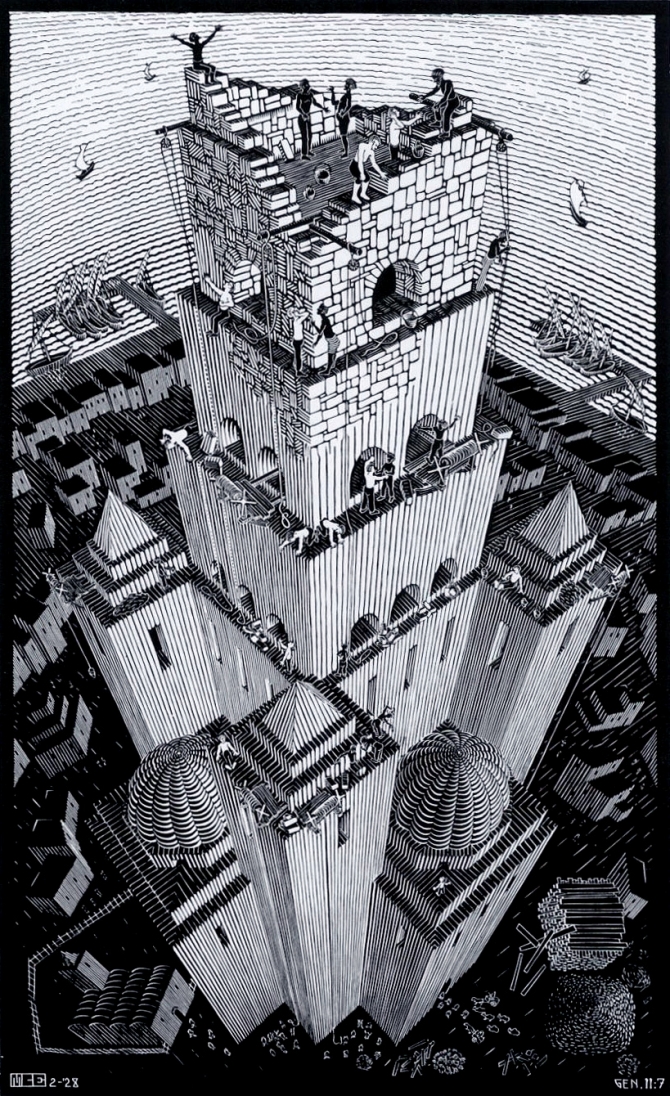 (Illustration out front: 'Tower of Babel,' 1928 woodcut by MC Escher, and found here).