Warm but not boiling hot this late-afternoon Sunday here in California's Central Valley — a nice respite from the horror-heat of the last couple of days, though the Southwest US is still burning from that 'heat dome' that saturated us starting last week.
We're still going to be hot and the air will get heavy the next few days, but maybe not 'dome' material.
And back tomorrow will be the second hearing in a month-long series from the House Select Committee on the Jan. 6 insurrection/riot (and should add: 'coup') — a morning version:
Oh just trumps former campaign manager https://t.co/RP2sd2Z3cP

— Molly Jong-Fast (@MollyJongFast) June 12, 2022
Preview of that noted second round via The Washington Post this evening:
The second public hearing by the House select committee investigating the Jan. 6, 2021, insurrection will focus on then-President Donald Trump's baseless claims that the 2020 election was stolen — dubbed the "big lie" — and how those false claims were connected to the pro-Trump mob that attacked the U.S. Capitol that day in a bid to stop the certification of Joe Biden's electoral college win, lawmakers on the bipartisan panel said Sunday.

In a background briefing with reporters on Sunday night, a select committee aide said the hearing on Monday, led by Chairman Bennie G. Thompson (D-Miss.) with an assist from Rep. Zoe Lofgren (D-Calif.), will also dissect the fundraising apparatus that was built around the "big lie" to drive up the post-election cash haul.

"We will reveal information about how the former president's political apparatus used these lies about fraud, about a stolen election, to drive fundraising, bringing in hundreds of millions of dollars between Election Day 2020 and January 6," a committee aide said.

"And we'll show that some of those individuals responsible for the violence on the 6th echoed back to those very same lies that the president peddled in the run-up to the insurrection," the aide added.

The Post has previously reported that investigators have sought to trace every dollar raised and spent on Trump's false claims that the election was stolen, interviewing low-level Trump campaign officials who penned fundraising pitches and grilling advisers about who personally profited from raising large sums of cash in the wake of Trump's defeat.

Testifying on Monday before the committee will be former Trump campaign manager Bill Stepien; Chris Stirewalt, a former political editor for Fox News; Benjamin Ginsberg, a Republican election lawyer; former U.S. attorney B.J. "BJay" Pak; and Al Schmidt, a former city commissioner of Philadelphia.
…
Trump and his allies' efforts to pull "every lever of government" to try to keep him in power would become clear across the compilation of the committee's findings, Rep. Elaine Luria (D-Va.), a member of the committee, said Sunday on NBC News's "Meet the Press."

"If there weren't some people in the right places at the right time who did the right thing, this could have turned out very differently — and that includes at the Department of Justice, the former vice president," Luria said, referring to then-Vice President Mike Pence's refusal to overturn the election results.
"This pressure campaign was widespread."
Plus, add to the dynamite charge of Republican Congresscritters seeking presidential pardons based on insurrection/coup work leading to Jan. 6 — a glaring acknowledgment of wrongdoing:
Both (Jamie) Raskin and (Adam) Schiff said the hearings this week would also provide proof that multiple House Republicans sought pardons from the Trump White House for trying to overturn the election, dismissing the denials of some of those GOP lawmakers, including Rep. Scott Perry (Pa.), whose office called the allegation a "soulless lie."

"We will show the evidence that we have that members of Congress were seeking pardons," Schiff said.
"To me, I think that is some of the most compelling evidence of a consciousness of guilt. Why would members do that if they felt that their involvement in this plot to overturn the election was somehow appropriate?"
In the place of soap operas, another round of 'Democracy-At-Stake' legal TV.
As time continues forward, once again here we are…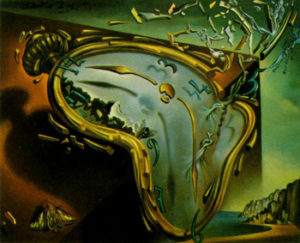 (Illustration out front: Salvador Dali's 'Soft Watch at the Moment of First Explosion,' found here).