Cool and comfortable this near-noon Saturday here in California's Central Valley — guilt-outlandish considering a few other places:
The video above has most-likely been viewed a shitload of times this past week as weather across the US has been way-out-there, as an old saying goes, but horribly-sad becoming the 'new normal' as our environment heats up faster and faster and we're doing obviously nothing about it. The shiny button isn't on our climate (though, it's right in the open), it's in Congress and the downfall of democracy, the face and mouth of the T-Rump, and in massive displays of gun violence.
Our greatest-impending deadly horror — climate change — is hidden behind crazy-ass bullshit.
Via Science at the end of last month: 'Climate change may have the potential to disrupt the weather systems so much that Earth turns into a chaotic world that can't be fixed, Live Science previously reported. A 2022 study published on the preprint database arXiv (opens in new tab) found that if we don't reduce our emissions, humans run the risk of Earth's temperature fluctuating chaotically in a way that's impossible to predict.'
And, cut to this morning — let the good Dr. Mann explain:
#SaturdayMorning #Recast: "We get extremes that we haven't even seen before…" What's playing out in every corner of the globe, and what we can do…namely real legislation in Congress. recap with @MichaelEMann https://t.co/EO0fU7K1Jz

— Silicon Valley North (@CCLSVN) June 18, 2022
Alongside written details via the Guardian this morning:
Summer in the American west is off to an explosive start, with extreme weather events ravaging multiple states in recent weeks.
In Montana, historic flooding devastated communities and infrastructure in and around Yellowstone national park and forced a rare closure.
Further south, reservoirs sank to new lows, triple-digit heatwaves left millions sweltering, and wildfires ripped through Arizona, New Mexico, Alaska and California.

These layered disasters offer a glimpse of what's to come. As temperatures continue to climb, extreme events will not just increase – they're more likely to overlap, causing more calamity and testing the limits of the nation's resilience and recovery.

"The US has a certain amount of capacity to cope with extreme events," said Dr Andrew Hoell, a meteorologist for the National Oceanic and Atmospheric Administration's (Noaa) physical sciences laboratory, adding that capacity is stretched when these events build on one another, either regionally or sequentially.

Natural disasters, from floods to droughts to wildfires, have always occurred in areas across the west, and it will take time for scientists to study the precise connections between events like the destruction in Yellowstone and the climate crisis. But it is clear that, in a warming world, combinations of factors are increasingly likely to align and turn routine events into a catastrophe. So-called "compound extremes," where a combination of contributing factors come together, are on the rise, Hoell said.

The flood in Yellowstone was one such "compound extreme."

Warming weather flushed melting snow into the waterways as a deluge pelted the region, dropping up to 3 months-worth of summer rain over the span of just a few days, according to an accounting done by CNN. Researchers with the US Geological Survey (USGS) and two universities had already sounded the alarm that an event like this was increasingly likely, publishing a report last year on how the climate crisis could threaten the park.
Noting that average temperatures could increase by up to 10 degrees in the coming decades, they concluded that the region should expect intense dry conditions peppered with dangerous downpours.

"With increasing global surface temperatures the possibility of more droughts and increased intensity of storms will likely occur," USGS scientists wrote.
"As more water vapor is evaporated into the atmosphere it becomes fuel for more powerful storms to develop."
…
"None of us planned a 500-year flood event on the Yellowstone when we designed these facilities," said Debi Meling, the city's public works director.
Remarkably no one was reported hurt or killed, but the damage has been possibly permanent and recovery could take years.

"We certainly know that climate change is causing more natural disasters, more fires, bigger fires and more floods and bigger floods," said Robert Manning, a retired University of Vermont professor of environment and natural resources.
"These things are going to happen, and they're going to happen probably a lot more intensely."
…
The Federal Emergency Management Agency (Fema) is already bracing for an escalation in need this year and for the ones that follow, requesting $19.7bn for its 2023 disaster relief fund.

"The field of emergency management is at a pivotal moment in its history," Fema administrator Deanne Criswell said during a hearing of the House homeland security subcommittee on emergency preparedness, response and recovery. The agency is managing more than triple the amount of disasters this year as it did a decade ago.

"The changing climate is the biggest crisis facing our nation and makes natural disasters more frequent and more destructive," Criswell said.
"While our mission itself has not changed, our operating environment has."
Outlandish — not! And scary:
Even in the heat, here we are once again…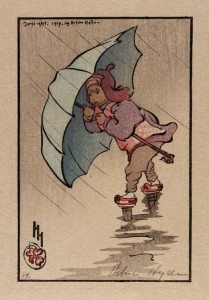 (Illustration out front: 'The Blue Umbrella," (1914), color woodcut on paper, by Helen Hyde, and found here).