Only idiots allowed:
Love this. pic.twitter.com/tVYJ2GaREw

— Jan Snark ???? #SlavaUkraini ??? (@jadeecee1) June 18, 2022
Adding to the theme, Digby last week noted the power of Republicans pulling back the curtain on the T-Rump:
It is a smart strategy to tell this story through Republicans. It should quell some of the mistrust that's been sown by Trump and his allies over the fact that the committee only has two GOP members after House Minority Leader Kevin McCarthy refused to agree to the bipartisan independent commission and pulled all of his members from the committee when he was not allowed to put Trump's personal henchmen on the panel. Republicans have since sought to smear committee Vice Chairman Liz Cheney of Wyoming and Adam Kinsinger of Illinois, both Republicans, as traitors and sell-outs. So whatever credibility the two had to persuade rank and file Republicans is gone. Independents probably don't know what to think.
In the order of things, McCarthy and his ilk don't see their own doing the truth saying.
Of course, in this self-delusional crisis, only Miss Emily Dickinson can also note: "Success is counted sweetest"
Success is counted sweetest
By those who ne'er succeed.
To comprehend a nectar
Requires sorest need.

Not one of all the purple Host
Who took the Flag today
Can tell the definition
So clear of victory

As he defeated – dying –
On whose forbidden ear
The distant strains of triumph
Burst agonized and clear!
And onward we go.
Yet we've been through this before: "Yes, I was aware of listening devices…"
Once again, here we are…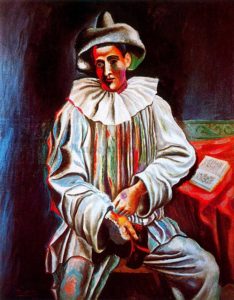 (Illustration out front: Pablo Picasso's 'Seated Pierrot,' found here)