Despite the illegal shit performed by the T-Rump and his minions shown to be way apparent, the actual accountability might be lost on the American public, who maybe don't understand when you ask for a pardon before you've been charged with anything is a good sign of guilt.
The House committee investigating the Jan.6 insurrection/riot/coup at the US Capitol held another open-splash hearing today which further elaborated on the sinister shit cooked up by T-Rump and his legal lackeys to subvert the 2020 election.
And once again most of the information presented was already known, but the presentation in an open public setting gave it a personal, emotional quality a news story itself can't fully implement — in this case, the DOJ was the mark.
One of the unique items presented was the shitload of pardons requested by Republican assholes involved with sedition:
Greene ASKED for one. https://t.co/sk3T2BFEmk

— Jess Balzer (@Balzer_Jess) June 23, 2022
Quick note:
Cassidy Hutchinson, a former aide for Meadows, told the committee in a videotaped deposition that Reps. Gaetz and Brooks both wanted "blanket" and "preemptive" pardons.

"Mr. Gaetz was personally pushing for a pardon and he was doing so since early December," Hutchinson told investigators. "I'm not sure why."
Duh! Maybe knew he was guilty of being an asshole. A near-real-time analysis of today's shit from Ryan Goodman, law professor at NYU, former special counsel for the Department of Defense, also founding co-editor-in-chief of Just Security, in an interview at Aaron Rupar's Public Notice late this afternoon.
First, impact seemingly off the committee hearings:
They have altered my sense of how this is going to go down. I do think it bolsters both the Justice Department case and then the kind of wild card, which is that Trump gets indicted in the Fulton County district attorney case [for his involvement in trying to overturn the election in Georgia, including demanding the secretary of state to "find" votes for him].

I think the evidence is compelling. The public that's watching can see a very compelling case and it gives cover to the Department of Justice and the Fulton County district attorney to move forward expeditiously and to at least cross the very first threshold, which is simply to ensure that there is a full blown criminal investigation into these matters. We don't know that that's happening at the Justice Department. That's happening in the Georgia case. But I think that if that is not happening as of the start of June [on the federal level], that surely to goodness will be happening now. There's so much that has been presented publicly that crosses the bar several times over for the threshold required to open an investigation.
And on those dumb-ass pardon requests:
It does in a sense because it seems very incriminating that they would seek a pardon. Adam Kinzinger said something like that — why would you seek a pardon unless you are basically guilty of a crime?

Of course they'll have a response. First, they're denying it, still, despite the testimony for multiple witnesses. But that the other is that they'll say, oh, you know, we're just deeply concerned that the Justice Department would be politicized under a Biden administration and they'd come after us in a witch hunt, so that's why we wanted preemptive pardon.

They'll say things like that. It means there's maybe something there — you know, where there's smoke, there's fire. But we don't have any other strong evidence as to what exactly were the crimes that they thought they had committed. That's difficult to know.
Meanwhile, although the hearings are emotionally intense, though, not full of new information, but carry a certain weight of seeing shit you knew about a year ago come alive in a legal/public setting makes for a broadening of the Jan. 6 insurrection/riot/coup even more horrible. And although all this is obvious to anyone with walking-around sense,
Americans see the Jan. 6 coup attempt as planned shit, but don't know if the T-Rump should be jailed, a new Quinnipiac poll reveals, a weird-ass predicament:
64% think the #January6 attack on the Capitol was planned; number of Americans viewing rising prices as a crisis climbs https://t.co/UBnjw4Srcz #inflation #PresidentBiden #DonaldTrump #abortion

— Quinnipiac University Poll (@QuinnipiacPoll) June 22, 2022
Details per The Hill this morning:
The poll found that 64-percent of respondents believed the attack was planned and 30 percent believed it was spontaneous.
…
Nearly 6 in 10 respondents believe former President Trump bears at least some responsibility for the storming of the Capitol, with 41-percent saying he bears a lot of responsibility.

But when asked if they thought Trump committed a crime in his efforts to change the 2020 presidential election results, Americans were split. Forty-six-percent said he committed a crime, but 47-percent said he did not.

"Yes, the January 6 attack was planned, say more than 60 percent of Americans, and a majority say yes, former President Trump bears a measure of responsibility for the calamity that ensued," Quinnipiac University polling analyst Tim Malloy said in a release. "But criminal charges for Trump? It's a toss-up. There is no consensus."
A crazy-ass predicament indeed — a majority being ruled by a minority, though, the guilt is way-overly obvious.
Even so,  here we are once again…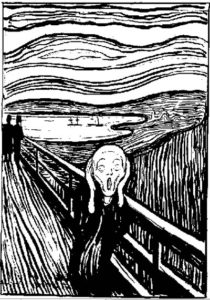 (Illustration out front: Edvard Munch's 'The Scream,' lithograph version, found here)