In the ever-continuing slow-walking display of justice, the announcement today of another T-Rump lawyer to testify before the House committee investigating the Jan. 6 insurrection/riot/coup just might be the bridge to getting an indictment against the T-Rump, and then maybe a jail cell for the asshole.
One knows hope springs eternal — except with Merrick Garland.
Good expectant news to maybe foreshadow more to come (NBC): 'Pat Cipollone, who served as former President Donald Trump's White House counsel, is expected to testify behind closed doors on Friday with the House committee investigating the Jan. 6, 2021, attack on the Capitol, a person familiar with the situation said Wednesday. The interview with Cipollone will be transcribed and videotaped, according to a person familiar with the matter.'
Hopefully, the T-Rump is in the crosshairs:
When Cassidy Hutchinson testified last week, Pat Cipollone's name came up 18 times. There's no great mystery as to why it's a big deal that he's agreed to answer investigators' questions. https://t.co/000y9dmyIV

— Steve Benen (@stevebenen) July 6, 2022
Details via the Maddowblog this morning:
In case anyone needs a refresher, we were reminded just last week how important this witness is.
When former White House aide Cassidy Hutchinson testified, for example, his name came up 18 times.

As we discussed soon after, based on what we now know, it was Cipollone who didn't want Trump to go to the Capitol after his speech at the Ellipse.
It was Cipollone who wanted then-White House chief of staff Mark Meadows to intervene with Trump about the rioters. It was Cipollone who lobbied to keep dangerous lies out of Trump's pre-riot remarks.

It was also Cipollone who warned Team Trump not to challenge the election results, even threatening to resign at one point in the post-election process.

There's no great mystery as to why Jan. 6 investigators want — and believe they need — to talk to this guy.

To be sure, it might seem unusual for a White House counsel to offer congressional testimony, but it's not at all unprecedented.
On the contrary, former White House counsel Don McGahn — Cipollone's predecessor in Donald Trump's administration — testified just last year before the House Judiciary Committee.

What about attorney-client privilege? The legal dynamic is complex, and there are experts who can speak to this with more authority than I can, but as a matter of professional responsibilities, the White House counsel is not the president's attorney.
The counsel's office represents the interests of the presidency, not the president.

While in office, Trump had plenty of lawyers representing him and his interests. Cipollone's job was to represent the presidency as an institution and the White House's interests.

It's why Rep. Liz Cheney, the Republican vice chair of the Jan. 6 committee, was unsubtle in her public and private calls for Cipollone's testimony.

Now that he's agreed to answer questions under oath, it's likely that Team Trump's anxiety levels have reached a new and higher level.
Hopefully those 'anxiety levels' reach high, high up into his nasty brain. And could lead to an indictment of the T-Rump by maybe (hopefully) the DOJ, if Merrick Garland ever does get off his ass.
Further from the Guardian, also this morning:
Among the topics Cipollone could discuss include how he told Donald Trump that pressuring Mike Pence, the vice-president, to refuse to certify Joe Biden's election win was unlawful, and Trump's plot to coerce the justice department into falsely saying the 2020 election was corrupt.

The closed-door deposition, to that end, could amount to a chance for the panel to corroborate testimony by the former White House aide Cassidy Hutchinson, who testified that Cipollone repeatedly warned that Trump's ideas to overturn the 2020 election violated the law.

Hutchinson, according to her public testimony at a special hearing last week, was told by Cipollone that "we're going to be charged with every crime imaginable" if Trump went to the Capitol that day as he pressured Congress to not certify Biden's win.

It was not immediately clear on Wednesday why the scope of his testimony had to be limited, given Biden and the current White House counsel has previously waived privilege concerns for other former administration witnesses.
Additional drama on the hard, long road to getting T-Rump into a jail cell.
History has a context:
Testimony or not, here we are once again…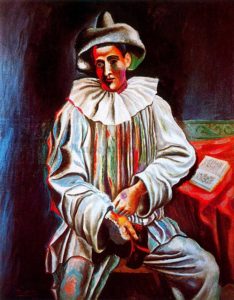 (Illustration out front: Pablo Picasso's 'Seated Pierrot,' found here.)