Across the wide pond this Thursday morning a musical interlude in the sound of a dipshit leaving.
Boris Johnson resigned as UK prime minister, but in a slow-stepped process that will supposedly not take place for months — Johnson will stay on until a successor is named — and he's an idiot with an idiot's background music playing him out. Boris has been under fire since probably the beginning, but scandals and dumbass shit have gotten worse in the last few months. Hence, he be quick with no real intelligent sense about himself (h/t tweet Digby):
"Them's the breaks," as Winston Churchill would never have said in a million years. pic.twitter.com/LDkQbGiwnh

— Bill Grueskin (@BGrueskin) July 7, 2022
Again, Boris is an idiot — per The Week:
In his resignation speech, Johnson touted his accomplishments in office and said he tried and failed to convince his colleagues that it "would be eccentric to change governments" right now, adding that it's become clear that "no one is remotely indispensable" in politics. He also vowed to provide "as much support as I can" to his replacement.

"I want you to know how sad I am to be giving up the best job in the world," Johnson said.
"But them's the breaks."
A 'bigly' mistake, as Boris' American counterpart, the T-Rump, would blubber. And the drama of Boris leaving after a shitload of his people resigned nearly en mass — reportedly bear 60 in the last few hours — makes Johnson's move this morning fairy predictable and on point.
And fall of his nit-twit government has a soundtrack:
Wait this is the work of Hugh Grant? https://t.co/ZLMz3JCkDe

— Molly Jong-Fast (@MollyJongFast) July 7, 2022
Details/background via Vulture this morning:
Hugh Grant, originator (or maybe just popularizer) of the phrase "You saucy minx," has become the sauciest minx of all in his latest act of political subterfHughge.
Early on July 7, the actor tweeted a message at activist Steve Bray, best known for organizing protests against Brexit while wearing a top hat, who was outside Westminster cheering on the resignation of U.K. prime minister Boris Johnson. "Morning @snb19692 Glad you have your speakers back," he referenced. "Do you by any chance have the Benny Hill music to hand?"

He most certainly did have "Yakety Sax," the Boots Randolph song that introduces the 1955 British sketch series The Benny Hill Show, and blasted it as BoJo and 59 Tory MPs resigned, to the off-rhythm-boogying amusement of at least one protester.

"Yakety Sax" made its way into Sky News' on-site resignation coverage, a very loud soundtrack to the stern-faced reporting. It evokes images of Johnson running around at 1.5x speed, chasing people with his grubby little hands.
A British form of anti-flattery, and maybe the Queen might be involved, too — Erin Vanderhoof at Vanity Fair, also this morning, speculates about Liz's role in Boris going outbound:
On Wednesday, Jack Blackburn, history correspondent and deputy diary editor at The Times, weighed in on reports that Prime Minister Boris Johnson would go to extreme lengths to hold on to power, inadvertently introducing a new phrase that helped Americans understand what was really at stake.
"This would activate the Queen," he tweeted. "Lascelles Principles will direct her to decline his request for a dissolution. She then is left with the choice to dismiss him or not."

By the time Johnson announced he would resign — eventually — in a Thursday speech at 10 Downing, the phrase "activate the queen" had become a trending topic on Twitter. It's ultimately the use of a little chess lingo (to "activate" a piece means to put it on a better position on the board), but in one simple phrase it just so happens to capture both the internet's constant preoccupation with the queen's health and common confusion about her role as the head of state.

Now that Johnson is seemingly on his way out — reportedly after he throws a wedding celebration at Chequers with his wife, Carrie — there are still a few questions left to answer: Did the queen get involved? ITV reports that Johnson and the queen did have their usual weekly phone meeting on Wednesday evening, and then another conversation on Thursday morning.
Before the meeting, he was adamant that he would not resign, but because the monarch's meetings with a prime minister are strictly confidential, we might never know whether she influenced his change of heart.

But there is still a chance that the queen might have to play her role as head of state in public.
Currently, Johnson is stepping down as the leader of the Conservative Party, starting a long process to choose a new leader that will eventually extend to 200,000 or so party members.
By convention, that process will likely keep him in power until the fall. According to Robert Hazell, professor of government and the constitution at University College London, the queen might have to get involved if there is further pressure on Boris to make his resignation effective immediately.
"If there is pressure for Johnson to stand aside and for an interim prime minister to be appointed, the queen will want to be assured that that person can command the confidence of Parliament," he said in an email Thursday morning.
"In practice, that may mean asking the cabinet to nominate the interim prime minister."
Boris is a mirror, slim-jim version of the T-Rump — both are lying assholes, and up-close nasty douchebags. And really, really shitty people.
Fat-Boris in a T-Rump mode:
Not ha-ha funny, but horror-sick, so once again here we are…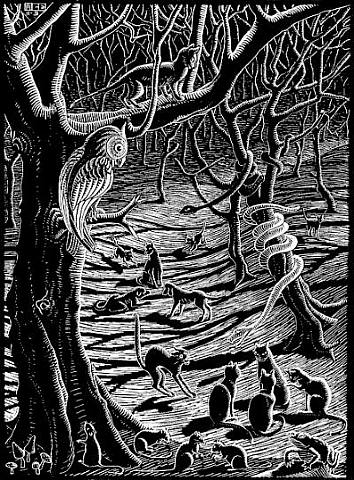 (Illustration out front: M.C Escher's 'Scholastica,' found here.)