In the sweaty Saturday news cycle, shit keeps flowing, though, on the weekends it can slow a bit. Guns and murder continue to play heavily on the wires  — the first funerals today for the victims of the Highland Park massacre — and extend to faraway Japan where a homemade shotgun was used yesterday to kill former PM Shinzo Abe.
Awash we are in guns. Japan not so much, so they have to build their own.
And in context and a story I hadn't heard yet — a gun-related "swatting" yesterday at the DC home of prime-ass Steve Bannon. In a short space of time, an active shooter zone:
Armed officers swarm Stephen K. Bannon's house after false report

Via @phscoophttps://t.co/ET42TcvA08

— Dan Lamothe (@DanLamothe) July 8, 2022
Details via The Washington Post yesterday morning:
Heavily armed police on Friday swarmed around the Capitol Hill rowhouse where former Trump White House adviser Stephen K. Bannon lives after receiving a false report that a man with a gun was inside and had shot someone, according to authorities.

Police shut down streets near the Supreme Court and the Capitol for about one hour, prompting fears of an active shooter. About 12:30 p.m., police reopened the streets after determining that there was no shooting, no weapon, no threat and no victim.

Police initially told The Washington Post that they had encountered a person who claimed to be armed and who appeared to be suffering from a mental health crisis, but they found no gun and no one injured.
A D.C. police spokeswoman later said someone had called a crisis hotline and reported that a man inside the rowhouse in the 200 block of A Street NE had shot someone and had a firearm.

The spokeswoman said that call appears to have been a "swatting" attempt, a practice in which someone calls in a false report of an emergency or a crisis to draw police to a particular address or person.

Efforts to reach Bannon and his attorneys were not immediately successful Friday afternoon, and police said they did not know if the person who called the hotline knew it was Bannon's residence.
The call did not come from Bannon's home, though the caller pointed police to Bannon's address, officials said.
He was seen entering the home shortly afterward, but it wasn't clear if he was in the residence at the time.
Bannon is an asshole.
Swat ass or not, here we are once again…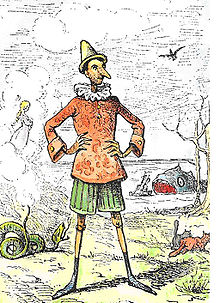 (Illustration out front: 'Pinocchio,' by Enrico Mazzanti, and found here.)