As half the year has glided by seemingly in a flash full of shit news and real-life weirdness, I need to escape the wiles and worries of the nowadays and drown myself in some 'rain-prominent' music, tunes awash/heard in a near-zero precipitation zone.
Here in California's Central Valley — and probably the whole state, including the SW US in its entirety — we're having a hard time producing water.
Via The LA Times three days ago:
California regulators have begun curtailing the water rights of many farms and irrigation districts along the Sacramento River, forcing growers to stop diverting water from the river and its tributaries.

The order, which took effect Thursday, puts a hold on about 5,800 water rights across the Sacramento and San Joaquin rivers' watersheds, reflecting the severity of California's extreme drought.
…
"The need to take these curtailment actions is in many ways unprecedented. And it reflects just how dry things have been in California over the last three years," said Erik Ekdahl, deputy director of the state water board's water rights division.
"After three years of really unprecedented drought, reservoir storage is at record lows for much of the state. And there's just simply not enough water to go around."
We're drying out, and it won't be long before certain parts of our country, and the world will be uninhabitable simply because there's no water (of course, great heat, too) and there's no way to get any. Not a good feel for the future.
What we need is some rain. And in tunes both sad and bewildered.
Probably my earliest 'rain' tune — the love-stricken cry from Georgia:
Rain is way-emotional when delivered in such a way. And it can be used to poetically explain the shit that keeps popping up in all facets of life — a way-longtime favorite:
And, too, this killer cover from one of my current most-favorites, The Running Mates, a wondrous husband/wife duo who have been the topic for my 'Destination' series (last one here), and hits the mark with this one:
The 'Mates' covers have a tone of original in them, they're that good.
Also good from way-long ago — Led Zeppelin:
History does prove right — "Upon us all, upon us all, a little rain must fall."
And the anti-drought song:
A missed opportunity, alas with climate change falling on us.
Rain, too, and 'Talkin' to myself and feelin' old," as par the times:
A 'lonely clown' in the rain.
And even further back in time 'If the rain comes' — yes, truly:
And happy in wet Garbage:
In the sense: 'I'm only happy when it's complicated.'
And to play us out of this drizzle of wet metaphors is Annie Lennox, magnificent in this acoustic version that's way better than her early-80s original — a deeply-felt emotional favorite:
Words for the now:
Here comes the rain again
Falling on my head like a memory
Falling on my head like a new emotion
I want to walk in the open wind
I want to talk like lovers do
Want to dive into your ocean
Is it raining with you?
Hot and dry still, as once again here we are…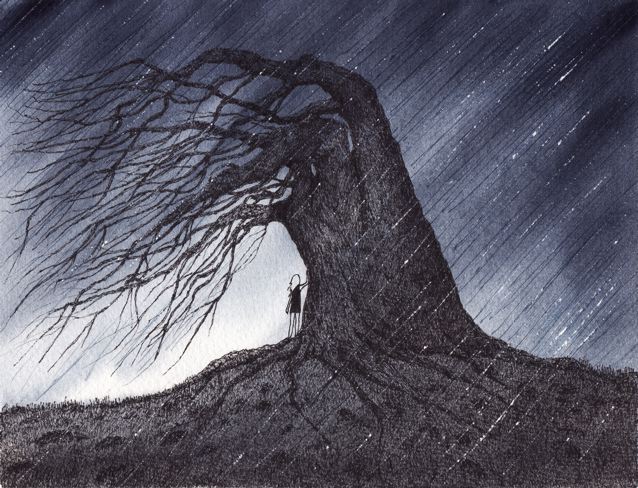 (Illustration out front: 'Shelter in the Storm," found here.)