Odd how certain subjects flow in the news cycle — I did a shitload of posts on Ukraine for a long while, then SCOTUS popped America a few times upside the head of freedom (plus an influx of gun massacres and cruel, general-tom-ass-foolery of Republican politics), and Vlad Putin's horror-war journey was pushed to a backburner.
My last Ukraine-war post was May 9, with a bunch since the invasion at the end of February.
And the same goes for COVID. Up until about the first of this year, I posted many times a week on what was happening with the COVID-19 pandemic, but it's been literal months since I'd written anything about it — and shit-on-a-stick we've another outbreak or just a continuing morphing of the original. Either way, it's shitty. And here in California, we're still leading the way.
Scrolling through Annie Laurie's COVID-update post at Balloon Juice this morning woke my ass up hard. The post is a daily/near-daily must-read on pandemic status, the cry of maskless airwaves comes through loud and clear.
A sample:
As the BA.5 subvariant spreads, the risk of #coronavirus reinfection grows. Despite many Americans deciding the pandemic is over, the virus has other ideas. Latest #Omicron offshoot—BA.5—has become dominant & is a master in evading the human immune system https://t.co/LkBNqiztSu

— delthia ricks ? (@DelthiaRicks) July 10, 2022
High-notes on the COVD scene via The Washington Post yesterday:
The size of that wave is unclear because most people are testing at home or not testing at all. The Centers for Disease Control and Prevention in the past week has reported a little more than 100,000 new cases a day on average. But infectious-disease experts know that wildly underestimates the true number, which may be as many as a million, said Eric Topol, a professor at Scripps Research who closely tracks pandemic trends.

Antibodies from vaccines and previous coronavirus infections offer limited protection against BA.5, leading Topol to call it "the worst version of the virus that we've seen."
And last week from the CDC:
As of July 7, 2022, over 73% of the U.S. population is in a location with a medium or high #COVID19 Community Level. If you live in a medium or high community level, consider taking steps to protect yourself and others.

Find your COVID-19 Community Level: https://t.co/w3365V9Zr4 pic.twitter.com/OmqHpMTB6G

— CDC (@CDCgov) July 8, 2022
Details per NPR this morning:
For example: Some 31,000 people across the U.S. are currently hospitalized with the virus, with admissions up 4.5 percent compared to a week ago. And data from New York state shows that reinfections started trending upwards again in late June.

Dr. Bob Wachter, the chair of the Department of Medicine at the University of California, San Francisco, says BA.5 is highly transmissible and manages to at least partially sidestep some of the immunity people may have from prior infections and vaccinations.

"Not only is it more infectious, but your prior immunity doesn't count for as much as it used to," he explains.
"And that means that the old saw that, 'I just had COVID a month ago, and so I have COVID immunity superpowers, I'm not going to get it again' — that no longer holds."
…
So far there is no evidence that this variant causes more serious illness. And infectious disease experts say that even though new infections are on the rise, the impact of BA.5 is unlikely to be on the scale of the surge we saw last winter — in part because the country is better equipped to manage it.

The U.S. is averaging about 300 deaths a day, compared to 3,000 last winter.
Dr. Anna Durbin, a professor at the Johns Hopkins University School of Medicine, says the combination of prior infections and vaccinations is still protective, and COVID-19 treatments are better.

"Most people have some underlying immunity that is helpful in fighting the virus," she explains.
"We have antivirals … And I think that because of that … we're not seeing a rise in deaths. And that's very reassuring. It tells me that even this virus, even BA.5, is not so divergent that it is escaping all arms of the immune system."
Yet where are the masks? Our local logistics from WebMD yesterday:
Public health officials in California are urging caution and considering a potential return to indoor mask mandates as COVID-19 cases rise due to the highly contagious BA.4 and BA.5 Omicron subvariants, according to CBS News.

Across the state, 35 of California's 58 counties have reached the CDC's "high risk" COVID-19 threshold of 10 hospitalizations per 100,000 residents.
On Saturday, Los Angeles public health officials said the county will likely move into that category on July 14.

If Los Angeles County stays in the high category for 14 days, the county will reimpose a mask mandate in public places on July 29.

Daily hospitalizations in Los Angeles County have reached the highest levels since late February, and daily deaths have reached the highest totals since March 30.

"We all now face a higher risk of getting COVID because there are more people infected with the virus who can transmit to others when we gather, go shopping or attend events," Ferrer said.
"Essential workers, especially those that work directly with the public, also now have more exposures to the virus during their workday."

California's current seven-day test positivity rate is 16.9 percent, climbing to the highest rate since the peak was about 21 percent during the first Omicron wave, according to Deadline. BA.4 and BA.5 continue to drive high numbers of cases, including reinfections, since they're better able to escape the protection provided by previous infections and vaccines.

BA.4 and BA.5 now make up 70 percent of new cases in the U.S. and 68 percent of new cases in the region that includes California, Arizona, and Nevada, according to the latest CDC data.
The subvariants appear to be three to four times more resistant to antibodies than previous strains, CBS News reported.

California is leading the nation with more than 17,000 new daily cases, according to the data tracker by The New York Times. Texas is reporting more than 10,000 new cases per day, followed by Florida with more than 9,000 daily cases, and New York with about 6,000 daily cases.
And a recommendation: '"Due to the increased level of community transmission, including reinfections, we strongly recommend masking, especially in crowded spaces or around family, friends and colleagues who may be more vulnerable to COVID-19," Cameron Kaiser, MD, the county's deputy public health officer, said in a statement.'
Further advice from CNN Medical Analyst Dr. Leana Wen: '"I'd also urge that they wear a high-quality N95 mask or equivalent in indoor, crowded settings. Mask mandates being lifted does not mean that people shouldn't wear masks. A lot of people don't find masks to be inconvenient. If that's the case, I'd continue to wear masks in all indoor public settings. For those who find masks uncomfortable, I'd encourage mask-wearing in the highest-risk settings — for example, mask while in a crowded security line at the airport and during boarding and deplaning.'"
And welcome to another cliché moment, and a YouTube explanatory video (from the Mayo Clinic) on how-to mask:
Masks in place and like a turd roll, here we are once again…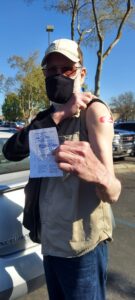 (The image out front is me just after I'd gotten my first COVID vaccine shot at my local Walgreens in April 2021 — oh, the good-old-days.)