Intense, full baked-on hot this late-afternoon Monday here in California's Central Valley — 108 degrees just a while ago, and although it's supposed to be cooler tomorrow (forecast high of 102), it's all heavy-air shit that requires AC living.
Hot, too, the violence in America — and weird-ass gun shit in the LA area this morning: 'Two people were killed and three wounded in shootings before dawn Monday at four 7-Eleven stores in Southern California and authorities said they were seeking a lone gunman in at least three of the shootings.'
Officer Ryan Railsback, a spokesperson for the Riverside Police Department:
In the Riverside case, the gunman robbed the clerk and brandished a gun, then turned the weapon on a customer, opened fire and fled, Railsback said. Police believe the clerk handed over cash from the register.

"It doesn't appear to be any reason that the suspect shot the customer," Railsback said.
"It sounds like the clerk gave him whatever he asked for."
Odd situation, and there's going to be more to this story — especially since it's on July 11 (7/11)  at 7-Eleven stores. Violent shit, there.
In a contextual angle, there's violence in the American air — and it's not just regular crime, but weird shit. Cruel and homicidal no longer at the edge. And what's terrible is one of only two political parties in America is going violent-crazy with us.
Republicans are moving hardcore, violently into the open now at the state level in order to eventually gain power through whatever means available, aided by Oath Keepers and the like.
The violence has gone mainstream:
— Molly Jong-Fast (@MollyJongFast) July 11, 2022
Rachel Kleinfeld, a specialist in political conflict, and author of "A Savage Order," explained in ominous terms in an interview with Greg Sargent at The Washington Post this morning — maybe some violent shit:
"One of the things we know about other countries that descend into greater political violence is that violence is preceded by a dehumanization phase. America is well along in that phase: things like misogyny, racial epithets, calling Democrats "groomers" and comparing them to pedophiles.

The next stage is making violence against those dehumanized opponents seem more normal. You're starting to see GOP candidates posing with rifles — everything from Rep. Thomas Massie's family Christmas photo to Eric Greitens's new ads about hunting RINOs.

Sometimes it's against Republicans who are not part of the antidemocratic faction. Sometimes it's against Democrats. But either way, dehumanization normalizes the idea that harming those dehumanized opponents is legitimate.

We know from other countries that have descended into really serious political violence that this is a trajectory, and we're on it. We're actually pretty far advanced on it."
How far advanced? Same level, maybe, as the 30-year violent, extreme-bad-shit conflict, "the troubles" in Ireland?
Kleinfeld says worse:
It's actually a little worse. The percentages of Americans endorsing violence are approaching Northern Ireland's Troubles at their height in 1973.

Right now, the antidemocratic faction of Republicans is targeting three groups: the pro-democratic faction of Republicans; election officials in both parties who are maintaining free and fair elections; and a lot of regular people they're targeting with dehumanization and violence, to build their own base.

If the antidemocratic faction wins, then I think the heightened violence we're seeing now will continue. But if they start losing, then they've built up a lot of hatred — a lot of distrust in the system — and then the violence is going to get out of their control. It'll look more like an insurgency. A disaffected left, not connected to the Democratic Party, is also justifying violence. It could get ugly.
Concluding:
The fact that political violence is going to start affecting everyday people's lives needs to get demonstrated. Americans need to understand that you can't just keep your head down, stay out of politics and avoid what's happening.

You're not going to be able to hide from it.
As a primer, last week Kleinfeld also had a deep-dive report from last week at Just Security on how Republicans use these violent lugnuts to create fear and chaos across America — lede graph and some:
The January 6 Select Committee hearings have been framed as an effort aimed at accountability and posterity. But their findings are at least as important to the future. The Committee's disclosures that Wisconsin Senator Ron Johnson tried to hand-deliver a slate of fake electors to Vice President Pence, that Arizona Congressman Andy Biggs asked Arizona House Speaker Rusty Bowers to decertify their state's electors the morning of January 6, and that some Republican Members of Congress sought pardons from then-President Trump for their roles are further signals that co-conspirators in the schemes to thwart the democratic choice for president remain in power. They are not the only ones maintaining and seeking power. Former President Donald Trump is eyeing a return in 2024. The Proud Boys and Oath Keepers — militias the Committee has highlighted for their roles as ring leaders for the violence that day — did not see their strength ebb after January 6. On the contrary, violence, first used as a political tool and now partially mainstreamed, has spread.

The events on January 6 are not past. They are prelude.
Shit-on-a-stick. Go read the whole thing, all kinds of shit, like this:
Homicide may seem disconnected from political violence — but in fact, a historical study of homicide from America's founding discovered that it was tightly correlated with distrust in fellow Americans and in the government. The Pew Foundation has found that trust is at near-historic lows after years of conspiracy mongering. In 2020, murder had the highest one-year jump since 1905 and possibly in recorded U.S. history. Homicide rose all over the country, in cities and rural areas, but increased most sharply in red states. The United States is the only country in the world to have experienced a sharp rise in homicide during the coronavirus, and it rose in the U.S. while nearly every form of non-violent crime fell. Nor is it only adults. Children often enact what their parents only say, acting out the cultural zeitgeist. Between 2016 and 2017, before the mental health challenges caused by the coronavirus and response, physical attacks with a weapon in schools nearly doubled.
A dark future awaits it seems, and not that far ahead, either.
Guns ablaze, and once again here we are…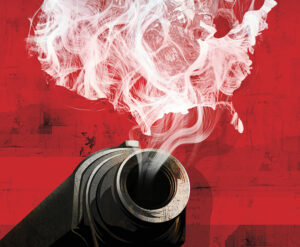 (Illustration out front by Taylor Callery, and found here.)