Another hot one this late-afternoon Tuesday here in California's Central Valley — although I don't think we crossed the 100-degree mark today, supposedly another burner forecast for tomorrow, going triple-digits again.
Also today another hearing in the House investigation of the Jan. 6 insurrection/riot/attempted coup — the seventh in the series — and once again we had details of how T-Rump courted the violence as recorded in a December 2020 tweet — "Big protest in D.C. on January 6th." "Be there, will be wild!" — and knew he was a nasty asshole.
The biggest news bast came at the end:
Wow — Cheney says Trump tried to call a witness in the January 6 committee's investigation after the last hearing. The witness alerted their lawyer, who alerted the committee, and the committee passed that info along to the DOJ. pic.twitter.com/2FzqWXxpiJ

— Aaron Rupar (@atrupar) July 12, 2022
Aaron Rupar notes in his great newsletter Pubic Notice this afternoon:
It's unclear whether the committee plans to tell us more about Trump's call — or for that matter if Attorney General Merrick Garland, who committee members have publicly criticized for his inaction, would even be up for trying to do anything about it — but it's also notable that just moments before Cheney's statement, Jamie Raskin said the committee's next hearing "will be a profound moment of reckoning for America." So it appears more bombshells are in store.
Although the hearing today was way-needed and a way-good example of how to display the horrible, and most-obvious, monstrosity that's the T-Rump and his frightful immoral impact, we're already way-familiar with the history of the subject. Witness after witness over the last few weeks told near-about the same story of how the asshole listened to most-obvious crazies who told him what he wanted to hear and not to his legal professionals (and Republicans themselves) and add the brute of militia, and you've got the story.
We've known the basics for nearly a year-and-a-half – these hearings are really just for the details. And live/recorded testimony makes for emotional drama these different scenarios created — the Dec. 18, 2020, White House meeting with crazies and legal staff; T-Rump pissed on Jan. 6 because he couldn't actually lead the insurrection/riot, and then trying to grab an SUV steering wheel after lunging at a Secret Service agent; Bill Barr with a fairly accurate description of the incredible horror of the T-Rump being head honcho, in context of 'evidence' of voter fraud: '"There was never an indication of interest in what the actual facts were … I was somewhat demoralized, because I thought, 'Boy, if he really believes this stuff, he has lost contact with — he's become detached from reality if he really believes this stuff.'"'
One interesting take on these hearings is the amount of information to the depth of lying. T-Rump knew, all the enablers knew, the crazies knew (by crazies, Rudy, Sidney, Mike Flynn, other lesser-known nutcases) there was no 'evidence' and they all were freaking-fucking lying.
The sad marvel of these hearings is where the living shit is Merrick Garland?
Scott Lemieux at LawyersGuns&Money this afternoon noted depressingly on T-Rump's trying-to-call/tampering with witnesses: 'I have no hope that Trump himself will ever be prosecuted, but this is certainly yet another reason why his becoming president again would be an absolute catastrophe for American democracy.'
A side issue on the news of being the news nowadays — people are seemingly turning away from news watching more and more. The pandemic, T-Rump, just the weirdness of our current historical situation has 'doomscrolled' out and has turned away — Americans are shielding themselves from the daily/hourly shit blared out by all kinds of media.
Except for the news addicted (doomscrolling just because), ordinary, regular folks have flipped on the media mess — Charlotte Klein at Vanity Fair today:
News engagement across all platforms — website visits, news app sessions, cable viewership, and with articles on social media — in the first half of 2022 is down compared to the first half of 2021, Axios reports. The steepest decline — 50 percent — pertains to engagement with news articles on social media, and probably stems from changes Facebook made to its news curation model.
Cable viewership across the three big networks "is, on average, down 19 percent in prime time," according to Axios, losses that "skew heavily toward CNN and MSNBC, which are down 47 percennt and 33 percent, respectively."
By contrast, "Fox's ratings are up 12 percent in that six-month span." News media app sessions fell 16 percent in the first half of this year; visits to the top five news websites dropped 18 percent.
Notice the upward swing of Fox. You can't bury yourself in the sand, though. The future is coming for me and thee.
Despite it all, here we are once again…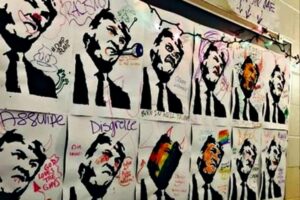 (Illustration out front is of a New York state high-school student exhibit: 'The piece was displayed during student-driven art show at Shenendehowa High School. It consisted of at least 12 identical black-and-white pictures of Donald Trump. There was also a sign above the pictures that read, "Draw on Me." Using markers from the art classroom, some students opted to scribble critical messages and profanities on the pictures' — and found here.)