A pleasant late-afternoon Wednesday here in California's Central Valley, sunshine, but without the intense heat.
Forecasts for today were wrong, which does happen on occasion.
In sending the T-Rump to jail, a new poll has found a lot of Americans know he's guilty of criminal acts, leading maybe to sedition.
Democracy at stake:
Read our latest data: https://t.co/3hDHwsjsPB https://t.co/ysFv5jLEit

— Morning Consult (@MorningConsult) July 13, 2022
Details via Morning Consult yesterday:
Three in 10 Republican voters (31 percent) said Trump is at least somewhat responsible for the events that led to the Jan. 6, 2021 riot, comparable to the 29 percent who said the same in a June 10-12 survey just after the select committee's first major public hearing.
Among the overall electorate, 59 percent blame Trump for Jan. 6 — up from 57 percent last month.

Compared with a survey conducted June 24-26, the shares of Republicans who said Trump misled people about the 2020 election outcome (up 5 percentage points to 30 percent), attempted to overturn the 2020 result (up 5 points to 45 percent) and claimed without evidence that the last presidential contest was fraudulent (up 7 points to 44 percent) all increased in the wake of Hutchinson's testimony.

The majority of voters (56 percent) say they believe Trump committed a crime in his attempt to overturn the results of the 2020 presidential election, including 88 percent of Democrats and 54 percent of independents, but just 21 percent of Republicans.
Duh! Of course.
Even screaming, 'Lock Him up,' once again here we are…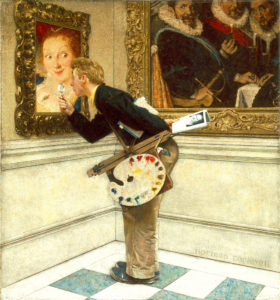 (Illustration out front: 'Art Critic' by Norman Rockwell, found here.)