One of the big questions nowadays in American politics is not really whether the T-Rump will run again in 2024, but when will he announce — odds are soon.
Via The Washington Post this morning: 'The former president is now eyeing a September announcement, according to two Trump advisers, who like some others interviewed for this article spoke on the condition of anonymity to describe private conversations. One confidant put the odds at "70-30 he announces before the midterms." And others said he may still decide to announce sooner than September.'
As everyone now knows, the T-Rumo is trying to stay ahead of criminal proceedings, both in DC (with the Jan. 6 committee) and in Georgia (the Brad Raffensperger telephone scandal, in which Lindsey Graham is expected to testify) and supposedly to deflect any charges — he's a cretin masquerading as an imbecile:
Some day we'll maybe understand why he does interviews that any idiot would know won't turn out well for him.https://t.co/91QVJzhJ6p

— John Dukakis (@JDukakis) July 14, 2022
In this particular case, the interview is by one of the best, Olivia Nuzzi, and from her piece at New York Magazine, also this morning. A major topic of the conversation was T-Rump's planned announcement for 2024 and the unhinged, idiocy of the asshole himself:
He wouldn't disclose what he'd decided. Not at first. But then he couldn't help himself. "I would say my big decision will be whether I go before or after," he said.
"You understand what that means?" His tone was conspiratorial. Was he referring to the midterm elections?
He repeated after me: "Midterms."
Suddenly, he relaxed, as though my speaking the word had somehow set it free for discussion. "Do I go before or after? That will be my big decision," he said.
He's an idiot. Nuzzi continues a reveal of T-Rump's being a nasty, lying reaction to his shitty time in office:
"I've never been overly trusting of a lot of people," Trump told me, "You know, that's the way it is, and that happens to a lot of people and that happens to a lot of presidents. They are very good and then somebody offers them a couple bucks for a book and they say, 'Wow, I never made that kind of money before!'
They take the money and then they have a book that doesn't sell. Those books haven't done particularly well. The positive books have." (In fact, the harshest books of this genre have also been the most successful: John Bolton's The Room Where It Happened sold 780,000 copies in its first week, for instance, compared to 6,000 for Sean Spicer's The Briefing.)
"I watched the un-select committee" — his term of art for the January 6 hearings — "as an example, and I watched, with people that I hardly even know how they got on there. They make up stories, they pretend," Trump continued. "I call them the pretend witnesses."

Had he tried to grab the steering wheel when the Secret Service prevented him from following his supporters as they marched to the Capitol after his speech on the Ellipse? "Not at all. No, not at all, not at all, no, that's all fake news," he said.
But the mention of Cassidy Hutchinson, the former aide who made the allegation, hit a nerve. "Cassidy? Cassidy's been totally discredited!" he said. "You know what? If Cassidy was in a room, I wouldn't even know who she is. Cassidy has been totally discredited about her story with the Secret Service, about her story with throwing food at a wall. She's been totally discredited." (Others have, in fact, confirmed key aspects of her testimony.)
He never threw a plate at a wall in the White House? "Never. Never. Not my thing. And I never did it anywhere else, either," he said, "And I never did what she said with the Secret Service. She went too far. Look, they're made up stories. She made up these stories. They're lies. And most people understand that. I think she's a sick person."

Although he had just claimed he was so unfamiliar with Hutchinson that he could not identify her on sight, he then offered a psychological motive for her behavior. "You know, I'll tell you," he said, "She wanted desperately to come with us to Florida. And what happened is we're all set to do that. And then the other women and girls complained that they didn't want her. They came to my office — I didn't know who she was very much — but they didn't want her."
He said that her testimony — "these horrible, fake stories" — was a form of payback, because if any of it had really happened, she would have come forward "at the time."
I sent Trump's comments to Alyssa Farah Griffin, who resigned from the White House in the postelection, pre-insurrection period, and who helped Hutchinson hire a new lawyer (to replace her Trump-issued lawyer) and connected her with Representative Liz Cheney to arrange her explosive testimony.
"So, real talk: he's definitely off," Farah Griffin said.
"And if he wasn't the former leader of the free world and didn't try to do a coup, I'd almost feel bad for him." (Hutchinson declined to comment.)
And also beyond being an ex-president and that coup attempt, T-Rump's a horrible, horrible human being — how can people overlook that and spend any time with the asshole at all.
A way-interesting interview, though, just continues the unhinged factor to the insane shit that pours from the T-Rump. Go read the whole piece, supposedly you have a few free articles before the paywall falls.
Despite what the idiot claims, here we are once again…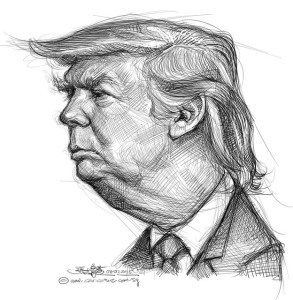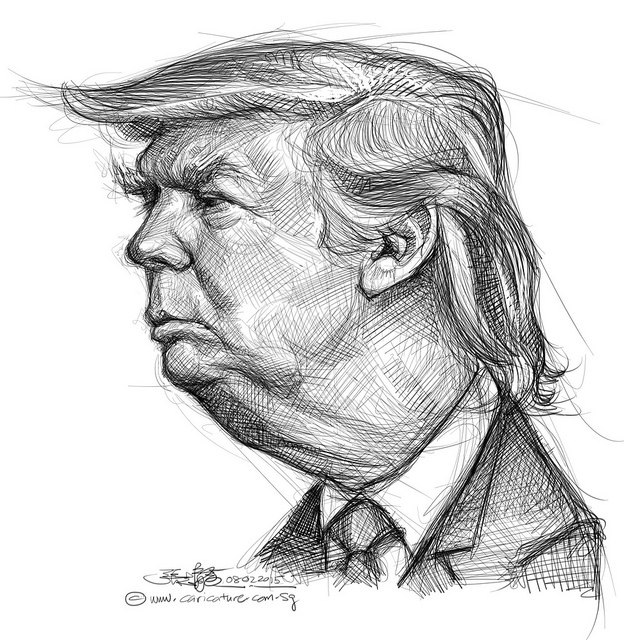 Image out front is my favorite of the T-Rump mugs, though, 'favorite' does not mean in any form or fashion, as in, 'my favorite movie,' or 'my favorite song.' It's more of an anti-appreciation/like.
And aptly titled, 'Basic Shapes,' by caricaturist/illustrator Chong Jit Leong (and found here), it's an image that displays the elemental form of a purloined sociopath — a bloated profile of flatulent bile and arrogant ignorance.