Another scorcher near mid-day Friday here in California's Central Valley — one in a week's worth of hot, blistering heat across the western US as the summer of 2022 continues unabated.
Although we haven't had the smoke skies yet, not far away from my location, giant sequoias in Yosemite National Park are burning in a forest fire nearly out of control. A disaster of environmental proportions.
And created by climate change:
This trend is largely attributable to longer and drier fire seasons caused by human-induced global warming [Abatzoglou and Williams, 2016; Zhuang et al., 2021] — and it is likely to accelerate. Projections out to 2050 suggest that the climate of the U.S. West will be twice as conducive to forest fires compared with that of the 30-year period from 1991 to 2020 [Abatzoglou et al., 2021].
Dramatic, dangerous backstory — just to be shitty, as is his way, Joe Manchin double-crossed his Senate colleagues yesterday and betrayed all of humanity when he nixed funding for fighting climate change. Despite a lot of shit facing the planet right now, from COVID to war, climate change is the main headache, with migraines getting worse.
And people like Manchin are also the worse:
"A modern-day villain': Joe Manchin condemned for killing US climate action" by @OllieMilman for The @Guardian: https://t.co/v56zm0uvLL

— Prof Michael E. Mann (@MichaelEMann) July 15, 2022
Manchin has a legacy of shit ahead of him — a recap by environmental writer Oliver Milman at the Guardian this morning:
Joe Manchin's decision to kill off sweeping US climate legislation has been called "nothing short of a death sentence" for younger people and a livable climate on Earth, amid an outpouring of anger and despair from activists, scientists and even many of the US Senator's Democratic colleagues.

Manchin, the centrist West Virginia senator who has become a millionaire through his founding of a coal-trading company in his home state, dealt a crushing political blow to Joe Biden's agenda on Thursday night when he made clear he would not support any spending to curb the climate crisis in a proposed bill.

The loss of Manchin's swing vote in an evenly divided US senate means it's now probable America will remain without legislation to cut planet-heating emissions for several more years, imperiling national and international climate goals and further escalating deadly wildfires, droughts, floods and heatwaves around the world.

"Given the US's role as the leading all-time carbon polluter, it is difficult to see global action on climate without US leadership," said Michael Mann, a climate scientist at Penn State University, who called Manchin "a modern-day villain, who drives a Maserati, lives on a yacht, courtesy of the coal industry, and is willing to see the world burn as long as it benefits his near-term investment portfolio".

Biden and fellow Democrats have spent nearly two years trying to get Manchin to agree to a huge package of support for renewable energy and electric cars but now appear to have run out of time, with November's midterm elections increasingly likely to see Congressional control switch to the Republicans, who uniformly oppose action on the climate crisis.

"The stakes for this midterm election couldn't be greater," said Mann. "We're talking about the future livability of our planet."
A shitload of people were pissed — Rep. Jared Huffman, Democrat of California, summed up the disgust, nailed Manchin (who has received more money in political donations from the fossil fuel industry than any sitting senator) as a huge, giant asshole.
Via The Washington Post this morning:
"It is a gut punch but not a surprise. Anyone who understands who Mr. Manchin is, where he gets his wealth, what he actually cares about, can't really be surprised," Huffman said in an interview.

"It's nevertheless a huge blow to climate activists, to the majority of Americans who are demanding bold action on the most important existential issue of our time," he added.
"And I hope they understand that this is one man. This is not the Democratic Party. This is one very corrupted, compromised man who was probably never going to be part of the solution, despite this tease that we've all been exposed to, on and off, for the better part of a year."
Although Manchin thinks he's a hot piece of shit, he'll feel the effects of this soon. He will literally become a hot piece of shit. Climate change will get all of us, though, the rich shitheads' will maybe burn last. Nevertheless, maybe sooner.
A primer on global warning:
Hot all over, here we are once again…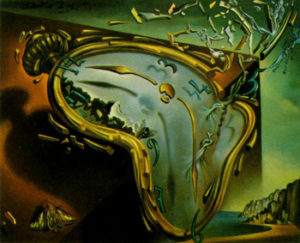 (Illustration out front: Salvador Dali's 'Soft Watch at the Moment of First Explosion,' found here.)