One of the most horrible creatures who has ever lived is the T-Rump — not only is he a shitty, immoral asshole with zero redeeming qualities, a cruel liar and cretin but he would be far, far worse if allowed and left to his own device.
In savagery, he'd make Hitler blush.
He buried ex-wife Ivana on his NJ golf course for the tax breaks, he took oily Saudi blood-money for a cash-cow golf tournament and unsurprisingly sided with Vlad Putin against jailed-in-Russia American Brittney Griner — memories of golf horror links via "Peril," the Bob Woodward/Robert Costa book from last year (Yahoo!News):
"Trump's existence permeated the White House, even the residence. One night, Biden wandered into a room where a huge video screen covered the wall. To relax, Trump used to upload programs to virtually play the world's most famous golf courses," Woodward and Costa write.
"'What a fucking asshole,' Biden once said as he surveyed the former president's golf toys."
"Yikes:" an old-fashioned expression for "what-the-motherfucking-fuck:"
yikes https://t.co/vJefKND4k6 pic.twitter.com/MVM5kI8NNF

— Aaron Rupar (@atrupar) August 1, 2022
The reality behind the T-Rump bullshit and the Saudi cash — via The New York Times yesterday:
Although, just as relevant, the volunteers never had to deal with sizable crowds. The attendance for Sunday's final round was substantially improved from the meager gatherings that turned out for the first two rounds — often there had been only about 30 people surrounding a green — but the total number of fans on the grounds Sunday was no more than several thousand.

An average PGA Tour event draws about 20,000 fans daily. LIV Golf officials declined to announce attendance figures. Tellingly, a weekend pass to the event could be bought for $2 on the secondary ticket market. The rebel circuit's chief financial backing, which is the sovereign wealth fund of Saudi Arabia, could certainly have played a part in the modest fan turnouts. In the event's opening seconds Friday, as Phil Mickelson prepared to strike his first shot, he was heckled by somebody who yelled: "Do it for the Saudi royal family."

Overall, the new tour is also, so far at least, lacking enough big-name golfers to attract a large crowd. Mickelson is a draw, but a limited one since he has played the worst golf of his luminous career since choosing to align with the rebel circuit. And after Koepka, Johnson, a few golfers past their primes and Bryson DeChambeau, who has also been struggling to contend, the average golf fan looking at the leaderboard this weekend might have been confused.

…

It is also likely that once the primary PGA Tour season ends in late August, there will be another wave of defectors to the breakaway circuit, which will continue to host moneyed events around the world until late October. And then all eyes will turn to Augusta National Golf Club, which conducts the Masters in April. There have been signals, as there have been within the governing bodies of other major championships, that many LIV golfers may not be especially welcome in Augusta.
Most people don't give a shit. Even if the T-Rump cheats at golf like he lies — obvious, full-throttled and right out in open.
Sportswriter Rick Reilly, author of "Commander in Cheat: How Golf Explains Trump," notes the big reveal with T-Rump's golf game (Vox from 2019):
I mean, he's always been like this. We've known this guy in the sports world for 30 years. He's always told people that no one can beat him, that he's the best of the rich guys. But it's always been complete bullshit, and everyone knows it.

For example, he's played in the Pebble Beach Pro-Am, a really popular golf tournament that's full of rich guys, for seven straight years. His team has never made the cut — not once. He constantly says he can beat anybody among the rich, but I've played in the Tahoe Celebrity tournament with him several times and he's never finished in the top half.

I realize how silly all of this is, but it's also serious because of what it says about the man, about who and what he actually is. I always say golf is like bicycle shorts — it reveals a lot about a man. And the fact that he has to prop up his bullshit reputation as this fantastic golfer is pretty revealing.
As I wrote above, one of the most-horrible creatures, ever.
And would be really, really funny if not so horribly, horribly dangerous:
Yet even playing through, once again here we are…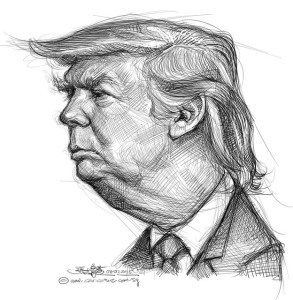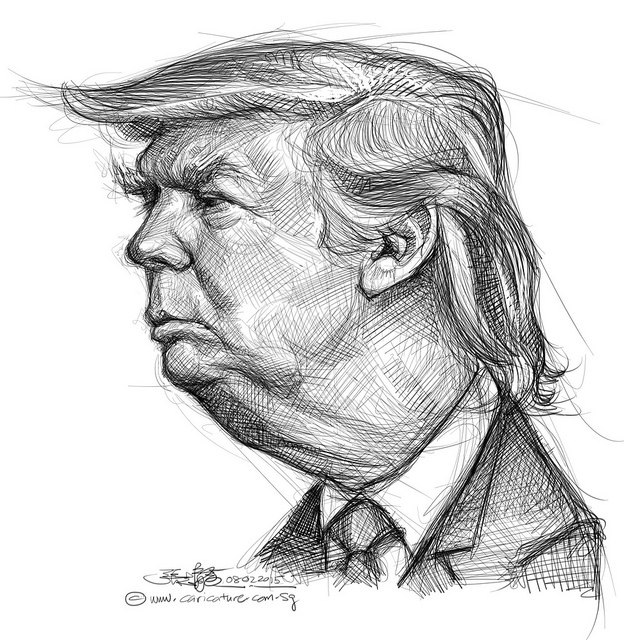 Image out front is my favorite of the T-Rump mugs, though, 'favorite' does not mean in any form or fashion, as in, 'my favorite movie,' or 'my favorite song.' It's more of an anti-appreciation/like.
And aptly titled, 'Basic Shapes,' by caricaturist/illustrator Chong Jit Leong (and found here), it's an image that displays the elemental form of a purloined sociopath — a bloated profile of flatulent bile and arrogant ignorance.