In contextual appreciation of my post earlier today and the asshole antics of the T-Rump — once again another story with a hedged endorsement in Missouri, dumb-assing himself like an unhinged idiot. He is indeed very good at creating imbecilic havoc.
Does he even know what day this is? There can be no real logic:
Perfect https://t.co/foycmpFiGL

— Molly Jong-Fast (@MollyJongFast) August 1, 2022
Whatever the Orange Turd was looking for — ain't there.
According to The Washington Post this afternoon, the T-Rump does what he does best — create mayhem, even for his own people:
The Republicans competing for the U.S. Senate nomination in Tuesday's primary here spent their final day of campaigning in a familiar state of suspense — checking their phones for a statement from Donald Trump.

But by day's end, the former president injected more chaos into an already tumultuous race, simply endorsing "ERIC" — a first name shared by two rival candidates — former governor Eric Greitens and state Attorney General Eric Schmitt — as he suggested he was leaving it to voters to choose between them.
And since they're T-Rump lackeys, idiots, too: 'En route to their rallies Monday, both Schmitt and Greitens celebrated Trump's unorthodox endorsement, with no mention of their rival. "Honored to have the support of President Trump!" Greitens wrote on Twitter. Thirty-six minutes later, Schmitt tweeted that he was "grateful for President Trump's endorsement" as the race's "only America First candidate."'
T-Rump is such an asshole, he has no idea.
And the whole MAGA-hatter bullshit — just shit-clay of the West:
Day after day, here we are once again…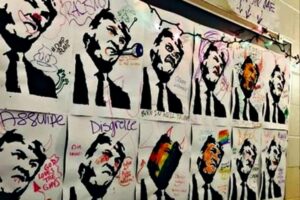 (Illustration out front is of a New York state high-school student exhibit: 'The piece was displayed during student-driven art show at Shenendehowa High School. It consisted of at least 12 identical black-and-white pictures of Donald Trump. There was also a sign above the pictures that read, "Draw on Me." Using markers from the art classroom, some students opted to scribble critical messages and profanities on the pictures' — and found here.)