Hot sunshine returned this Tuesday morning here in California's Central Valley — after a few days of clouds/overcast skies and some lower temperatures, the heat of summer returns today as we're forecast to hit triple digits later in the afternoon.
Meanwhile, Nancy Pelosi showed her grit earlier when she arrived in Taiwan for a visit despite China making all kinds of shit-kicking, saber-rattling noise about the stopover. In fact some dangerous aspects:
As the plane believed to be carrying Ms. Pelosi approached Taiwan, several Chinese state media outlets reported that Chinese Su-35 fighter jets were crossing the strait, providing few details, including how far the planes would travel or what they would do.

The United States on Monday said it was concerned that China would use the potential visit to justify military action.

"There is no reason for Beijing to turn a potential visit consistent with longstanding U.S. policy into some sort of crisis or conflict, or use it as a pretext to increase aggressive military activity in or around the Taiwan Strait," John F. Kirby, a National Security Council spokesman, told reporters.
Although Pelosi is the highest ranking US official to visit Taiwan since 1997 (Newt Gingrich, yuck), and China conducted "live-fire exercises" off its coast on Saturday, the speaker made her historical point:
It's happening. https://t.co/DisidA6gS2

— Molly Jong-Fast (@MollyJongFast) August 2, 2022
Pelosi outlined her mission in an op/ed this morning at The Washington Post — apparently published to coincide in real-time upon her actual arrival in Taiwan. Some snips:
In the face of the Chinese Communist Party's (CCP) accelerating aggression, our congressional delegation's visit should be seen as an unequivocal statement that America stands with Taiwan, our democratic partner, as it defends itself and its freedom.

Our visit — one of several congressional delegations to the island — in no way contradicts the long-standing one-China policy, guided by the Taiwan Relations Act of 1979, the U.S.-China Joint Communiques and the Six Assurances.
The United States continues to oppose unilateral efforts to change the status quo.

Our visit is part of our broader trip to the Pacific — including Singapore, Malaysia, South Korea and Japan — focused on mutual security, economic partnership and democratic governance.
Our discussions with our Taiwanese partners will focus on reaffirming our support for the island and promoting our shared interests, including advancing a free and open Indo-Pacific region.
America's solidarity with Taiwan is more important today than ever — not only to the 23 million people of the island but also to millions of others oppressed and menaced by the PRC.

Thirty years ago, I traveled in a bipartisan congressional delegation to China, where, in Tiananmen Square, we unfurled a black-and-white banner that read, "To those who died for democracy in China."
Uniformed police pursued us as we left the square. Since then, Beijing's abysmal human rights record and disregard for the rule of law continue, as President Xi Jinping tightens his grip on power.

…

Indeed, we take this trip at a time when the world faces a choice between autocracy and democracy. As Russia wages its premeditated, illegal war against Ukraine, killing thousands of innocents — even children — it is essential that America and our allies make clear that we never give in to autocrats.

When I led a congressional delegation to Kyiv in April — the highest-level U.S. visit to the besieged nation — I conveyed to President Volodymyr Zelensky that we admired his people's defense of democracy for Ukraine and for democracy worldwide.

By traveling to Taiwan, we honor our commitment to democracy: reaffirming that the freedoms of Taiwan — and all democracies — must be respected.
Background/reasoning for the apprehension — via Vox late this morning:
Much of the disquiet in Washington and Beijing over the trip may have to do with timing. The Chinese Communist Party this fall will hold its 20th congress, a major gathering that occurs every five years and in which Xi Jinping is expected to take on an unprecedented third term as president. At the confab, he will also likely discuss Taiwan at a time when experts see parallels between Russia's invasion of Ukraine and the power that China wants to assert over Taiwan. (Many are wondering what lessons China is taking from Vladimir Putin's brutal adventurism and the West's response to it.) Biden and Xi held a two-hour phone call last week to ease US-China relations.

"There is bad timing and worse timing, and this is certainly worse timing," Lev Nachman, a researcher at the Harvard Fairbank Center for China Studies, told me last week.
"The worry is that Pelosi going could be a straw that breaks the camel's back."
Despite that, or maybe in spite of it, Nancy's act grabbed broad support from an unlikely of places — the GOP:
no Ted Cruz. no Josh Hawley https://t.co/9axl2nrawZ

— Aaron Rupar (@atrupar) August 2, 2022
McConnell sure had to bite his soul's tongue for that, and cry turtle tears — the GOPers statement (Politico):
"We support Speaker of the House of Representatives Nancy Pelosi's trip to Taiwan. For decades, members of the United States Congress, including previous Speakers of the House, have travelled to Taiwan. This travel is consistent with the United States' One China policy to which we are committed. We are also committed now, more than ever, to all elements of the Taiwan Relations Act."
Time after time, day after day, Republicans display that shitty, asshole, and shameless approach to everything, no matter how terrible it makes them look — just last week with the thumbs-down on the PACT Act for veterans, they proved their indecent mettle. And now this, having to 'support' Pelosi when they haste her living guts.
Anyway, to close out on that note and poised off the other great foreign affairs news story — the taking out over the past weekend of longtime Al Qaeda asshole, Ayman al-Zawahiri, prompted a look at the reality of the sane educated vs idiotic, blubbering, insane  (h/t tweet Digby):
2011. 2019. 2022.

How three presidents announced the deaths of terrorist leaders. pic.twitter.com/jGkOlLH5Gz

— The Recount (@therecount) August 2, 2022
Another time flip, and once again here we are…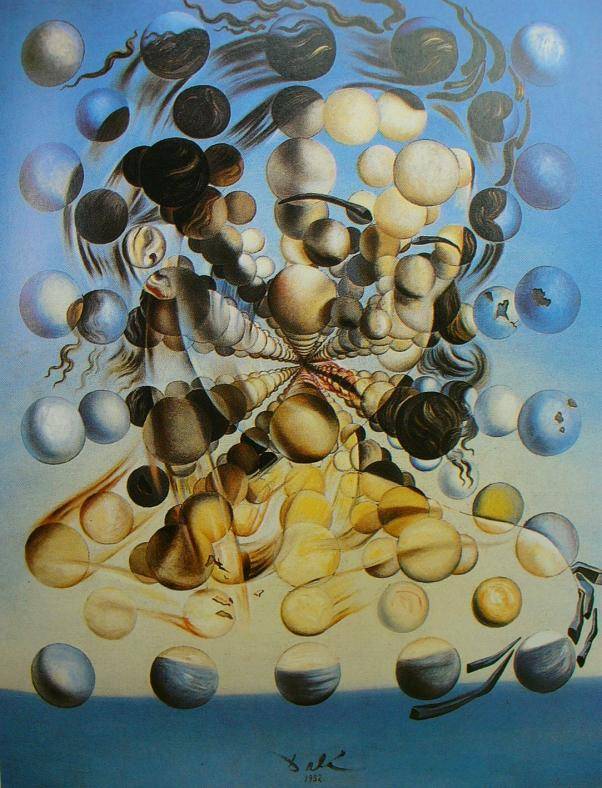 (Illustration out front: Salvador Dalí's 'Galatea of the Spheres,' found here.)