Hot and still this near-noon Thursday here in California's Central Valley — temperature near 100 alfrerady and without hardly a hint of wind, makes the air heavy and creates a feeling of even more heat.
Despite today, reportedly we're in for a 'cooling' trend the next few days with temperatures supposedly less than three digits — in the high 90s — a welcome respite, though, little is better than nothing.
Yesterday, and last night, we had two/three electrical power outages (and Internet, too). Although the episodes were brief, it was a taste of the immediate future in this flat, roasted-hot valley running nearly the length of the state. I've yet to find out what caused the outages — most likely just so many air-conditioners operating in 100-degree-plus heat — but it's part of the horror story playing out worldwide — climate change.
Our environment suffers from a dangerous list of bad climate-changed problems:
#ClimateChange chart simplified.I wonder why people can still deny that Climate is changing. Let's #ActOnClimate #ClimateBrawl #ClimateCrisis #ClimateEmergency pic.twitter.com/RqPzRxpA9q

— Francisca Kasuku (@FrancaKasuku) August 3, 2022
Background/details to this 'climate crisis' via The Washington Post this morning:
A year after the remnants of Tropical Storm Fred dumped a foot of rain on parts of this mountain community, after the Pigeon River rose and raged and destroyed nearly everything in its path, the scars remain around every bend.

Sherrie Lynn McArthur, owner of Laurel Bank Campground, is still surrounded by towering piles of mangled metal campers, appliances and other debris — a daily reminder of the catastrophe where four people perished in a flash flood that leveled a spot vacationers had flocked to for a half century.

"Disasters happen," she said on a recent evening as she surveyed the destruction.
"But people don't know that it lasts for more than a week or a month."

In this swath of western North Carolina, dozens of bridges were damaged and some wiped out altogether. Scores of homes were destroyed, and hundreds more left in disrepair. The state allocated nearly $125 million for recovery, including funds to help displaced families and compensate for lost crops. The federal government has spent millions more to help homeowners and renters, as well as area business owners and local cleanup efforts.

Tropical Storm Fred and its aftermath became merely one of the 20 "billion-dollar" weather and climate disasters tracked by the U.S. government last year — a collection of calamities that cost the nation an estimated $145 billion and killed nearly 700 people.

"They are not slowing down," said Adam Smith, the U.S. government's lead scientist for analyzing billion-dollar disasters.

This mounting toll, which scientists and government officials say is driven in part because the world is warming, is forcing hard questions about who bears the burden of paying for them and how the nation can better prepare for what lies ahead.
Ordinary Americans, often without adequate insurance, and local governments alike are ill-prepared for the sudden financial shocks such disasters can inflict. And elected leaders are scrambling to reinforce aging infrastructure built not only for a different century, but also for an earlier era of risks.

…

The United States has experienced an average of 7.7 billion-dollar disasters annually over the past four decades, Smith said. But in the past five years, that average has jumped to nearly 18 events each year.

2020 and 2021 saw the highest number of such disasters on record, with 22 and 20, respectively.

That list includes a wide range of catastrophes that span the country and the calendar, including a cold snap that crippled parts of Texas and hailstorms in Ohio.
Spring has been an especially active time, the numbers show. But many of the most destructive and costly disasters of recent years also have come during summer — including massive Western wildfires, a crippling heat dome in the Pacific Northwest and devastating hurricanes such as Harvey, Maria and Ida.

"We're starting to refer to the warm season as 'danger season,' because we're seeing a lot of different kinds of climate hazards happening at the same time," said Rachel Licker, principal climate scientist at the Union of Concerned Scientists.
Noted climate journalist David Wallace-Wells in The New York Times yesterday and the framing of this 'danger season' and the worse shit yet to come:
The season is now only half over, and the worst months for California fires, which typically provide the most harrowing images of the summer, still lie ahead. But the calendar has already been stuffed with climate disruption, so much so that one disaster often seemed layered over the last, with newspaper front pages almost identical across the Northern Hemisphere. In July, Carbon Brief's Simon Evans began compiling them on Twitter, running out of steam when he got past 100. Climate segments of newscasts cut quickly from one part of the world to another, telling almost identical stories, day after day.

And yet the mood of those newscasts — in which warming is shown clearly to be blanketing the world, country by country — has mixed horror with a reluctant acceptance. Climate change is here, you think, your mind perhaps drifting past what can be done to limit future warming and toward what can be done to manage living in that future. The disruptions are large already, and arriving as prophesied — indeed, often earlier than predicted. They've also been normalized enough that, alongside the shock, they raise practical questions.

…

One year after temperatures so extreme that climate scientists worried about the calibrations of their models, a heat dome settled over the Pacific Northwest again, with Seattle recording six straight days above 90 degrees for the first time and Portland, Oregon, experiencing seven above 95, also for the first time.

This year's most conspicuous heat episode began in the late spring, when more than a billion people in South Asia endured several months of almost uninterrupted temperatures above 100 degrees. Then came the monsoon rains, and the floods with them, affecting, as Inside Climate News tabulated, "more than 7.2 million people in Bangladesh, submerged over 2,000 villages in India and caused more than 300 deaths in Pakistan." In a single province of Pakistan, Balochistan, 9,000 homes were washed away. The survivors navigated the floodwaters by rope.

…

It used to be, when the scariest climate impacts were more common in models than on television screens, that climate advocates sometimes found themselves wondering what scale of disaster might shake the world from its basic complacency.

Then, when large disasters did strike — Hurricane Katrina, for instance, or Hurricane Sandy, or the Camp Fire — without much altering the shape of public concern, they sometimes wondered if it would take a string of disasters.

The intervals between such events are now shorter than ever. The world is finally moving to decarbonize, but haltingly, and too slowly to offer real protection from warming. "Some 35 million homes, almost one-third of the nation's housing stock, are at high risk for disasters," The Times recently reported. And of course climate vulnerability is greatest in the poorest parts of the world, where residents are least responsible for the perturbation of the climate and least equipped to protect themselves from the ravages of warming.
Bad bottom line?
Even as policymakers have made great progress with some interventions and early warning systems, mistakes and miscalculations are not at all unusual. The $14 billion levees built in New Orleans after Hurricane Katrina, for instance, were not even designed to withstand a Category 5 storm, and may not offer "adequate" protection as soon as next year.
Last October, the journal Nature published an article assessing global adaptation efforts. Its top-line finding?
"Documented adaptations were largely fragmented, local and incremental, with limited evidence of transformational adaptation and negligible evidence of risk reduction outcomes."
And time keeps moving forward even as our climate gets hotter and hotter. Yesterday's electrical (& InterWebs) outage supplied a look at a non-air-conditioned future for this particular area, and the time ahead looks like a suck hole.
And CGI won't save us, either:
Summer 'danger season' for sure, yet once again here we are…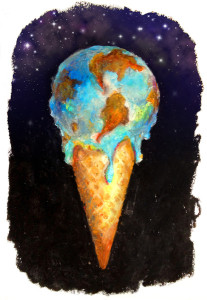 (Illustration out front found here.)