Alex Jones is a literal piece of shit in human form. He and T-Rump share the same air — they breathe in order to lie, and use the lies to make a shitload of money off idiots who want to believe them.
This week's courtroom horror in the 2012 Sandy Hook shooting came to a type of just end just a while ago with the jury socking Jones with a $4.1 million in compensatory damages in the truth of the massacre and the reality of lying to make money. Jones and his antics in open court were tales of clusterfuck, immoral shit.
In real journalism, Marcy Wheeler is a wonder — a pro in analyzing all kinds of legal shit, from national security, civil liberties and assorted subjects — and today examined the major fuck-up Jones' attorney, Andino Reynal, in making a massive mistake in sending plaintiff's lawyer Mark Bankston two years worth of shit off Jones' phone.
"It's a Tremendous Amount of Information:" The Details about Alex Jones' Phonehttps://t.co/PEWJ41y7vI

— emptywheel (@emptywheel) August 4, 2022
Wheeler notes the material Reynal transferred at emptywheel this afternoon:
Reynal's legal assistant sent a file transfer link to Bankston, another of the plaintiff's attorneys, as well as Reynal and another Jones attorney. The link led to a variety of other files, including confidential psychiatric files on the Connecticut plaintiffs
The entire file was around 300GB of material
2.3GB of it is phone material, including "intimate messages with Roger Stone"
Reynal claims that based on his review, Jones' phone "is not in there," but instead a review copy of text messages of a six month period between August of 2019 and the first quarter of 2020
This happened once before, but in that case, Jones' lawyers successfully identified privileged material and clawed it back
Judge Maya Guerra Gamble agreed that the material should have been turned over a year ago
Bankston has been asked by January 6 Committee to provide the phone and the plaintiff's counsel in Lafferty (the latter of which can be shared under an information sharing order)
Gamble suggested Reynal has made 17 requests for a mistrial and that Bankston has spent so much time in trial he has had no time to search on the material
And there were a shitload of information on Jones' phone about the plaintiffs in the case — Scarlett Lewis and Neil Heslin, parents of murdered 6-year-old Jesse Lewis — he should not have been privy to, and more shit will spike.
Tomorrow the jury will decide on punitive damages, which reportedly should be even more.
Via The Washington Post this afternoon:
But it remains to be seen how much Jones, 48, might be ordered to pay in punitive damages. The jury is expected to return Friday to weigh that amount — a sum that could be considerably higher. While the damages awarded to Jesse's parents Thursday acknowledge the suffering they endured, punitive damages can be levied to punish a defendant and prevent future abuse.

"Punitive damages are the opportunity for the jurors to send a message," said trial consultant Jill Huntley Taylor, who was not involved in the case.
Although it won't ever be enough, some justice for that particular piece of shit — just one from amongst a ton of others.
Despite the clowns, here we are once again…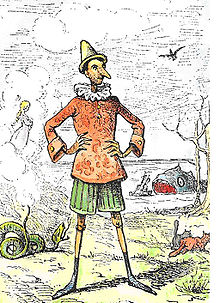 (Illustration out front: 'Pinocchio,' by Enrico Mazzanti, and found here.)