Not an unpleasant late-afternoon Saturday here in California's Central Valley as temperatures are in the low 90s, and a gentle breeze even softens the air.
Especially refreshing after a week's worth of triple-digit heat — nice is way-better than shitty.
Speaking also of maybe not so shitty, about this time back in DC the Senate has just carried out a first procedural vote on the Infatiion Reduction Act by a 51-50 tally (VP Kamala Harris broke the tie), and a major climate change bill could be heading to passage. We keep our collective fingers crossed.
Of course, there are the Republicans.
Yet the entire Republican party is an orgy-organization of lying insanity (just gander at the freakish clown-show/disturbing freak follies of CPAC this weekend) on everything, especially now on the need for immediate climate change work.
Our hopes for environmental action not so good:
The New York Times reviewed more than 10,000 pages of emails and documents that revealed a coordinated campaign among Republican state treasurers, backed by conservative groups and fossil fuel lobbyists, to slow climate action around the country. https://t.co/35jhdntqHU

— Michael Nelson (@NelsonGich) August 6, 2022
Despite the incredible damage allowed to happen — these people have no shame in cruelty.
Deep-dive investigation from The New York Times this morning:
Nearly two dozen Republican state treasurers around the country are working to thwart climate action on state and federal levels, fighting regulations that would make clear the economic risks posed by a warming world, lobbying against climate-minded nominees to key federal posts and using the tax dollars they control to punish companies that want to reduce greenhouse gas emissions.

Over the past year, treasurers in nearly half the United States have been coordinating tactics and talking points, meeting in private and cheering each other in public as part of a well-funded campaign to protect the fossil fuel companies that bolster their local economies.

Last week, Riley Moore, the treasurer of West Virginia, announced that several major banks — including Goldman Sachs, JPMorgan and Wells Fargo — would be barred from government contracts with his state because they are reducing their investments in coal, the dirtiest fossil fuel.
A dastardly plot centered on the State Financial Officers Foundation, based in Kansas: When Joe Biden took office promoting a more rigorous climate-change agenda, the shit group began to pressure Republican-asshole state treasurers to shit on any kind of environmental action while at the same time push oil and gas company concerns — in other words, stabbing humanity in the back:
The New York Times reviewed thousands of pages of internal emails and documents obtained through public records requests by Documented, a watchdog group, that shed light on the treasurers' efforts since January 2021.

At conferences, on weekly calls, and with a steady stream of emails, the foundation hosted representatives from the oil industry and funneled research and talking points from conservative groups to the state treasurers, who have channeled the private groups' goals into public policy.

The Heritage Foundation, the Heartland Institute and the American Petroleum Institute are among the conservative groups with ties to the fossil fuel industry that have been working with the State Financial Officers Foundation and the treasurers to shape their national strategy.

Many Democratic state treasurers support efforts to combat climate change and want banks and investment firms to be clear about risks posed to returns for retirees and others. Democratic lawmakers in California and New Jersey are working on legislation that would require their state pension systems to divest from fossil fuels. But Democrats have not mounted anything like the national campaign being orchestrated by the State Financial Officers Foundation.

The Republican treasurers skirt the fact that global warming is an economic menace that is damaging industries like agriculture and causing extreme weather that devastates communities and costs taxpayers billions in recovery and rebuilding. Instead, they frame efforts to reduce emissions as a threat to employment and revenue, and have turned climate science into another front in the culture wars.

"This is a departure from their traditional roles," said Robert Butkin, the former Oklahoma treasurer and a professor at the University of Tulsa. "There used to be a strong nonpartisan and bipartisan ethic among treasurers, but you've seen a lot of that erode over the past several years."
Turd in the-above tweet photo is Riley Moore, WV treasurer: '"If a bank, for instance, decides to say they have a no-lending policy as relates to thermal coal, well, then we'll find a bank that doesn't have that policy … The climate has been changing in the world since Earth was created, Whether these greenhouse gas emissions are contributing to the warming of the globe, I'm not sure I necessarily agree with that."'
In June, the ominous, villainous foundation also objected to a proposed Securities and Exchange Commission regulation that would require companies to publicly disclose climate risks to investors, murderously whining in a statement, the rule is '"irrational climate exceptionalism, elevating climate issues to a place of prominence in disclosures that they do not deserve."'
Are you shitting me? Go read the whole piece — it's behind a paywall, but you do get some freebies per month, as I did before subscribing — and a worrisome item in developing a plan to combat the accelerating climate crisis.
Another weekend, but still here we are once again…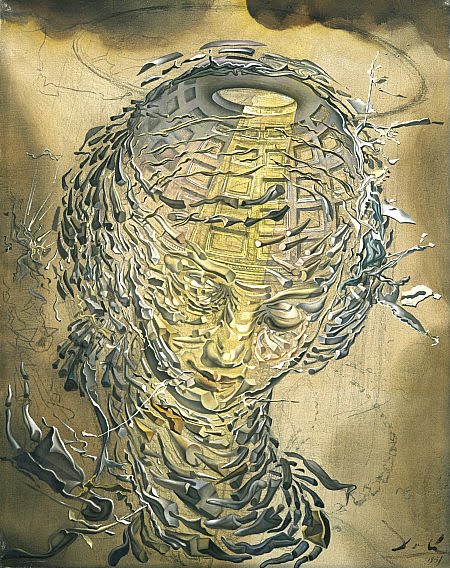 (Illustration out front: Salvador Dali's 'Tête Raphaëlesque éclatée [Exploding Raphaelesque Head],' found here.)